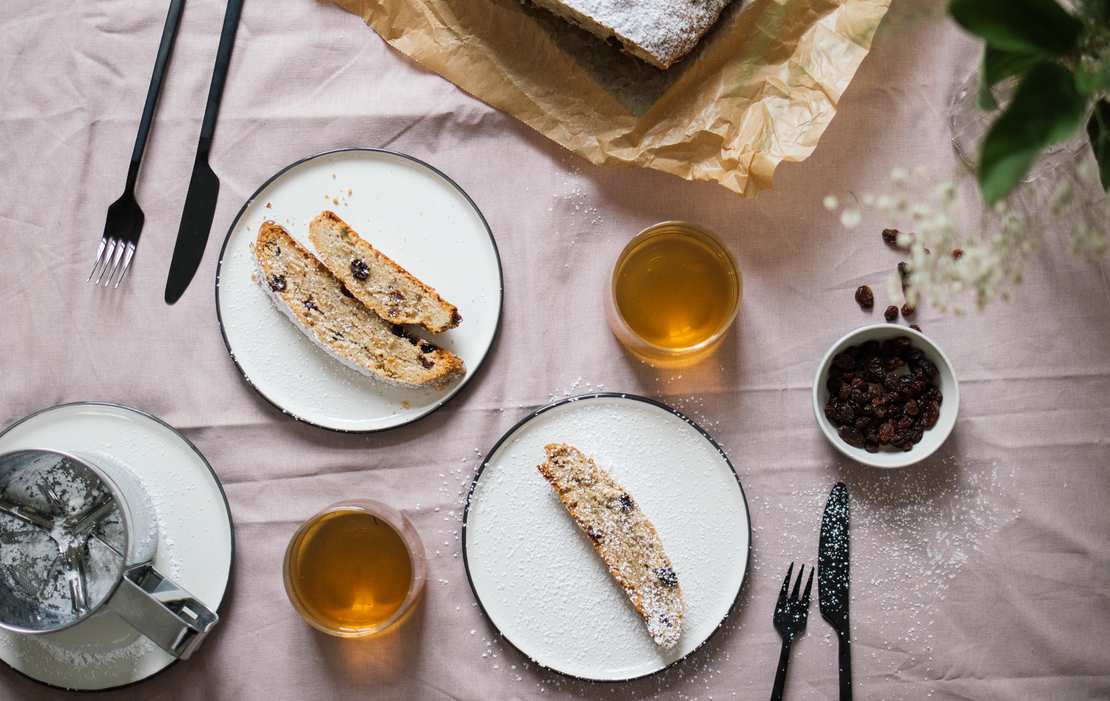 Easy, vegan Christmas stollen
There are plenty of different versions for Christmas stollen: "Quark" stollen, marzipan stollen, butter stollen, and nut stollen are one of the most famous ones. But they all share the fact, that you need plenty of dairy products to bake them. So we produced a recipe that's super simple to prepare.
The only thing we "replaced" for the recipe is dairy milk. We used oat milk, but almond or soy milk also works superbly. Check all of our Christmas recipes here.
Easy, vegan Christmas stollen
90 minutes
1 Christmas stollen (10 pieces)
Ingredients
500 g (4 cups) flour
150 g (0.75 cups) sugar
100 g (3.5 oz) ground almonds
5 g stollen spices
7 g (0.25 oz) dry yeast
1 tbsp vanilla sugar
50 ml (0.2 cups) plant-based oil
200 g (0.9 cups) plant-based butter
8 ml (0.03 cups) rum flavoring
150 ml (0.6 cups) plant-based milk
50 g (1.7 oz) candied orange peel
50 g (1.7 oz) candied lemon peel
50 g (1.7 oz) raisins
powder sugar
Instructions
Mix flour, sugar, ground almonds, dried yeast and stollen spices in a big bowl.
Add plant-based butter, rum flavoring, oil, and plant-based milk. Use your fingers to form a dough.
Now add candied orange peel, candied lemon peel, and raisins to the batter and fold in. Let dough rise for 20 minutes on a warm and dry place.
Place a baking sheet on a baking tray and preheat the oven. Place the dough on the baking sheet. Bake for 60 minutes at 200°C / 392°F.
Let stollen cool down and serve with powdered sugar on top.