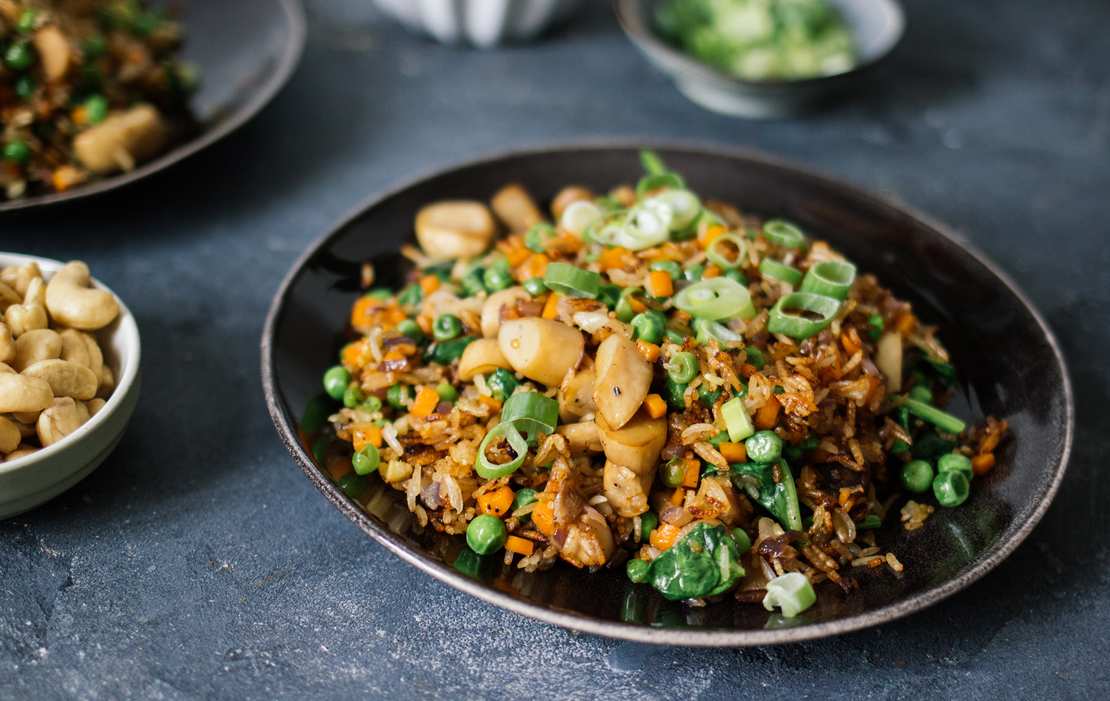 Fried rice with oyster mushrooms
Fried rice is one of the best ideas for leftovers – not only veggies, but of course mostly for leftover rice. Maybe we're on the same team here: Never ever am I measuring the right amount of pasta, potatoes or rice that I actually need but always cook too much. At the same time, I refuse to use any helpful tools for this, but if you think about it... it's not that bad if you just know what to do with those leftovers, so there we are at fried rice again.
If you realize that you've cooked too much rice, then directly spread the leftovers on a baking sheet and let it cool down and dry on it. This way, the rice will fry even better (but don't worry, if you skipped this step – your fried rice will still be great, of course). Besides rice, feel free to also look around in your kitchen and find some vegetables that need to go. Better limit yourself to a maximum of a handful or different vegetables that pair well instead of using all you can find. This recipe is a real basic option that concentrates on a few ingredients and seasonings such as soy sauce, mirin, salt, and pepper. You can also experiment more with seasoning to taste and add some chili for example, if you like it spicy.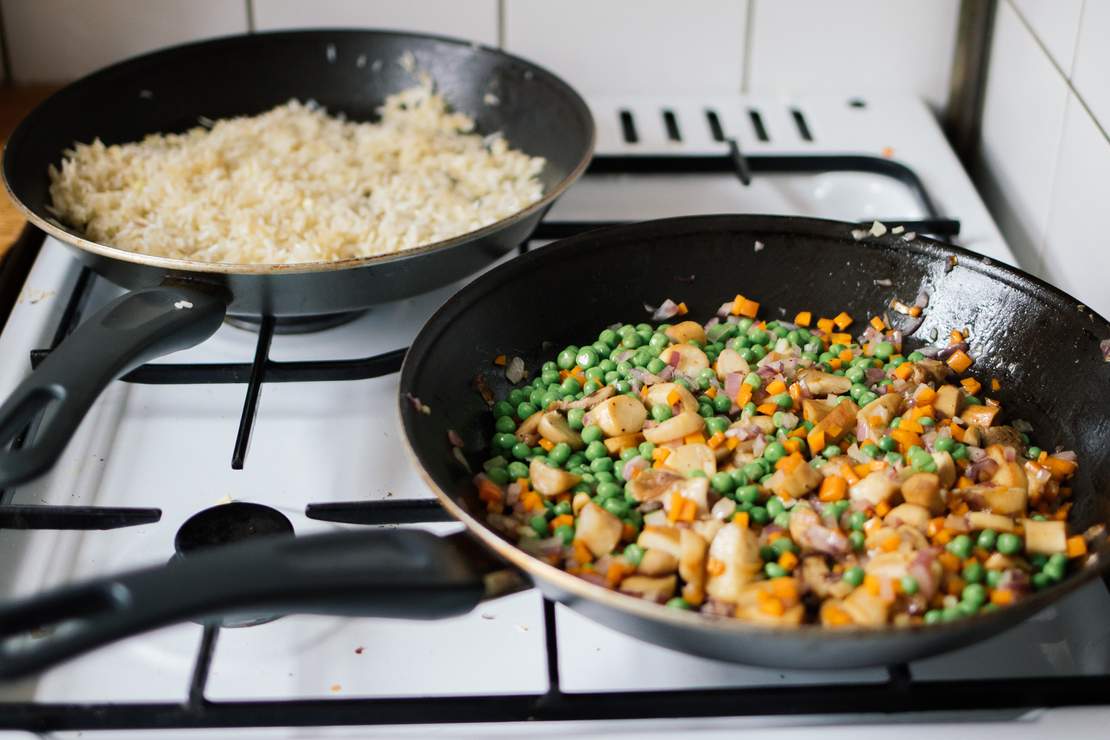 Fried rice with oyster mushrooms
Ingredients
200 g (7 oz) cooked rice
0.5 tsp brown sugar
1 garlic clove
1 onion
15 g (0.5 oz) ginger
1 carrot
2 scallions
50 g (2 oz) frozen peas
150 g (5.5) oyster mushrooms
25 g (1 oz) soy sprouts
10 g (0.33 oz) fresh spinach
1 tbsp soy sauce
2 tbsp mirin
salt
pepper
vegetable oil for frying
sesame oil for serving
Instructions
Finely dice carrot and onion. Finely chop ginger and garlic. Cut scallions in fine rings and oyster mushrooms into bite-sized pieces. u
Heat vegetable oil in a large frying pan over medium heat and fry garlic and ginger for approx. 2 minutes. Add cooked rice and toss in order to coat every rice grain with oil. Sprinkle some brown sugar on top and keep frying for 5 minutes before adding soy sauce and mirin. Afterwards keep frying for approx. 10 minuten or until the fried rice is almost crispy.
In the meantime, use a second frying pan and heat some oil in it. Fry onions for 2 - 3 minutes until they are translucent. Then add carrots, oyster mushrooms and soy sprouts and fry for approx. 8 minutes. Add frozen peas, fresh spinach approx. one third of the scallions. Fry for 5 minutes and season with salt and pepper to taste.
Serve fried rice with vegetables, season with salt and pepper to taste and sprinkle remaining scallions over it and drizzle some sesame oil on top.