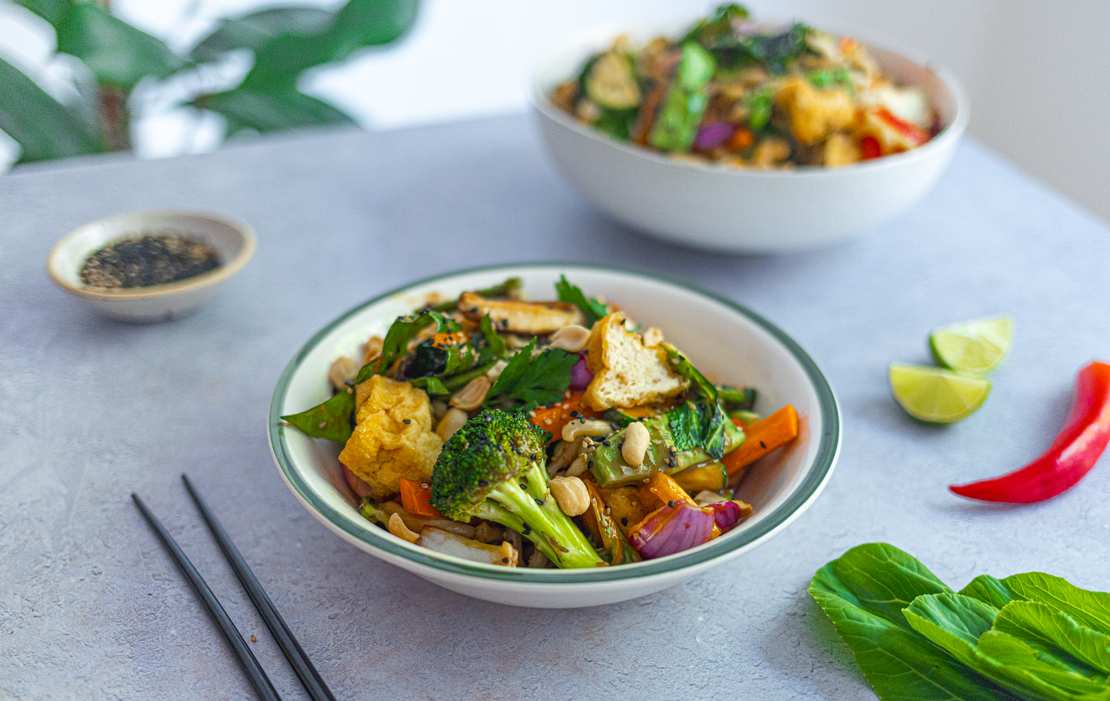 Quick One Pot Udon Noodles with Gingered Veggies and Tofu
My friends know I am a huge fan of Vietnamese cuisine. If it were up to me, I would have phở for breakfast, bánh mì for lunch (you can find our version of the delicious Vietnamese sandwich here), more phở for dinner, and one or two summer rolls in between (this is of course only a fraction of what Vietnamese cuisine has to offer). I can eat this every day of the week! Luckily I live in Berlin, where you can find many Vietnamese restaurants. Since eating out all the time would harm my finances way too much, I've been working on recreating my favorite dishes at home for a long time. My latest creation are these delicious one pot udon noodles, inspired by dish number V65 at my favorite restaurant. Although udon noodles are primarily used in Japanese cuisine, at least in Berlin, you can also find them at Vietnamese restaurants.
The recipe couldn't be easier! We need some vegetables, garlic, soy sauce, and ginger syrup. Yes, that's right, ginger syrup –the absolute star in this recipe. It adds a nice spicy, caramel flavor to the dish. I used the ginger syrup from Voelkel. The ginger for the delicious syrup is grown in Peru in Demeter projects, with the highest organic quality. By supporting regional smallholder cooperatives, Voelkel secures jobs in the region. Plus, the syrup is super versatile. You can use it for cooking, as in this recipe, add it to cocktails, enjoy as tea, or mix it with water for a nice lemonade. The possibilities are endless. Voelkel offers six more organic syrups, from raspberry to sea buckthorn.
But back to business. First, I added syrup, soy sauce, and coconut oil to a pan and let it simmer until it's all combined thick. Afterward, I added the vegetables and little later, udon noodles and tofu. For this recipe, I like to use deep-fried tofu, which, like the udon noodles, you can buy at Asian grocery stores or larger supermarkets. You can otherwise just make it yourself by following Julia's great recipe that you can find here. You can vary the vegetables as you like, depending on what's in season and your taste. I wish you a lot of fun trying out this recipe and hope you enjoy this dish as much as I do.
Quick One Pot Udon Noodles with Gingered Veggies and Tofu
Ingredients
2 garlic cloves
1 small chili pepper (optional)
150 g (5.5 oz) deep-fried tofu
1 red onion
100 g (3.5 oz) green beans
100 g (3.5 oz) broccoli
60 g (2 oz) shiitake mushrooms
50 g (0.75 oz) Swiss chard
0.5 zucchini
1 red bell pepper
1 pak choi
1 tbsp coconut oil
150 ml (0.66 cup) ginger syrup (e.g. from Voelkel)
50 ml (0.25 cup) soy sauce
1 tbsp light miso paste (optional)
2 tsp cornstarch
400 g (1 lb) udon noodles
peanuts (optional)
cilantro (optional)
limes (optional)
Instructions
Peel and finely mince garlic. Next, cut chilies into fine slices and tofu into bite-sized pieces. Chop onion, beans, broccoli, shiitake mushrooms, Swiss chard, zucchini, bell pepper, and pak choi as desired.

Add coconut oil, ginger syrup, soy sauce, and miso paste to a large pan.Bring to a boil while stirring constantly, and let simmer over medium heat for approx. 5 minutes. The sauce should thicken noticeably. In a bowl, mix cornstarch with 1 tbsp water and stir to mix into the sauce.

Next, add onions, garlic, and chili to the sauce and sauté for approx. 1-2 minutes. Afterward, add beans and broccoli and let simmer over medium heat for another 4 minutes. Now add the rest of the vegetables and the udon noodles, stir well and let simmer until the vegetables are fork-tender. Next, add the tofu and toss everything to combine. If you like, serve with peanuts, cilantro, and lime juice.
More Vegan 30 Minute Recipes