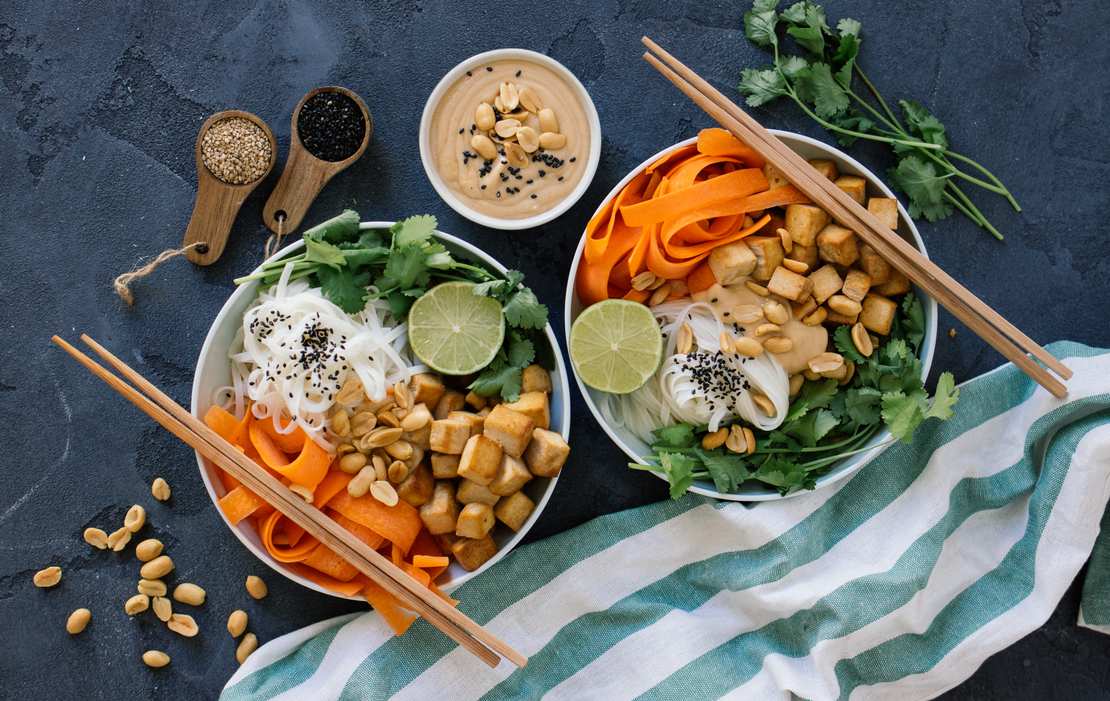 Rice Noodles with Tofu in Peanut Sauce
As soon as peanut sauce is a component of a dish, it has to be a yummy one. That's a rule of the thumb I learned from a peanut sauce-lexicon. Furthermore I read that it's important to have enough peanut sauce left for bad days and never forget some roasted peanut on top of the dish. It's as easy as that!
Rice noodles with tofu in peanut sauce
Ingredients
125 g (4.4 oz) rice noodles
400 g (14.1 oz) tofu
3 tbsp soy sauce
2 tbsp coconut oil
2 carrots
10 g (0.35 oz) cilantro
1 tsp sesame
50 g (1.7 oz) peanuts (roasted, not salted)
1 lime
peanut sauce
400 ml (1.7 cup) coconut milk
35 ml (0.15 cup) soy sauce
125 g (4.4 oz) peanut butter
1 tsp sriracha
2 tbsp tahini
1 tbsp agave syrup
Instructions
Mix all ingredients for peanut sauce in a small pot and let simmer for 5 minutes. Season again and set aside.
Prepare rice noodles according to instructions. Usually cover rice noodles with boiling water and let stand for 10 minutes.
Roast tofu with coconut oil and a good shot soy sauce in a hot pan, until golden brown.
Wash carrots and peel into thick strips.
Place all the ingredients in a bowl and serve with sesame seeds, cilantro and fresh lime juice.