Roasted Broccoli Salad with Green Aioli Dressing
As a child, I loved to eat vegetables but only selected varieties like bell peppers, potatoes, and cucumbers. Things like Brussels sprouts, broccoli, and cauliflower, on the other hand, were pushed to the edge of my plate, and that continued when I was an adult. The game-changer for me were definitely: roasting flavors! Oven-roasted Brussels sprouts, breaded and fried cauliflower – geez, how did I live without you guys?! This is also how broccoli paved its way into my culinary heart and is now one of my favorite vegetables, which I even like to eat when it's simply cooked.
All's well that ends well? Sure, but how about taking a good ending to the extreme? This is why today's roasted broccoli comes with a green aioli dressing and crispy vegan bacon bits made with TVP granules. While one provides a creamy bed for our broccoli, the other brings a salty note with a bite. So all around, the broccoli is provided with only the best counterparts, and I could imagine that this recipe will convince even the last broccoli haters to give it a chance.
For our recipe, we fall back once again on the extensive repertoire of Naturata. So far, we only developed sweet recipes with their products on the blog (see our vegan Christmas spritz cookies and lava cakes), but their oils and bottles of vinegar are just waiting to be used for a variety of salads of all kinds. Their vegan aioli will even play the lead role for today's dressing. Naturata is one of the leading suppliers of organic and Demeter foods in Germany, offering only organically grown and sustainably produced foods. Behind the company motto "more than organic" is the approach of always going an extra step beyond standard organic. What exactly does that mean? It varies from product to product, and you can tell by the printed pink icons that are explained on each label. The vegan aioli, for example, is a climate-friendly product made in Switzerland and backed by a long-term partnership. In addition, you can see which climate protection project is supported with your purchase by searching the respective tracking number on the products on www.myclimate.de.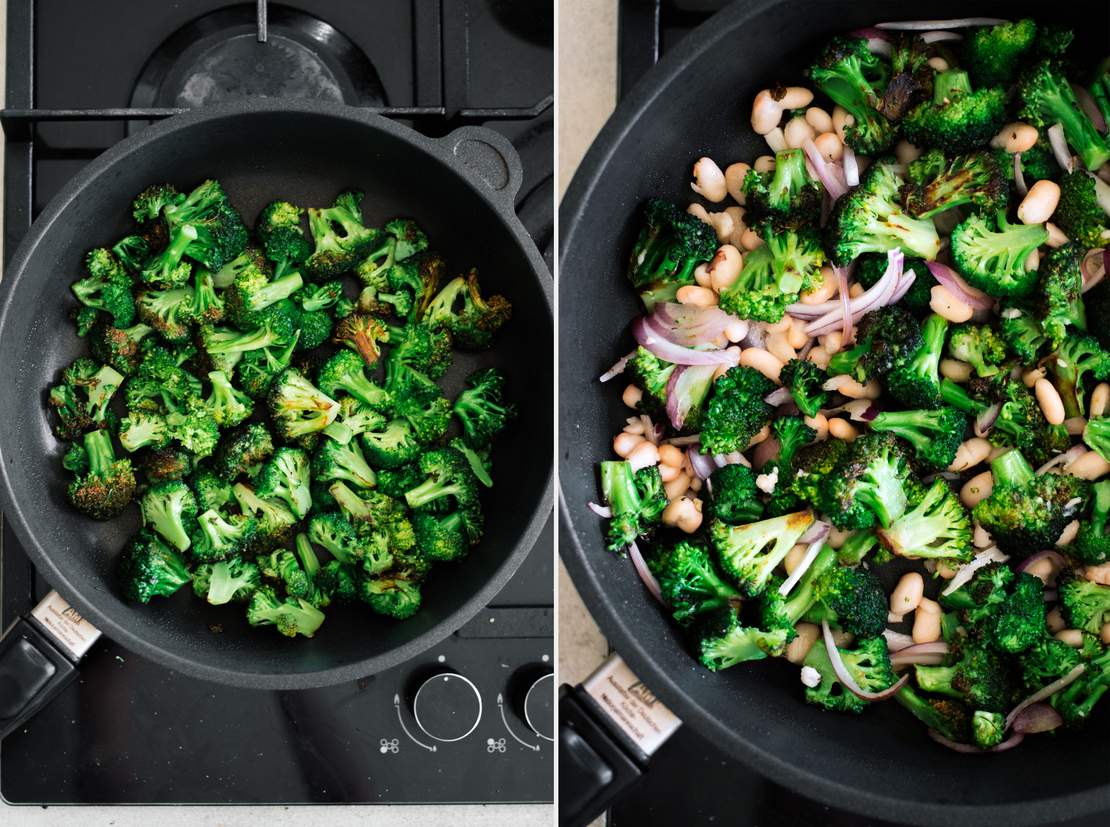 Roasted Broccoli Salad with Green Aioli Dressing
Ingredients
For the broccoli salad:
1 broccoli (approx. 500 g / 1 lb)
1 red onion
1 can white beans (drained weight: 250 g / 9 oz)
100 g (3.5 oz) walnuts (e.g. by Naturata)
For the green aioli dressing:
150 g (5.5 oz) vegan aioli (e.g. by Naturata)
2 tbsp almond butter
2 tbsp nutritional yeast
0.5 lemon (juice)
25 g (1 oz) fresh herbs (e.g. parsley, basil, dill)
50 ml (0.25 cup) water
1 tbsp red wine vinegar (e.g. by Naturata)
salt
pepper
For the vegan bacon bits:
25 g (1 oz) TVP granules
1 tbsp soy sauce
1 tsp liquid smoke
1 tsp maple syrup
1 tbsp olive oil (e.g. by Naturata)
1 tsp mustard (e.g. by Naturata)
50 ml (0.25 cup) hot water
vegetable oil for frying
Instructions
For the vegan bacon bits, mix soy sauce, liquid smoke, maple syrup, olive oil, mustard, and hot water in a bowl. Add the TVP granules, stir to combine, and let the granules soak covered for about 10 minutes.

In the meantime, cut broccoli into florets, peel and finely slice the red onion, and drain canned white beans. Toast walnuts in a fat-free frying pan. Then remove them from the pan and roughly chop them.

Put the pan back on the stove, heat some vegetable oil in it, and fry the TVP granules until they're browned and crispy.

Parallelly, heat vegetable oil in a second pan and fry the broccoli florets until browned.

Meanwhile, prepare the dressing. Add vegan aioli, almond butter, nutritional yeast, lemon juice, fresh herbs (e.g. parsley, basil, dill), water, and red wine vinegar to a liquid measuring cup and blend until smooth. Add more water if needed until you get a creamy dressing. Season with salt and pepper to taste.

Add red onion and white beans to the pan of roasted broccoli and heat for about 1-2 minutes.

To serve, spread the dressing on a large salad plate and top with the broccoli mixture. Sprinkle with the toasted nuts and vegan bacon bits.
More Vegan Meal Prep Recipes