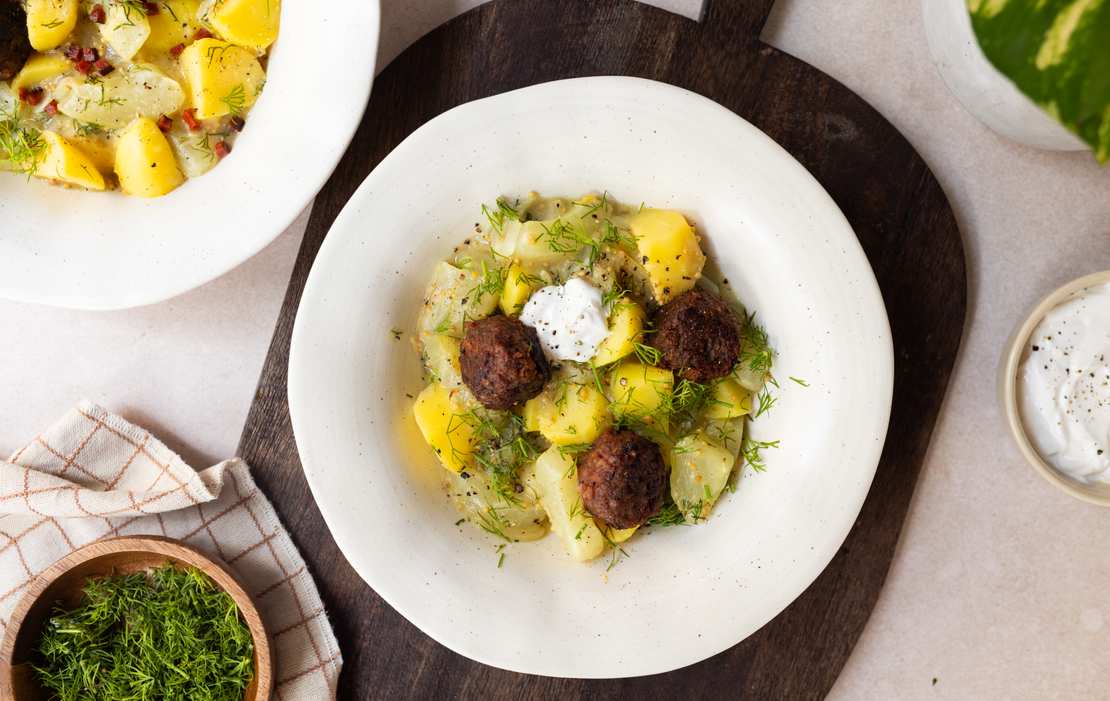 Stewed Cucumbers with Potatoes and Plant-Based Meatballs
Well, if this doesn't look like we've been invited to Grandma and Grandpa's house for lunch. Braised cucumbers are really anything but a particularly modern ingredient, but as so often, the culinary childhood memories pick us up where we left off. Yet, I actually know German braised cucumbers in a slightly modified form because, as a well-known DDR recipe, they were more likely to be served with tomatoes (and a little dash of ketchup, of course) instead of, as today, with a vegan creamy dill sauce and "meatballs".
What exactly are braised cucumbers?
First, though, I probably need to say something about the braised cucumbers themselves, because even in our office there were questioning looks when we talked about this recipe. This may be due to the fact that the season for braised cucumbers is strikingly short – only from July to September. From the outside, you can immediately recognize the differences from the classic salad cucumber. Braised cucumbers are much thicker and have a firmer skin, which you can't eat either. Their taste is more intense, their flesh is more firm and they are less watery overall. That's exactly why they are great for sautéing, steaming and boiling. They can probably still be best compared to a zucchini. You can use braised cucumbers as an alternative to them, too (yep, that also means stuffing). It may be possible with a salad cucumber, but it does not really bring much to a dish, because it tastes neutral and just gives off a lot of water. So if you haven't dared to try weird cucumbers before, this season is your opportunity.
What are we cooking today with the braised cucumbers?
And that's where today's recipe comes in, with which we want to take you by one hand and the braised cucumber by our other to introduce you to each other. After one fork, you'll probably already be good friends. We're keeping it classic and making a braised cucumber and potato skillet with vegan meatballs. "Minced meat", braised cucumbers and potatoes have actually been BFFs for ages.
For convenience, we steam the potatoes right along with the braised cucumbers –- to make sure they're soft, you'll want to cut the potatoes into smaller pieces beforehand, rather than adding them whole. Depending on the size, you can always test with a fork during the cooking time whether the potatoes and cucumbers are already softer – they are allowed to retain some bite.
Vegan sour cream (or yogurt) provides a sour note when serving and the vegan smoked tofu cubes give the whole dish something salty – if you find and like vegan ham, it's also a great choice.
By the way, you can find another recipe for German braised cucumbers in our cookbook.
Stewed Cucumbers with Potatoes and Plant-Based Meatballs
Ingredients
1 kg (2 lb) braised cucumbers
800 g (1.66 lb) mainly waxy potatoes
2 onions
1 clove of garlic
15 g (0.5 oz) fresh dill
1 tbsp vegan butter
1 tbsp flour
150 ml (0.66 cup) vegetable broth
1 tbsp (grainy) mustard
2 tbsp mustard seeds
2 tbsp apple cider vinegar
approx. 350 g (0.77 lb) vegan meatballs
200 g (7 oz) smoked tofu
vegetable oil for frying
vegan sour cream (or vegan yogurt) for serving
salt
pepper
Instructions
Peel the cucumbers, cut them in half, remove the seeds (save the flesh!) and cut into wide slices. Mash the cucumber seeds and set aside. Peel potatoes and cut into bite-sized pieces. Peel the onions, cut in half and slice thinly. Slice the garlic. Coarsely chop the fresh dill.

Heat vegetable oil in a frying pan over medium heat. First sauté the cucumber and onion slices together for 3–4 minutes. Add the potato pieces, pour in the mashed cucumber seeds, put a lid on the pan and steam everything for about 15 minutes until the potatoes are soft but still firm to the bite.
Tipp: If you don't have enough liquid, add a little water so that the potatoes become really soft and don't fry.
Remove the lid from the pan, add vegan butter and stir in. Dust everything with flour and stir in the vegetable broth well right after. Add mustard, mustard seeds and apple cider vinegar and simmer for several more minutes until the sauce has your desired consistency and the potatoes are really cooked.

In the meantime, fry the vegan meatballs in a pan. Cut the smoked tofu into small cubes and fry them as well.

Season the braised cucumber pan with salt and pepper. Finally, stir in dill, top with vegan sour cream and optional smoked tofu and serve with the vegan meatballs.