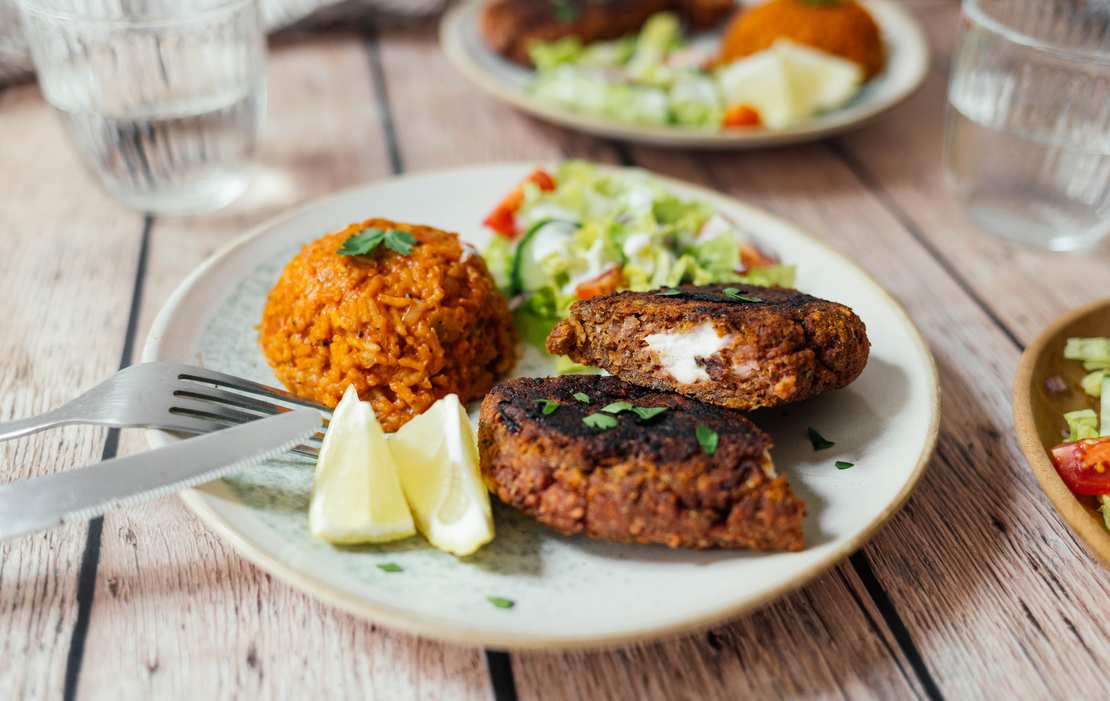 Vegan Bifteki-Steak with Tomato Rice
In the past, I used to go to Greek restaurants with my family quite often. I fell in love with garlic potatoes, baked feta, and orzo noodles back then. However, the typical "meat dishes" like Souvlaki, Gyros, or even Moussaka always seemed very greasy and "heavy" to me, which is why I rarely ordered them in my childhood and youth. Later, I discovered that the Greek cuisine served here in Germany is very different from the Greek cuisine in Greece. The food in Greece is more refined, significantly less meaty, and less greasy and heavy than I was used from Germany.
So it was time to give Greek meat dishes a second chance – but this time meatless! In recent years, we have already shown you vegan gyros, vegan moussaka, and vegan pastitsio, but one classic dish has always been on my mind: Bifteki!
Bifteki is a ground beef filled with feta and served as a steak, meatball, or patty. Traditionally, bifteki is made from beef or pork and beef combined. However, for our recipe, we used the vegan mince from GREENFORCE. The mince in powder form is made from peas, without any artificial additives and keeps for a long time without refrigerating. This is especially great because you can cook dishes spontaneously, for which you usually need "fresh ingredients" like plant-based yogurt or vegan mince from the refrigerated section. These products make your everyday life much more comfortable, especially when you are too lazy to go shopping, have just returned from vacation, or want to stock your pantry cleverly! The products are packaged in sustainable Kraft paper, making it easy to portion.
Preparing the vegan mince is easy: Mix the powder with cold water, let it sit in the refrigerator for 30 minutes, and then it's ready to be fried. To make the mince resemble Greek Bifteki, we add some spices and diced onions before filling it with almond-based vegan feta (vegan feta made from coconut oil would melt). Of course, I cannot assess whether my recipe for vegan Bifteki is comparable to the Greek original – unfortunately, I have never tried it. So my recipe is based more on my best conscience and childhood memories!
To go with our bifteki steak, we make some fruity tomato rice, a small side salad, and of course, tzatziki. Obviously! To save some time, we use the vegan tzatziki-style dip from GREENFORCE. It's gluten-, lactose-free, soy-free, and contains no flavor enhancers or preservatives. The preparation is very simple: combine the powder with water, let it rest in the fridge for ten minutes, and that's it.
And now, let's finally get started with our vegan bifteki!
Vegan Bifteki-Steak with Tomato Rice
4 servings
45 minutes (+ 30 minutes waiting time)
Ingredients
For the tomato rice:
1 onion
2 garlic cloves
100 g (0.25 lb) fresh tomatoes
2 tbsp olive oil
3 tsp paprika powder
3 tsp gyros spice
3 tbs tomato paste
1 tbsp sugar
200 g (0.5 lb) basmati rice
300 g (0.66 lb) strained tomatoes
300 ml (1.25 cups) water
salt
For the vegan bifteki steak:
500 g (1 lb) vegan minced meat (e.g. from GREENFORCE)
150 g (0.33 lb) almond-based feta
50 g (1.75 oz) breadcrumbs
3 garlic cloves
1 onion
2 tsp pepper
3 tsp oregano
3 tsp thyme
2 tsp ground cumin
2 tsp ground coriander
2 tsp salt
Also:
vegan tzatziki dip (e.g. from GREENFORCE)
optional: side salad
optional: parsley
optional: lemons
Instructions
Tip: In our recipe, we used the vegan minced meat from GREENFORCE, which is mixed with water and left to swell in the fridge for 30 minutes. This step should be done first! We also prepared the vegan Zaziki dip from GREENFORCE right at the beginning.
Rinse the rice well in a sieve. Peel and finely chop the onion and garlic. Cut the tomatoes into small pieces. In a medium-sized pot, heat some oil and sauté the onion, garlic, paprika powder and gyros seasoning. Add the tomato paste, fresh tomatoes, rice, and sauté for another 3–4 minutes. Now, add the crushed tomatoes and water and bring to a boil. Let the rice simmer on medium heat for about 30 minutes until it is al dente. Finally, season with salt and sugar.

While the rice is cooking, we prepare the bifteki. Peel and finely chop the onion and garlic and mix with the minced meat in a bowl. Add breadcrumbs, pepper, oregano, thyme, ground cumin, ground coriander, and salt and mix well.

Cut the almond feta into four sticks. Shape the minced meat mixture into four long ovals, place the almond feta sticks in the middle and close the meat mixture around them to form a steak. Heat a pan with vegetable oil and fry the steaks on both sides until browned.

Serve the tomato rice with the vegan bifteki steaks, vegan tzatziki dip, and, optionally, a side salad, fresh parsley and lemon wedges.
Tip: If you want to serve the tomato rice as half spheres, oil a small round bowl, fill it with the tomato rice, and turn it upside down directly onto the serving plate.