Potato Dumplings with Fried Seitan and Onions in Gravy and Vegan Cream Savoy Cabbage
This meal is probably the culinary collaboration of Isa's and my family traditions. A handshake of East and Southwest Germany, if you like. And that at Christmas – how romantic!
When we were thinking about which dumplings we wanted to cook for our theme week, it was clear that I also had to make my family's "green dumplings," which we traditionally eat on December 24. So I texted my mother to see if she could send me the recipe and got a somewhat cryptic reply. "Unfortunately, there is no real recipe – you will have to testcook. Quantities like "maybe ten potatoes," "about a third of the weight of the potatoes," "some potato starch," and "I take a look in the pot and sometimes it's more sometimes it's less" were part of her message. As much as I would've liked a concrete recipe, I also liked her answer because that's just how a lot of old family recipes are – these dishes are often cooked intuitively as perhaps not all ingredients were always available.
To still offer you a recipe, I had to test cook, just like my mother wrote. But let's get briefly to the dumpling theory before: "green dumplings" actually consist of both raw and cooked potatoes. The ratio varies depending on the recipe, but as you can see, there are only raw potatoes in our recipe. It's a simplified and quicker version if you don't want to boil and mash potatoes first. In order for the raw potato mixture to hold together, semolina is cooked with some water and then added as a paste. The potato starch provides extra binding – you can either add it store-bought or use the starch that settles after squeezing out the grated potatoes vigorously. Once the dough is done, damp your hands, and form it into round dumplings. Then cook the potatoes dumplings in simmering, not boiling, water. The water should be just before bubbling.
Usually, my family eats red cabbage and (for me) vegan roulades or vegan goulash as sides to these dumplings, but since we already have those recipes on the blog, I wanted to try something different: it's called "Zwiebelrostbraten" which is fried beef and onions in gravy. And that brings us to Isa because this is actually a classic Swabian dish that, of course, likes to be served with spaetzle. I still somehow managed to prepare it without ever eating a "Zwiebelrostbraten" and got the biggest compliment from Isa, who said that it reminds her of her childhood. Instead of roast beef, we're using seitan, which is steamed in advance and then pan-fried. It ends up in a sauce made with plenty of onions, vegan red wine, and vegetable broth.
Dumplings and seitan are served with savoy cabbage in a creamy sauce, but you can also combine all of our hearty Christmas components with it. We alternatively have Brussels sprouts, red cabbage, oven roasted carrots and sauerkraut on offer.
One last note before we start: This recipe is quite complex with all its components. I have written down the recipe in a way that helps you to use the waiting time to continue with the next component. Therefore, the dish is super for cooking with a group because if you make the recipe with more people, it's prepared much faster (and it's also even more fun).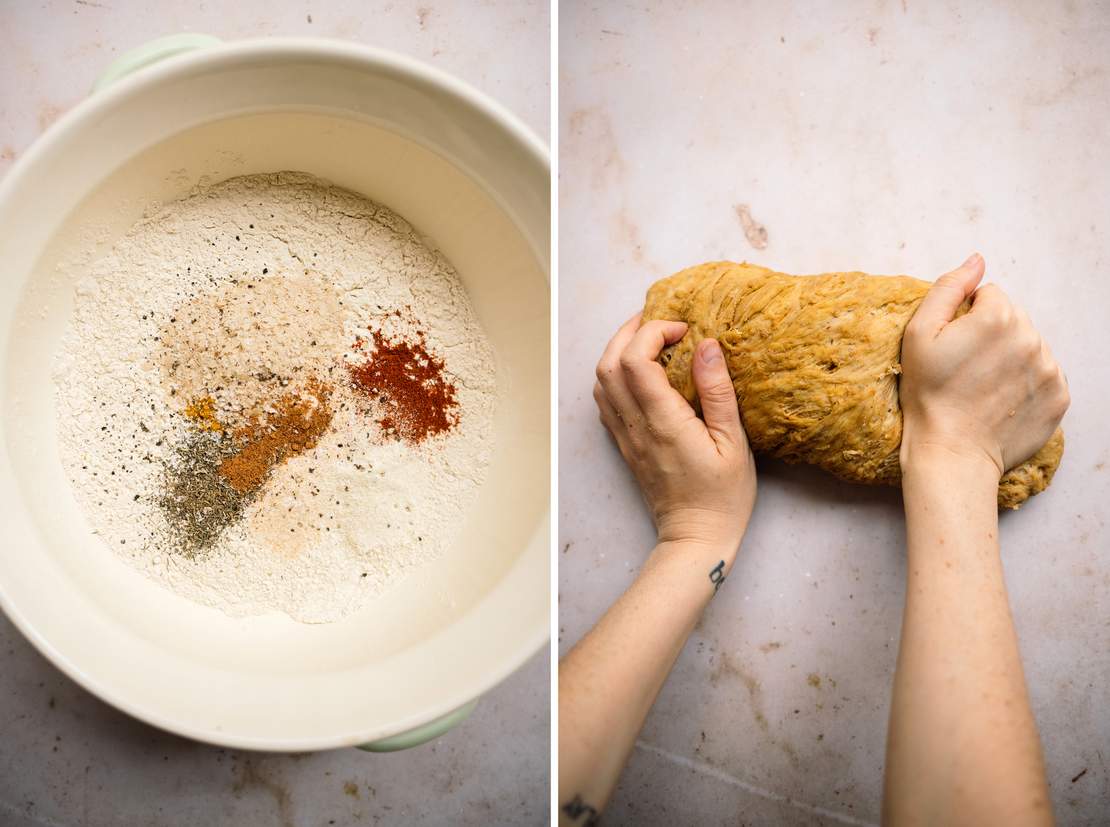 Potato Dumplings with Fried Seitan and Onions in Gravy and Vegan Cream Savoy Cabbage
Ingredients
For the potato dumplings:
800 g (1.75 lbs) floury potatoes
60 g (0.5 cup) semolina
120 ml (0.5 cup) water
2 tsp potato starch
1 tsp salt
For the creamed savoy cabbage:
500 g (1 lb) savoy cabbage
150 g (5 oz) leek
250 ml (1 cup) vegetable broth
250 ml (1 cup) plant-based heavy cream
vegetable oil for frying
salt
pepper
nutmeg
For the fried seitan:
250 g (9 oz) seitan fix powder
2 tbsp soy flour
1 tsp sweet paprika
1 tsp garlic powder
0.5 tsp onion powder
0.5 tsp thyme
0.5 tsp pepper
0.5 tsp salt
1 tbsp nutritional yeast
0.25 tsp ground nutmeg
0.25 tsp curry powder
250 ml (1 cup) cold vegetable broth (or water)
1 tbsp soy sauce
1 tbsp mustard
For the gravy:
4 onions
1 tbsp tomato paste
1 tbsp mustard
500 ml (2 cups) vegetable broth
200 ml (0.75 cup) vegan red wine
1 tsp cornstarch
vegetable oil for frying
Instructions
Mix seitan fix powder, soy flour, paprika, garlic powder, onion powder, dried thyme, salt, pepper, nutritional yeast, nutmeg, and curry powder in a large bowl. Add cold vegetable broth (or water), soy sauce, and mustard, then knead the mixture well for approx. 5-10 minutes and form into a long roll. Wrap in plastic wrap and let the seitan rest for at least 30 minutes.

In the meantime, peel, halve, and slice the onions for the sauce. Heat vegetable oil in a frying pan and sauté the onions over low heat for approx. 10-15 minutes.

While the onions are frying, cut the savoy cabbage into thin strips. Clean and thinly slice the leek. Heat vegetable oil in a pot or large frying pan. Sauté savoy cabbage and leek over medium heat for approx. 5 minutes and season with salt and pepper. Add the vegetable broth and plant-based heavy cream and let it simmer for approx. 15-20 minutes. Keep the creamed cabbage warm over low heat. Before serving, season with salt, pepper, and nutmeg to taste.

Let's return to the onions. Stir in tomato paste and mustard, and sauté for another 2-3 minutes. Then deglaze everything with vegan red wine and let it simmer for approx. 2-3 minutes. Add vegetable broth and let the sauce simmer over low heat.

After the resting time, cut the seitan roll into slices. Bring a pot of water to a boil and steam the seitan slices for approx. 20 minutes. Let them cool down afterward.

In the meantime, peel and finely grate the potatoes. Transfer the grated potatoes to a clean kitchen towel, wring it out, but save the liquid in a bowl. Let the liquid from the potatoes sit briefly, as some potato starch will be set at the bottom of the bowl.
Tip: If you don't get any starch from your potatoes, use store-bought potato starch instead.
In a small pot, bring water to a boil and stir in the semolina until you get a creamy mix.

Pour the hot semolina mixture over the grated potatoes. Add potato starch and salt, and mix everything to combine. Form the dough into 6-8 round dumplings (this works best with damp hands).

Bring a large pot of salted water to a simmer (not to a boil) and let the potato dumplings simmer for approx. 20 minutes.

We're in the final phase! Heat vegetable oil in a frying pan and fry the cooled seitan slices from both sides until browned. Next, add them to the sauce with the onions. Continue to simmer the sauce until it's creamy.
Tip: If the sauce is too thin, you can thicken it with some cornstarch. First, mix the starch with some water, then add it to the sauce, and stir in thoroughly. If it boils down too much, add some more vegetable broth or water.
Serve the potato dumplings with creamed savoy cabbage and fried seitan.