I have a strong liking for particularly small things, meaning: small versions of objects that are actually bigger. Think of mini pots, tiny graters, small baking dishes, and so on. I also highly enjoy these YouTube videos of someone cooking small dishes like a mini burrito for a hamster. But recently the opposite happened when I saw a video of an elderly lady cooking a huge portion of dal tadka. And it looked so delicious that I was immediately craving the Indian soup classic, but realized that we don't have a recipe for it on the blog yet.
Dal itself is basically a spiced soup that can be made with different legumes like lentils, peas, or beans. So when you come across specific names for it, it usually refers to the type of legumes that are used, e.g. masoor dal (with red lentils), moong dal (with mung beans), tur dal (with peas), or chana dal with peeled and halved chickpeas, which we cook today. I am very lucky to have an Indian supermarket nearby where I can pick from a wide range of dry legumes. But if you can't find dry chickpeas, you can also use any other kind of dried lentils, peas, or beans. Just do some research before to know whether you should soak them first to shorten the cooking time. Red lentils, for example, are a great choice if you don't have that much time as they only need about 10 minutes to cook (even without soaking).
A just as important part of this dish is tadka. It literally means 'tempering' and is all about adding spices to a dish that are first heated in hot fat to bloom and develop their aromas to the fullest. The whole process only takes a few minutes, is prepared separately from the dal, and then stirred in at the end. Not only spices are added to the tadka, but also aromatics such as onions, ginger, and garlic. You can find various recipes for tadka which will help you to find the right one for your taste. For example, if you like it milder, just add less chili. We add cumin seeds, coriander, bay leaves, turmeric, and chili flakes to our tadka, but you could also use mustard seeds, curry leaves, cinnamon sticks, sesame seeds, cardamom, and so on. Since the preparation is very fast and you don't want your spices to burn, it makes sense to weigh and prepare all ingredients beforehand.
Instead of using ghee (which is traditional but not vegan) we use a mixture of coconut and peanut oil, but you could also use sunflower oil.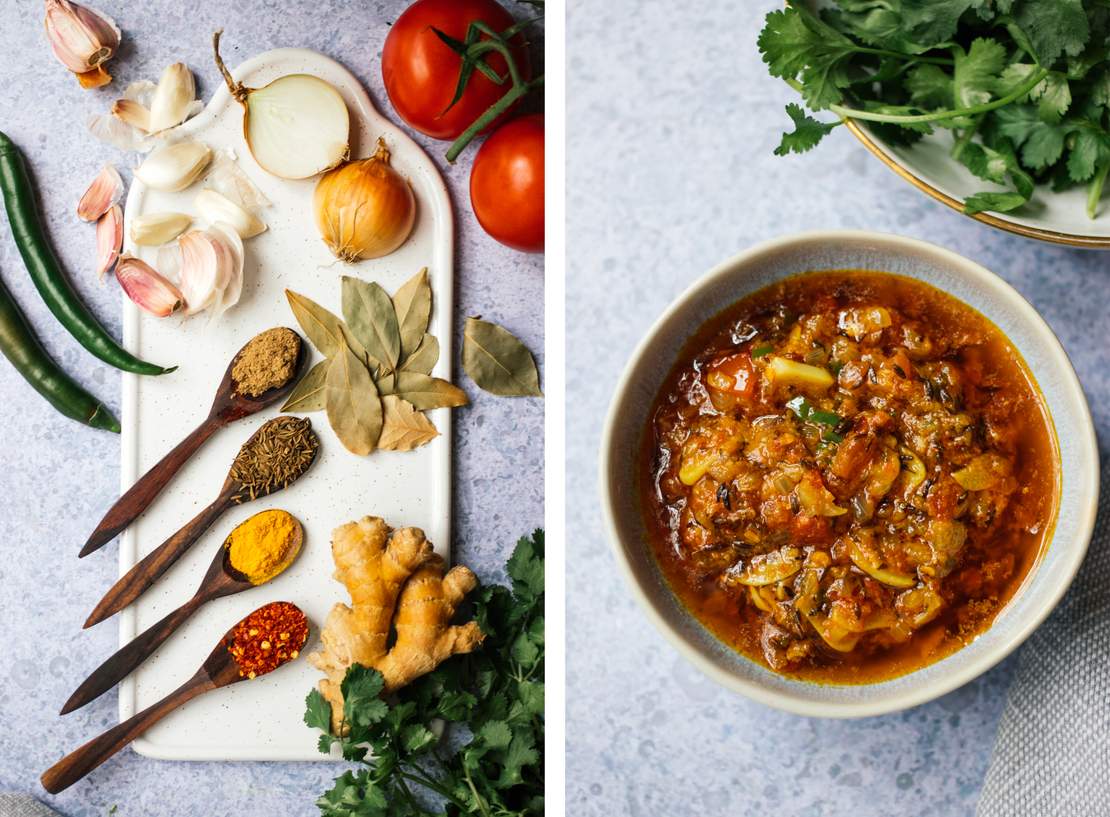 Vegan Chana Dal Tadka
2 servings (without rice) or 4 servings (with rice)
45 minutes
Ingredients
For the dal:
200 g (1 cup) Chana Dal (peeled, halved chickpeas)
1 Liter (4 cups) water
1 tsp turmeric
salt
For the tadka:
3 garlic cloves
20 g ginger
1 small onion
1 tomato
1 green chili
3 tbsp coconut oil
1 tbsp peanut oil (or sunflower oil)
1 tbsp cumin seeds
1 tsp cilantro
0.5 tsp turmeric
1 bay leaf
1 tsp dried chili flakes
salt
For serving:
Instructions
Rinse chana dal under running water until it's clear. Add the rinsed chickpeas, water, turmeric, and a pinch of salt to a pot. Bring to a boil, then reduce heat and let the chickpeas simmer for approx. 30-40 minutes, or until softened. It's often said to cook the chickpeas with the lid closed, but the water was always overboiling when I did this. So I only closed the lid over most parts of the pot. In case the chana dal gets too dry this way, just add some more water.

In the meantime, prepare the tadka. Peel and thinly slice the garlic. Grate ginger (you don't need to peel it). Peel and finely dice the onion. Chop tomato (and keep the liquid core). Deseed and finely chop green chili – if you don't like to eat spicy, you can also leave out the green chili completely.

Heat coconut oil and peanut oil in a small pot or a deep frying pan until it's hot. Start by frying the cumin seeds for approx. 30 seconds until they sizzle in the hot oil. Add onion, grated ginger, chili, and garlic slices and fry them for approx. 4-5 minutes, or until the garlic turns golden brown. Then, add tomato, coriander, turmeric, a pinch of salt, and the bay leaf and keep frying for approx. 4-5 minutes. Finally, add dried chili flakes and turn off the heat after 1 more minute of frying. Your tadka should be done by then, so you can just wait until the chana dal is cooked.

As soon as the halved chickpeas are softened, stir and roughly mash them with a cooking spoon, or directly use a potato mashed to do so. By mashing parts of the chickpeas, it will become creamy. Add most of the tadka to the dal and just stir it in, but don't mix it completely.

Serve chana dal in bowls or deep plates and drizzle some of the remaining tadka on top. Sprinkle chopped cilantro on top and, if desired, serve with rice.