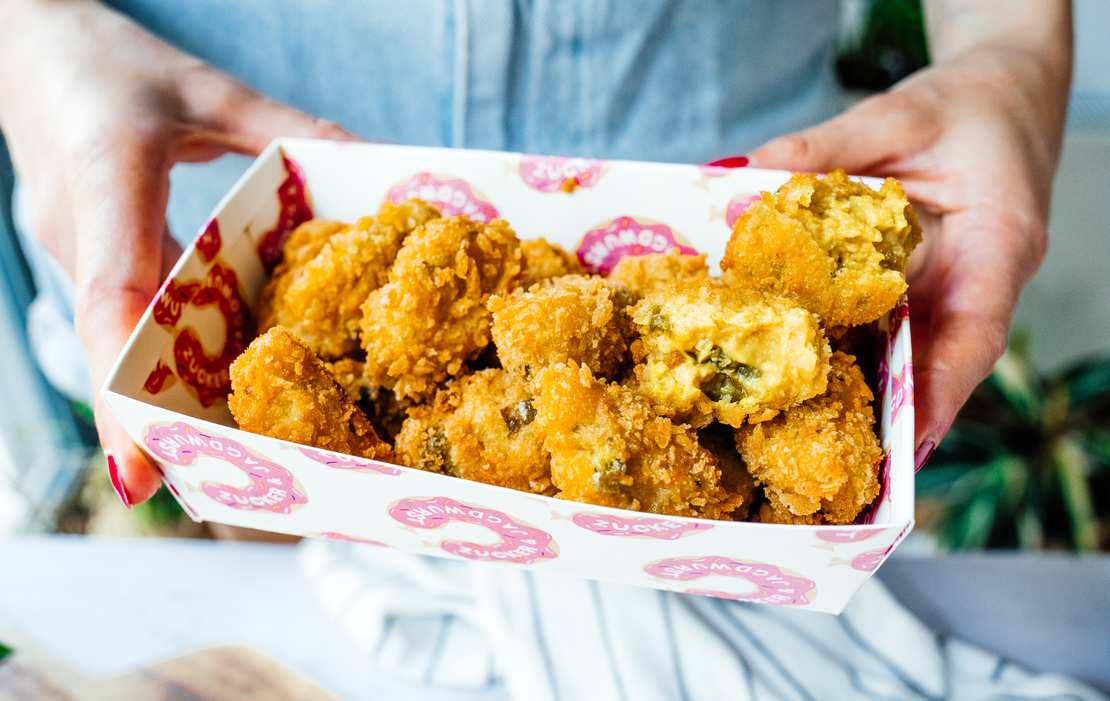 Vegan Chili Cheese Nuggets
Welcome to our new theme week! This time it's all about the tastiest and probably greasiest fast food classics of all time. So heat up some oil for new deep-frying projects and get ready for the next seven days. We've already shown you a few teaser photos on Instagram and you even recognized some of our copycat recipes. So of course we were thrilled to see that our vegan versions seem to look similar to the originals, but you now have to try them for yourselves to see if they also taste the same. We start our theme week with a plant-based recipe for the famous "Chili Cheese Nuggets" from Burger King, which are easier to veganize than you might think.
The right level of spiciness: While we honestly weren't sure exactly what these nuggets tasted like anymore, one thing we remembered was that they were always pretty darn spicy! Whether everyone likes that is another question, which is exactly why you should adjust the filling to your own taste. The decisive factor is jalapeños, which you can use either fresh or jarred. Half of them are blended directly into the vegan cheesy filling, the other half is added afterwards. So before you throw everything in, try the filling first after blending, then add the remaining jalapeños (or even more) little by little, or leave them out completely.
The secret ingredient: The original Chili Cheese Nuggets are filled with a creamy cheesy jalapeño filling that is coated in a crunchy breading. We used a secret ingredient for this that you already know from some of our other cheese recipes (vegan baked camembert, vegan baked cheese, vegan mozzarella sticks): tapioca starch! It's responsible for the stringiness and a cheese-like consistency. Unfortunately, tapioca starch cannot be substituted with other starches, but it can be found quite cheaply in Asian stores and larger supermarkets.
The best ice cube molds: For freezing, we used two different silicone ice cube molds and both worked great. So the size of your molds doesn't matter, but what does matter is that you use silicone molds. We also tested "regular" ice cube molds and had great problems getting the nuggets out of the molds after freezing. If you don't have silicone molds, I recommend lining a large plate with plastic wrap and spooning the "cheese" mixture onto it in small dollops.
One last tip: It's important to freeze the filling before breading – otherwise the nuggets might melt when you fry them. So be a little patient and trust us – it's worth it!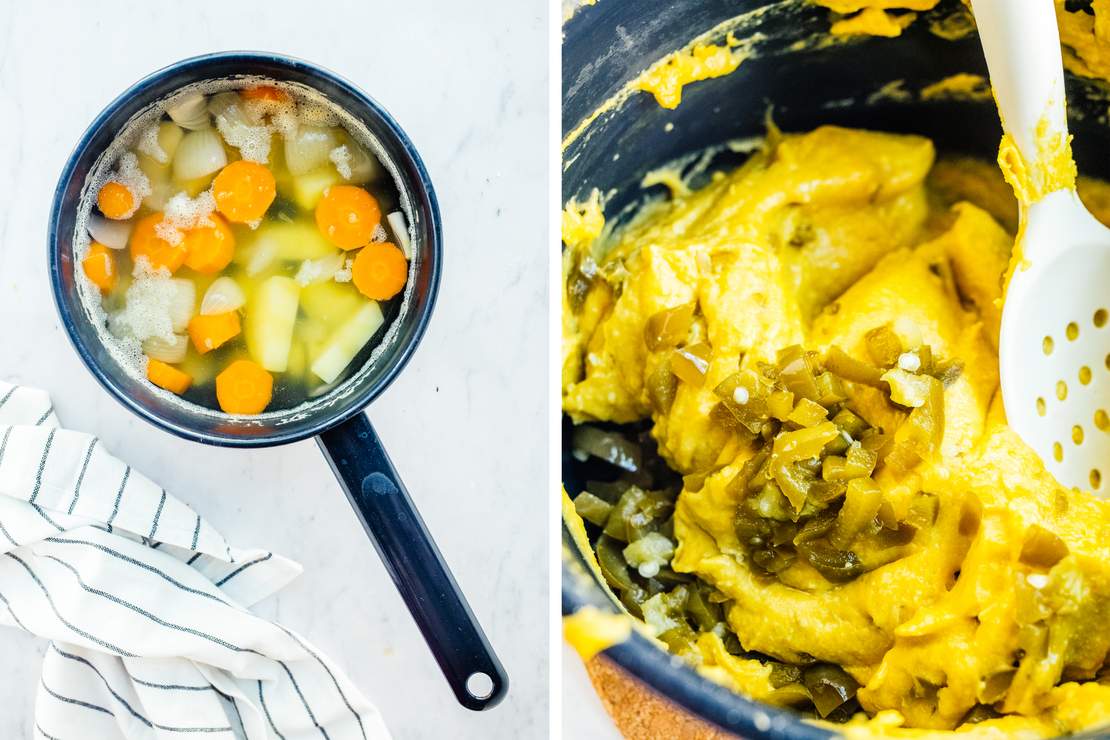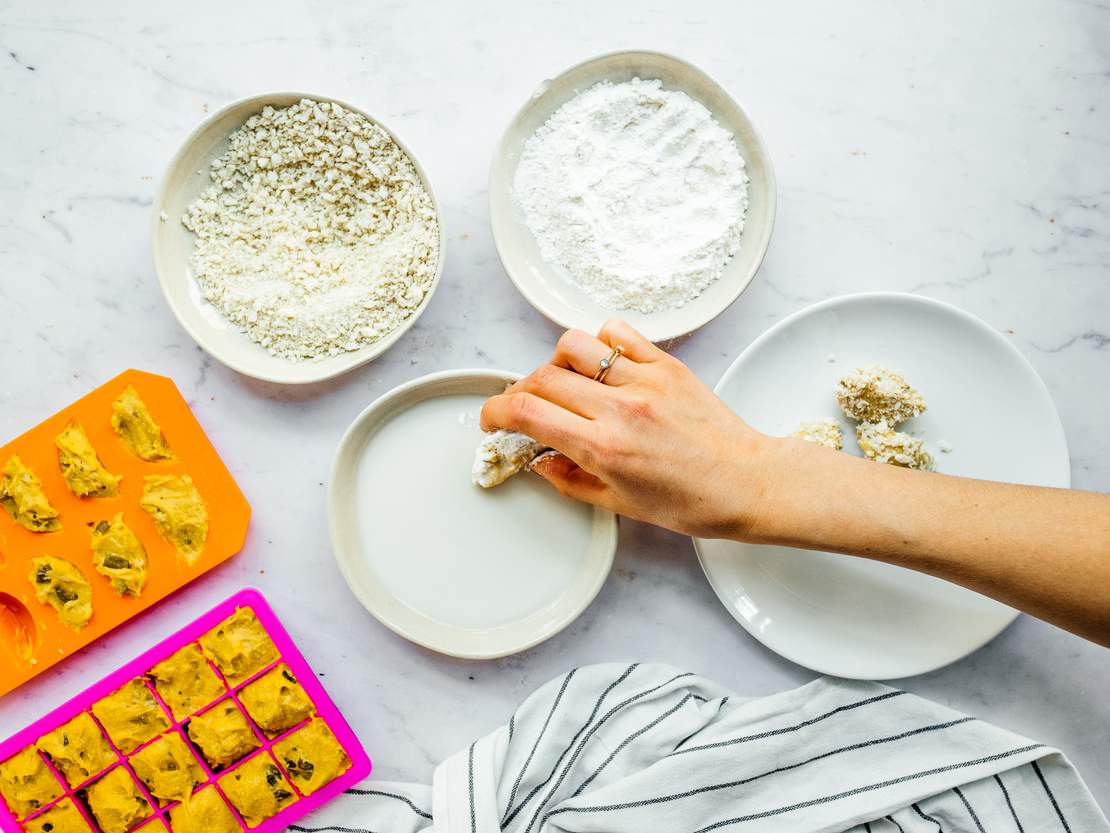 Vegan Chili Cheese Nuggets
approx. 25 nuggets
60 minutes (+ 60 minutes cooling time)
Ingredients
For the filling:
100 g (3.5 oz) cashew nuts (soaked overnight)
400 g (14 oz) waxy potatoes
1 carrot
1 onion
75 g (2.5 oz) jarred jalapeños (or 1 fresh jalapeño)
60 g (0.5 cup) tapioca starch
35 g (1.25 oz) nutritional yeast
1 tsp garlic powder
0.25 tsp turmeric
0.5 tsp mustard
1 tbsp apple cider vinegar
salt
pepper
For breading:
50 g (0.5 cup) flour
100 ml (0.5 cup) plant-based milk
100 g (1 cup) breadcrumbs (or panko breadcrumbs)
0.5 tsp paprika
salt
pepper
Also:
approx. 1 litre (4 cups) vegetable oil for frying
Instructions
Soak cashews in water preferably overnight, but for at least 30 minutes.

Peel potatoes, carrot, and the onion. Roughly chop them into equal-sized pieces to make sure that they cook evenly. Bring to a boil and let the vegetables simmer for approx. 15 minutes, or until they are fork-tender.

In the meantime, deseed and finely dice the fresh jalapeño. If you're using jarred jalapenos, also finely dice them.

Blend the cooked vegetables with half of the jalapeños, soaked cashews, tapioca starch, nutritional yeast, garlic powder, turmeric, mustard, and apple cider vinegar until smooth. Season the mixture with salt and pepper to taste.

Heat the mixture in a pot over medium-low heat until it starts to pull off the sides of the pot. Stir in the remaining jalapeños.Fill the mixture into silicone molds and freeze for at least 1 hour.

In the meantime, prepare three bowls for breading. Mix flour with a generous pinch of salt and pepper in one bowl. Add plant-based milk to a second bowl, and breadcrumbs with paprika to the third bowl. Dredge in flour first, then transfer it to plant-based milk, and toss each nugget in breadcrumbs until it's covered from all sides.

Heat vegetable oil for frying in a pot until it reaches 160-180°C/320-355°F. To test if the oil is hot enough, dip the end of a wooden skewer into the oil. As soon as bubbles form around the wooden skewer, the oil is hot enough. Deep-fry the breaded nuggets in batches until they are crispy and golden brown. Drain on kitchen paper and serve immediately!