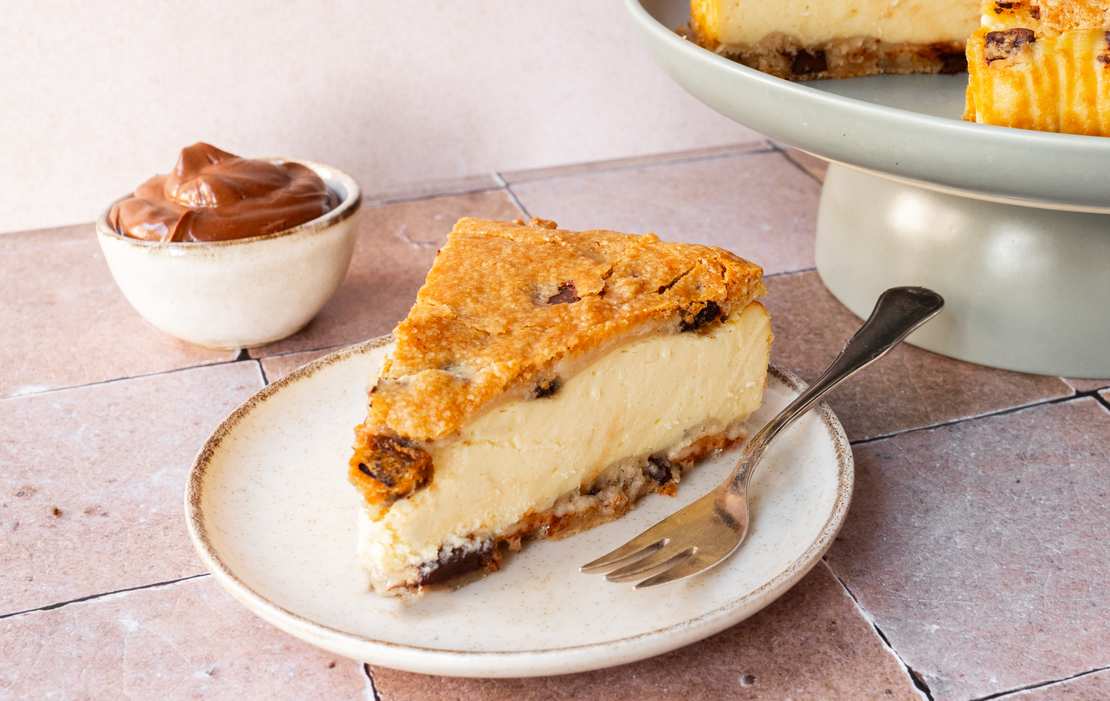 Vegan Cookie Dough Cheesecake
This cookie dough cheesecake is one of those recipes I crossed paths with on Pinterest years ago. Since then, it's been sitting on one of my pinboards, waiting for its moment. However, since the mentioned recipe was not vegan, I had to re-adjust the ingredients and composition.
I started by combining our chocolate chip cookies recipe with a simple vegan cheesecake recipe. Then I had to find the right ratio. I also had different ideas for the decoration, so I ended up testing eight different versions of the cookie dough cheesecake in one (!) springform pan.
As you can imagine, this version with baked cookie dough on top was the winner.
And because there is no such thing as too much chocolate, I spread some dark ganache on top. Although it sounds fancy, making a vegan ganache is actually pretty simple: heat the plant-based cream and stir in the chocolate until you have a smooth chocolate cream.
If you want, you can save some of the cookie dough and add it raw, rolled into balls, as the final topping on top. However, this only works if you serve the cake right away - after a few hours, unfortunately, the raw dough won't look pretty.
If cookies + chocolate + cheesecake are a bit much for you, you could try our cheesecake with cherries, our cheesecake in a jar with strawberries, cheesecake muffins or maybe a pumpkin cheesecake.
Vegan Cookie Dough Cheesecake
1 cake (∅ 28cm / 11 inches)
45 minutes (+ 60 minutes baking time + 120 minutes resting time)
Ingredients
For the cookie dough:
16 g (0.5 oz) vanilla sugar
70 g (0.33 cup) white sugar
125 g (0.66 cup) brown sugar
75 g (2.66 oz) vegetable oil
2 tbsp applesauce
60 ml (0.25 cup) water
260 g (2 cups) flour
1 pinch of salt
1 tsp baking powder
100 g (3.5 oz) vegan chocolate chunks
For the cheesecake:
800 g (3.33 cups) soy yogurt
200 g (0.5 lb) plant-based cream cheese
100 g (0.5 cup) sugar
56 g (2 oz) vegan vanilla pudding powder
125 g (1 stick) vegan margarine (melted)
1 tbsp lemon juice
lemon zest
Also:
100 ml (0.5 cup) plant-based cream
100 g (3.5 oz) vegan dark chocolate
Instructions
Preheat oven to 180 °C / 350 °F (top and bottom heat). Then grease a springform pan (∅ 28 cm / 11 inches) and line the bottom with parchment paper.

Combine vanilla sugar, sugar, vegetable oil, applesauce, water, flour, baking powder, salt and vegan chocolate chunks for the cookie dough. Then distribute half the dough on the bottom of the springform pan and press firmly.

Mix soy yogurt, plant-based cream cheese, sugar, vegan vanilla pudding powder, margarine, lemon juice, and lemon zest for the cheesecake batter. Then pour the batter onto the cookie base in the springform pan. Form a circle from the remaining cookie dough (with the diameter of the springform pan) and put it on top as the last layer. Bake the cake at 180 °C / 350 °F (top and bottom heat) for 60 minutes.
Tip: You can also put the top layer of cookie dough in the freezer for about 10 minutes. This makes it easier to lift the layer onto the cheesecake.
Let the cake cool for at least 2 hours. When cooled, heat the cream in a saucepan. Remove from the heat and add the dark chocolate. Once the chocolate melts, stir well. Allow the ganache to cool, then spread over the cake.