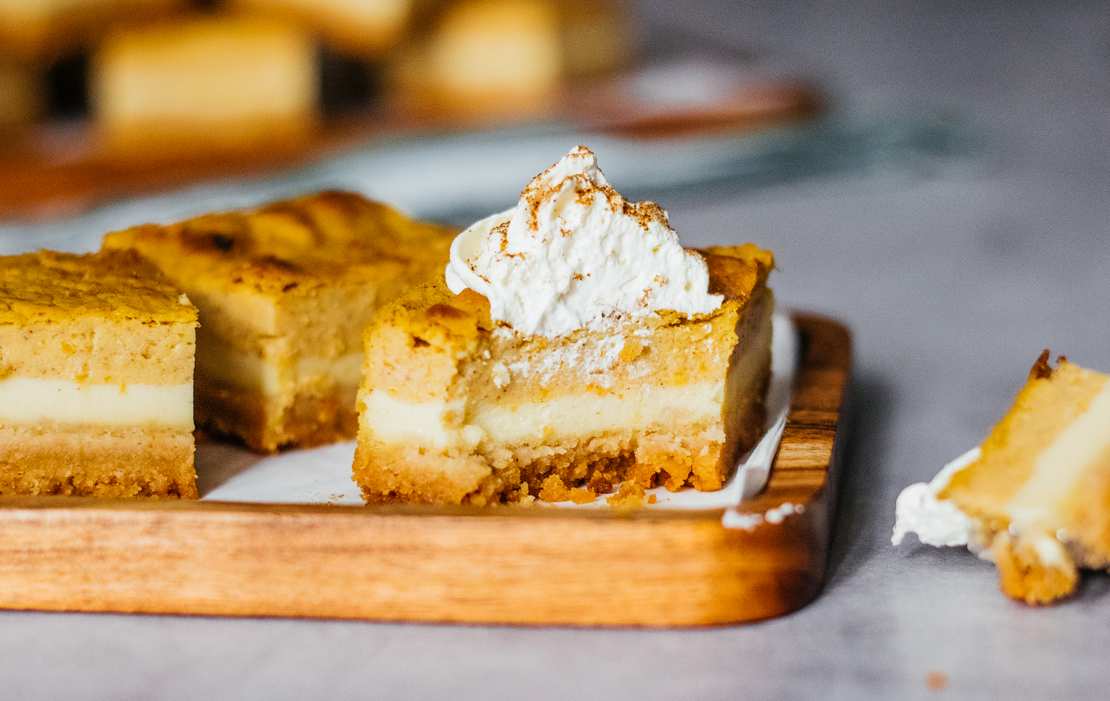 If you're raising your eyebrows right now thinking "Since when do vegetables end up in cheesecakes?". Let's first clarify what pumpkins are in the first place. Strictly speaking, pumpkins aren't vegetables at all. Ha! But they aren't fruit either ! Huh? They are actually classified as "fruits" and, due to their vegetable-like properties, as "fruiting vegetables." Ahhh! If one wants to take it entirely exact, pumpkins are even berries. (Source) Yikes! So you can relax your eyebrows again because there's no need to become unsettled about fruits or rather berries ending up in our cheesecake, is there?
But of course, we understand that it's not common to use pumpkins in sweet dishes. However, the combination of sweet ingredients and the savory taste of pumpkins goes pretty well together, which is why we've already introduced you to pumpkin buns, pumpkin brownies, and even pumpkin pancakes. So a pumpkin cheesecake was definitely missing from our list.
For our recipe, we used nutmeg pumpkin, which has a very spicy taste and reminds us of nutmeg. In contrast to our sweet and tart cheesecake, it fits perfectly and is very easy to work with. You can keep your eyes open at the market for green-beige to dull-yellow pumpkins with a heavily ribbed shape. Muscat pumpkins, just like the butternut squash, belong to the musk pumpkins. Of course, this name doesn't come from anywhere because nutmeg pumpkins can weigh up to 35 kg. Wow! However, we only need about 350 g for our pie, so feel free to grab a small one. In the supermarket, most nutmeg pumpkins weigh about 3-5 kg, but you can also find them cut into pieces, which is super convenient.
For our recipe, we remove the peel before cooking, as we only want the soft flesh for the pumpkin filling, which is deliciously creamy with our vegan curd. You can eat the peel , but it takes much longer to cook or bake than the flesh and is, therefore, often still too hard. (Source) By the way, you can even eat nutmeg squash raw! So if you have some leftovers, it's great to use in salads or cook it up in soups, jams, chutneys, casseroles, or stews (Source). If you can't find a nutmeg pumpkin, you can also use a hokkaido pumpkin. It tastes slightly more neutral than nutmeg squash, so feel free to add some nutmeg and more Pumpkin Pie Spice in this case. Let's cook some vegetable, er, fruit, er, and pumpkin pie!
Vegan Pumpkin Cheesecake
1 baking tray (20x24 cm / 7.8x9.5 inches)
45 minutes (+ 60 minutes baking time, 60 minutes cooling time)
Ingredients
For the cookie base:
140 g (1.25 stick) vegan butter
400 g (14.33 oz) vegan (butter) cookies
For the filling:
350 g (12.33 oz) nutmeg pumpkin
150 g (5.33 oz) vegan margarine
74 g (2.66 oz) vegan vanilla pudding powder
80 ml (0.33 cup) plant-based milk
300 g (10.5 oz) vegan cream cheese
400 g (14 oz) vegan skyr (curd)
1 tsp vanilla extract
50 g (1.75 oz) powdered sugar
1.5 tsp Pumpkin Pie Spice
For the toppings:
50 ml (0.25 cup) vegan cream for whipping
8 g (0.25 oz) vanilla sugar
8 g (0.25 oz) cream stiffener
2 tsp cinnamon or Pumpkin Pie Spice
Instructions
Peel the nutmeg pumpkin, cut it into rough pieces, put it in a pot, cover it with water, salt a little, and bring it to a boil. After about 15 minutes, the pumpkin should besoft. Then drain well and blend with a blender until smooth.

For the cookie base, melt the vegan butter and mix the vegan cookies in a chopper (alternatively, put them in a resealable bag and roll over them with a rolling pin until all cookies are reduced to small crumbs). Mix vegan butter and cookies and place in a greased baking frame (20x24 cm / 7.8x9.5 inches). Press the cookie base evenly with a spoon or your fingers and refrigerate.

Preheat the oven to 180°C / 350°F (convection oven). For the filling, melt the margarine in a small saucepan and allow it to cool slightly. Mix the vanilla pudding powder with vegetable milk in a bowl until there are no lumps in the mixture.

In a large bowl, whisk together vegan cream cheese, vegan skyr, vanilla extract, powdered sugar, vanilla pudding powder mix, and melted margarine. Pour two-thirds of the filling on the cookie base.

Add the cooked nutmeg pumpkin and Pumpkin Pie Spice to the remaining third and mix well. Now spread the pumpkin cream on top of the curd. Bake the cake for about 60 minutes at 180°C / 350°F (convection oven).

In the meantime, whip the vegan cream with vanilla sugar and cream stiffener and refrigerate. Once the cake is completely cooled, cut it into pieces, decorate it with cream and sprinkle a little cinnamon or Pumpkin Pie Spice on top.