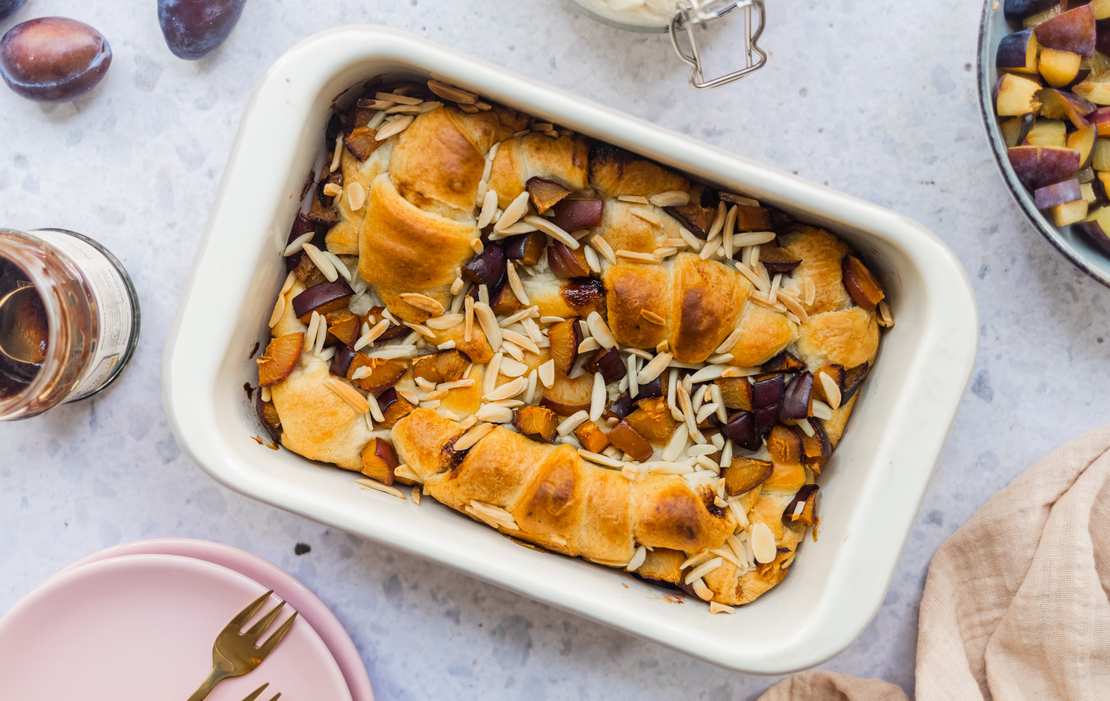 Vegan Croissant Casserole with Plums
There is a little story to tell about this croissant casserole. My brother has had a new passion for a few months: baking croissants. And by that, I don't mean buying a ready-made package from the supermarket, rolling up the croissants, and baking them. Instead, he starts preparing croissants three days before he wants to eat them. That sounds romantic and elaborate at the same time, doesn't it? Needless to say, I tried it out as well. My first homemade croissants tasted delicious but also took quite a bit of time. So I'm happy to leave this job to him (and when your brother bakes them, they taste just a tad better, right?). For me, this means that when he's not around, I simply grab ready-made packages from the supermarket. And that's exactly how this recipe came about. It's so simple and quick to make - no three-day planning is required because all you need for this recipe are four ingredients: croissant dough, plum jam, plums, and almond slivers.
Some of you may be wondering that ready-made croissant dough is vegan. Of course, we can't guarantee that every company in the world produces only vegan ready-made croissant dough, but it's vegan from most companies we know. And we love that, of course! We spread some plum jam on our vegan croissant dough, but you can also leave it out completely or replace it by any other jam, chocolate cream, or else.
After you've rolled up the dough, add the croissants to your baking dish in a way that they completely cover the bottom. We pre-bake them briefly so that they rise a little. As soon as the fruit is added, it releases liquid, so it's an advantage if the croissants have already had some time to rise and pre-bake. This croissant casserole is an ideal comfort breakfast for fall and winter. However, just reach for other seasonal fruits if you want to make it at another time of year.
Vegan Croissant Casserole with Plums
4 servings
15 minutes (+ 30 minutes baking time)
Ingredients
2 packages of ready-made vegan croissant dough
150 g (5.5 oz) plum puree
150 g (5.5 oz) plums
20 g (0.75 oz) almond slivers
vegetable oil for greasing
Instructions
Preheat the oven to 180°C/350°F (circulating air). Remove the croissant dough from the package and cut it into single croissants. Spread plum jam on each croissant, roll up tightly, and form into croissant.

Grease a baking dish with some vegetable oil and add the croissants in a way that they cover the whole bottom, or as much as possible. Prebake at 180°C/350°F for aprox. 5 minutes until they're slightly risen and browned.

In the meantime, wash and deseed the plums, then finely dice them.

Remove the casserole dish from the oven, add the diced plums and almond slivers and bake for another 5 minutes. Then cover the casserole dish with aluminum foil to prevent the croissants getting too dark and bake for another approx. 10-15 minutes until the croissants are baked through.

Remove the casserole from the oven and serve while still warm.