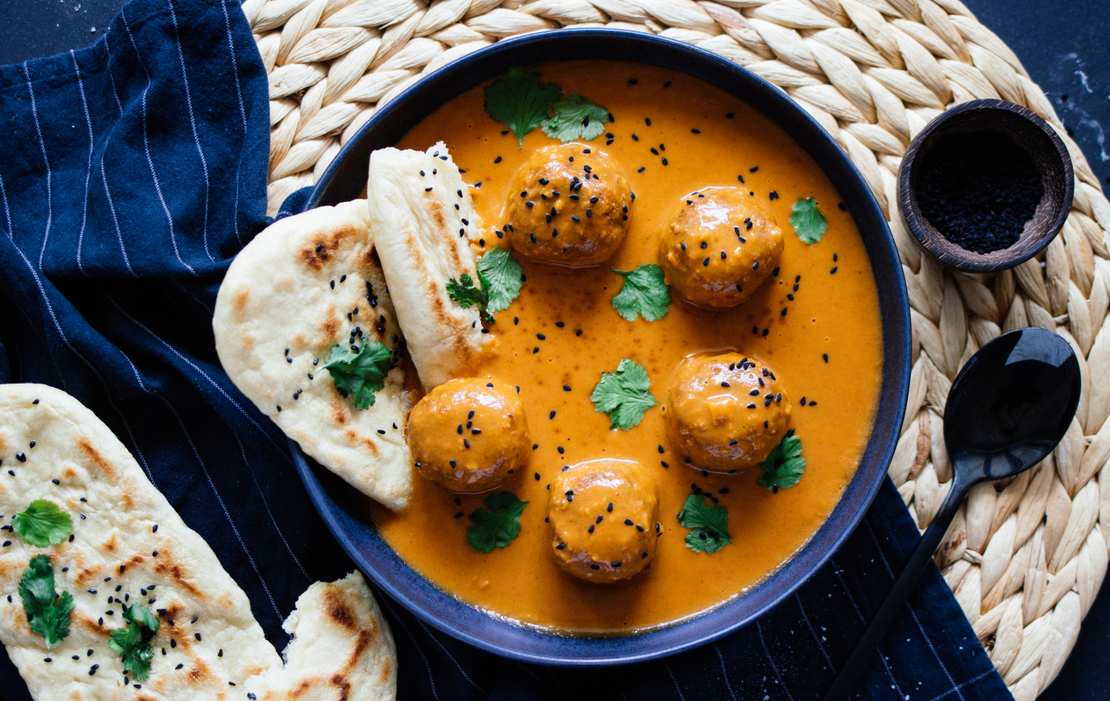 Vegan Falafel Curry with Naan Bread
An Indian curry (as we know it here in Berlin) is probably one of the coziest dishes in the world. After a rainy Sunday, we look forward to a creamy sauce that has wonderful flavors due to lots of fresh ginger and garlic. One of our favorite side dishes to an Indian curry is Naan bread, which, unfortunately, is often not vegan. That's why we simply prepared it ourselves.
You can prepare the yeast dough of the Naan bread the day before or a few hours in advance. This way, you just roll out the dough and fry the naan bread in a pan for a few minutes, shortly before having dinner or lunch. If you let the yeast dough rise in advance, the curry is prepared in just 30 minutes. Of course, you can also serve vegetables with the curry, such as broccoli, eggplant, peas, or lentils.
We are very happy that Bauckhof Naturkost supported us with this recipe! Bauckhof produces organic products under sustainable conditions and in Demeter quality. They own three own agricultural farms and one stone mill in the Lüneburg Heath in Lower Saxony. We used the Falafel Curry-Coconut for our recipe, which is organic and gluten-free.
The combination of falafel and curry sounds unusual at first, but actually tastes super delicious! The chickpea balls contain not only grated chickpea and chickpea flour but also coconut flour and curry powder and therefore works perfectly with a coconut milk-based curry. You can see how easy the preparation is in the recipe below. The falafel balls are a nice (and really quite tasty) alternative if you don't have time to make your own vegetable or falafel balls!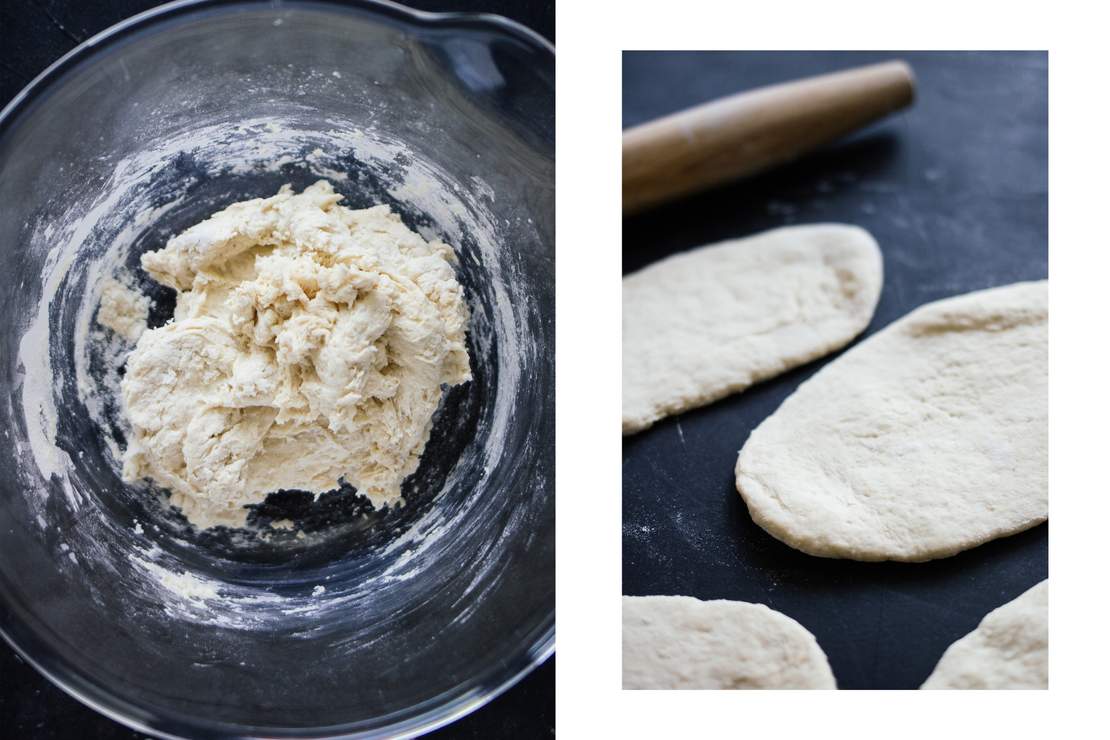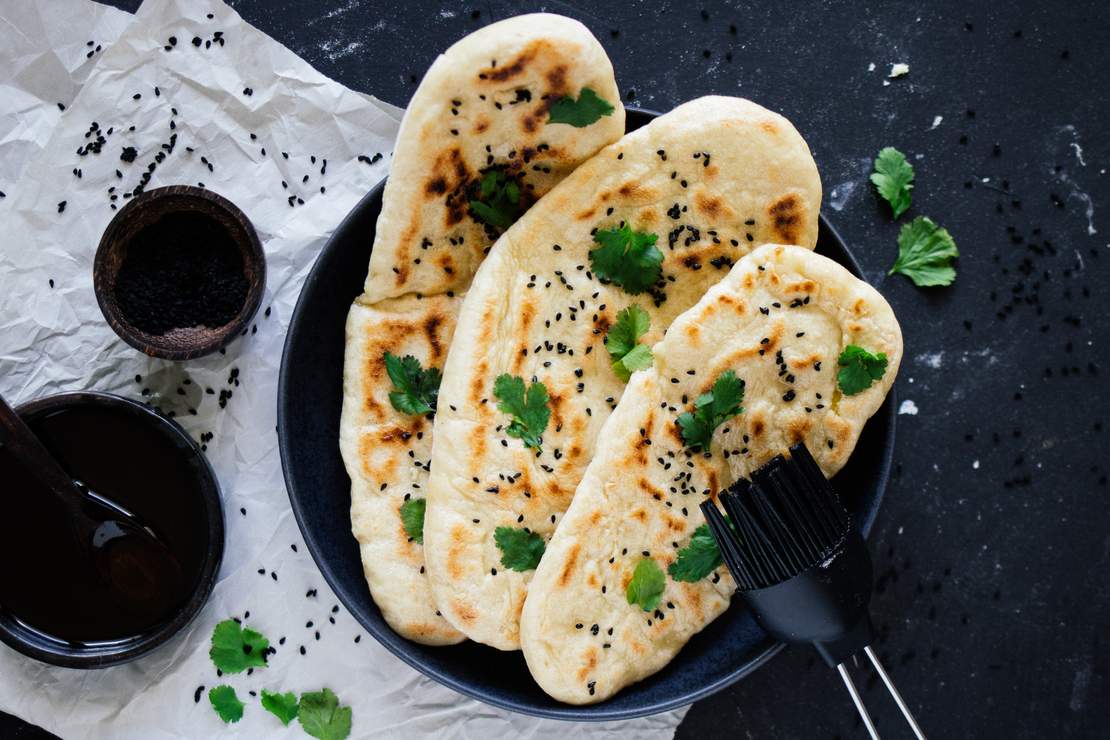 Vegan Naan Bread
4 Naan Breads
30 minutes (+75 minutes waiting time)
Ingredients
10 g fresh yeast
0.5 tsp white sugar
100 ml plant-based milk
250 g wheat flour
100 g plant-based yogurt (natural)
0.5 tsp salt
toppings
1 tsp black cumin
2-3 tbsp oil
Instructions
Heat the plant-based milk until lukewarm.
Mix the sugar with the lukewarm milk in a large bowl and stir in the yeast. Set aside for 10 minutes.
Knead in the flour, the plant-based yogurt, and the salt and let the dough rise (covered with a damp cloth) in a warm place for 60 minutes.
Knead the dough again and form 4 equal-sized balls.
Roll out each ball on a floured surface to a flatbread and let it rise for another 15 minutes.
Heat a pan without oil on medium heat and brown each naan bread for 3-4 minutes on both sides.
Vegan Falafel Curry
Ingredients
160 g organic falafel curry-coconut mix (e.g., from Bauckhof)
50 ml (0.2 cups) oil (for frying)
1 tsp black cumin seeds (for serving)
10 g fresh cilantro (for serving)
curry
1 onion
1 garlic clove
20 g fresh ginger
2 tbsp coconut oil
3 tsp garam masala
1 tsp curry powder
1 tsp agave syrup
215 ml passed tomatoes
400 ml coconut milk
salt
Instructions
Prepare the falafel curry-coconut according to the package instructions. Stir the falafel powder into 275 ml of boiling water and set aside for 15 minutes.
In the meantime, prepare the ingredients for the curry. Peel and dice the onion and garlic.
Peel the ginger with a teaspoon and cut it into small pieces.
Heat the coconut oil in a high pan and fry the onion over medium heat for 2-3 minutes until it becomes translucent. Add the Gara Masala and curry powder.
Now add the garlic, ginger, and agave syrup and fry for another 2-3 minutes.
Pour in the passed tomatoes and coconut milk and let simmer for 10 minutes on a small to medium heat.
Back to the falafel balls: Shape (with wet hands) 12-14 balls of the same size and fry in a coated pan with a little oil.
Puree the curry to a creamy sauce and season with salt, agave syrup, and the spices (if necessary). Serve the falafel with the curry.