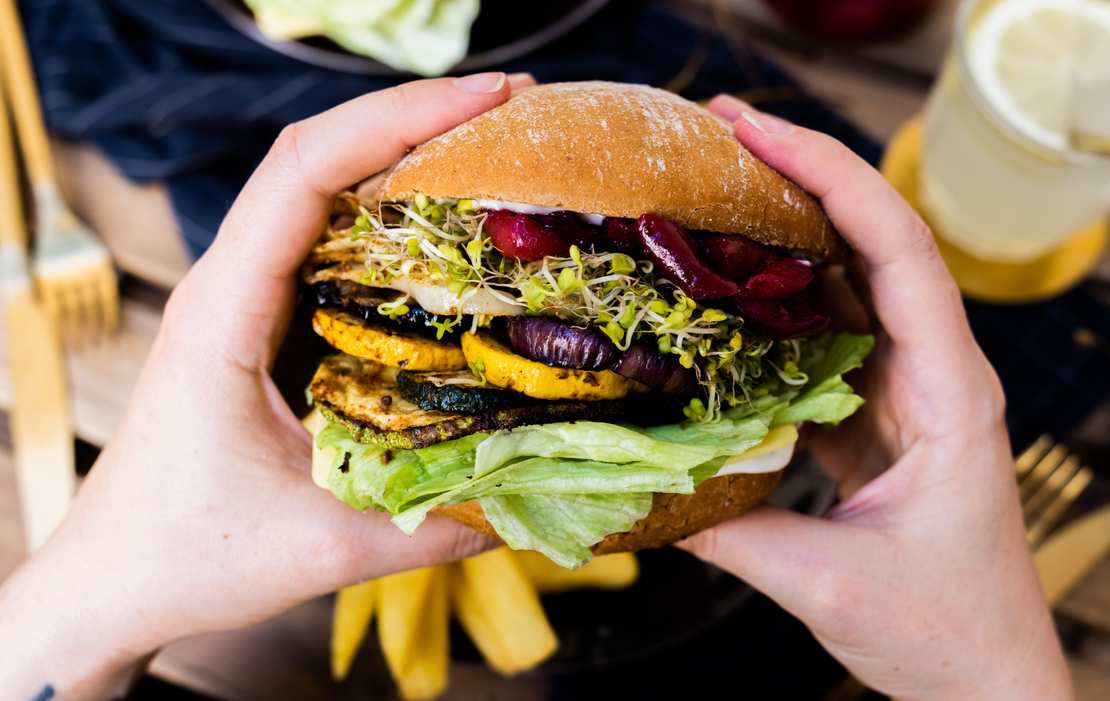 Vegan Grilled Vegetable Burger with Cherry Topping
When you think of a classic burger from a few years ago, you probably imagine a meat patty, cheese, lettuce, pickles, and ketchup. But what is a classic burger these days? There are more and more vegetarian or vegan substitutes, that are even convincing meat-eaters. We already have some of these plant-based burger recipes on the blog, like our vegan burger with veggie patty, our vegan portobello burger, and a vegan pancake burger with soy steaks.
For today's recipe however, we decided against a burger patty at all and instead throw a huge pile of grilled veggies on our buns. They are quickly marinated with a mix of olive oil, sweet paprika, and garlic before grilling. Of course, if you have the time, you can already marinate the vegetable a day before which will give them more flavor.
To make our grilled veggie burger even more summery, we prepared a quick cherry compote. Trust us - even if you're not a fan of combining savory dishes with sweet components, you should definitely try this one. The cherries balance out the burger perfectly and give it the fresh kick it needs. If you're not into cherries, you can replace them with our vegan strawberry ketchup, which also goes very well with it! Our mix of vegetables is just one of many ideas. If you don't like zucchini and prefer mushrooms on your burger instead, you can replace or supplement everything – preferably with seasonal and regional vegetables, of course. If you're gluten intolerant, you can also replace the burger buns with a gluten-free alternative.
We're very happy to be supported by EDEKA with this recipe where you can easily find all the ingredients for our grilled vegetable burger. You'll mostly spend your time in the fruit and vegetable department, which offers a huge selection of regional and seasonal fruits and vegetables and where you find a lot of EDEKA's own organic produce. We also like that you can just grab a paper bag there to buy single vegetables. But EDEKA also has a wide selection of other plant-based products such as vegan burger buns, and vegan organic mayonnaise that we used for our burgers, plus fries as a side dish. And if you're looking for drinks to go with your barbecue, you'll also find beer, plant-based wines, or lemonade there – so basically, everything your heart desires.
Vegan Grilled Vegetable Burger with Cherry Topping
Ingredients
For the preserved cherries:
For the vegan herb mayonnaise:
100 g (3.5 oz) EDEKA Organic + Vegan Salad Mayonnaise
10 g (0.33 oz) fresh herbs (e.g. parsley, mint and chives)
lemon juice
For the grilled vegetables:
50 ml (0.25 cup) olive oil
2 tsp sweet paprika powder
2-3 garlic cloves
0.5 zucchini
0.5 eggplant
1 large onion
6 small carrots
salt
pepper
Also:
2 EDEKA Craft Burger Buns
2 vegan cheese slices
iceberg lettuce
sprouts
Instructions
Wash and pit the cherries, then transfer them to a saucepan. Simmer over medium heat for approx. 15 minutes until they're slightly thickened, then remove from heat and let them cool down.

In the meantime, prepare the vegan herb mayonnaise. Add vegan mayonnaise to a bowl. Wash and finely chop fresh parsley, mint and chives, then also add them to the bowl and season the mayonnaise dip with lemon juice to taste.

For the marinade of the grilled vegetables, mix olive oil, paprika powder and a good pinch of salt and pepper in a large bowl. Either finely chop the garlic cloves or press them through a garlic press, then add it as well.

Wash zucchini and eggplant, peel the onion, and cut everything into slices or rings. Wash the carrots and optionally peel them as well. Add the sliced vegetable and carrots to the marinade and toss to coat.

Heat up the grill and grill the vegetables until they are charred but still firm to the bite. Just before serving, throw your burger buns onto the grill to toast them as well.

Top each burger with vegan herb mayonnaise, vegan cheese slices, grilled vegetables, iceberg lettuce, cherries, and fresh sprouts. Serve with grilled carrots on the side.