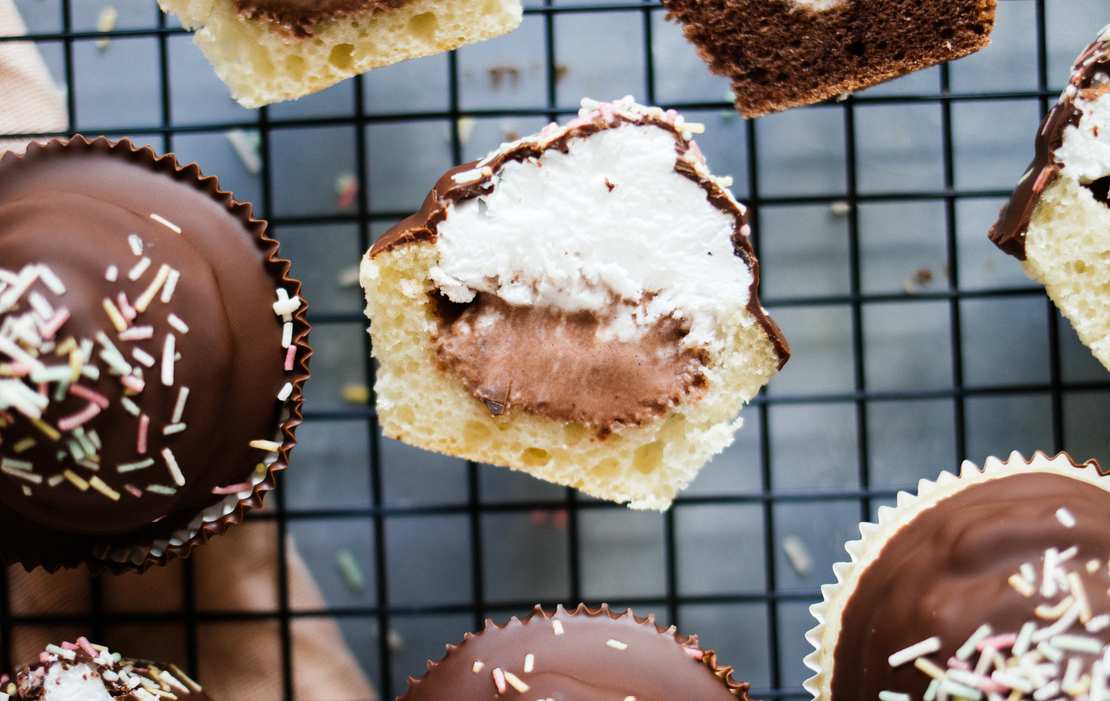 An ice-cold chocolate coating, creamy ice cream, and an airy dough: If you have never filled your muffins or cupcakes with ice cream and dipped them in melted chocolate, then today is your lucky day. You will love this recipe (like we do) because you combine two of the best things in the world in this recipe: ice cream and cake.
But instead of baking an entire cake, we prepared the smaller version of it: cupcakes. So at first, we baked very simple muffins based on a sponge cake. With the help of a spoon, we create space for ice cream and top it with vegan whipped cream. Now all that's missing is liquid chocolate, which gives us a crunchy coating. And that's it! Probably one of the easiest and most delicious desserts this summer!
You can prepare this recipe whenever you want and just store them in your freezer until you need dessert, or your family and friends are visiting you. Despite freezing cupcakes, the dough remains soft and fluffy. It's best to give the cupcakes 5-10 minutes to defrost before serving.
We are very happy that LUVE (one of our favorite ice cream brands) supports us with this recipe. We filled our cupcakes with LUVE's [chocolate] (https://madewithluve.de/produkte/eis-schokolade/) and [vanilla ice cream] (https://madewithluve.de/produkte/eis-vanille/). Like all LUVE products, the ice cream is made from local lupins (from Mecklenburg-Western Pomerania) and thus supports regional agriculture. Luve ice cream does not contain any artificial flavors, artificial colors, or artificial flavor enhancers. In addition, the packaging is 100% biodegradable! You can find LUVE products at EDEKA, real, Kaufland, Aldi Nord, Veganz, or at online delivery services.
Vegan Ice Cream Cupcakes
12 Cupcakes
45 minutes (+90 minutes waiting time)
Ingredients
cupcakes
225 g flour

125 g sugar

8 g baking powder

8 g vanilla sugar

250 ml sparkling water

50 ml vegetable oil (rapeseed or sunflower oil)

8 g cocoa powder

12 paper cupcake liners
ice cream & whipped cream
200 ml vegan whipped cream (stored overnight in the refrigerator)
8 g cream stiffener
8 g vanilla sugar
200 ml vegan chocolate & vanilla ice cream (e.g., from LUVE)
chocolate coating
200 g dark chocolate
2 tbsp coconut oil
2-3 tbsp vegan sprinkles
Instructions
Cupcakes
Mix the flour, sugar, baking powder and vanilla sugar in a bowl.
Add sparkling water and vegetable oil and stir in only briefly.
Preheat the oven to 180°C (circulating air). Fill six of the paper tins with 50 g dough (each).
Add the cocoa to the remaining dough in the bowl and stir in with a whisk. Fill the six remaining tins with 50 g chocolate dough (each).
Place the filled muffin tins on a baking sheet and bake for 15 minutes at 180°C (circulating air).
Afterward, let the cupcakes cool down completely.
ice cream & whipped cream
Whisk the vegan cream with the cream stiffener and the vanilla sugar until stiff. Store in the fridge.
Use a teaspoon to form a hole in the center of the muffins. There should be enough space for approx. 1 tbsp vegan ice cream.
Fill the cupcakes with the ice cream and place the whipped cream on the cupcakes using a piping bag. Place the cupcakes in the freezer and wait for about 30 minutes.
Chocolate coating
For the chocolate coating, heat the dark chocolate in a water bath and stir in the coconut oil.
Allow the warm chocolate to cool down for about 15 minutes and then pour it into a deep container in which you can dip the cupcakes.
Take the cupcakes out of the freezer one by one and dip them in the melted chocolate. Decorate immediately with sprinkles and freeze again for at least 30 minutes.
Remove from the freezer approximately 5-10 minutes before serving.