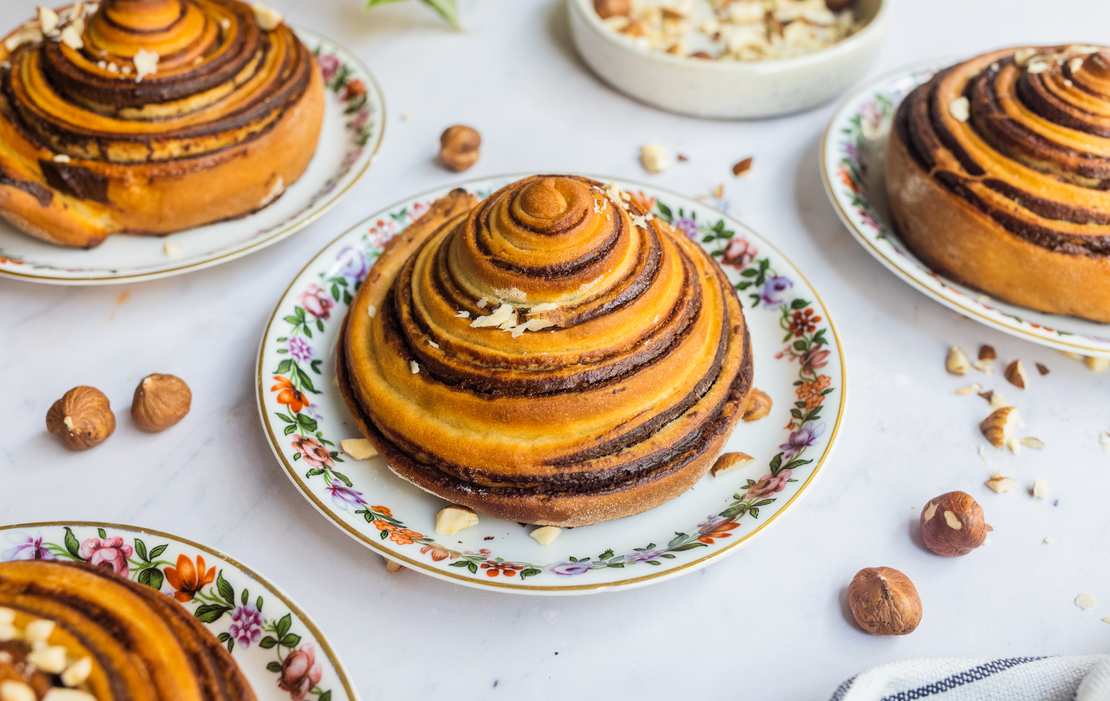 Vegan Chocolate Swirl Buns
To make an impression at an afternoon coffee party I love to prepare something a bit more fancy that everyone loves but that isn't too complicated to prepare – yeast buns are my very favorite choice for this occasion. While some consider a yeast dough to be quite the diva that just won't rise, you'll see that it only requires a bit of attention and that it's actually more reliable than you think, and not at all a coincidence whether a yeast dough rises or not.
So once you've figured out how it works, there's an empty yeast canvas in front of you that wants to be painted.... uh, we mean to say that you can actually put anything you want on a yeast dough. The classics are, of course, cinnamon buns, but we also love the berry version, and we wouldn't be "Zucker&Jagdwurst" if we didn't have savory pesto buns on offer. What's still missing? Chocolate buns, of course!
We were more than happy to find out that the Leipzig-based "The Nu Company" now has a spread in addition to its chocolate, energy, and protein bars. Their chocolate-nut spread "Creamy Noisette" consists of 40 % roasted hazelnuts – and you can taste them wonderfully! In addition, they consist of coconut blossom sugar, cacao, tiger nut flour, hemp seeds, cacao butter, vanilla extract, coconut oil, and acerola – everything is 100 % organic! So unlike some other chocolate spreads, "The Nu Company" doesn't use any palm oil, which we think is especially great. The chocolate spread is, of course, perfect for our and your breakfast toast (Julia would add a thick layer of vegan butter underneath, while Isa's comes without any extras), but we decided to just heat it slightly to make it a bit more liquid and then spread it on our yeast dough.
This time, unlike our previous buns, we folded the dough, rolled it out again, then cut it into thick strips that we rolled up. The swirl buns are baked on a lined baking sheet with some space between them which is why they get a crispy edges. Of course, you could also roll up the dough like you do with classic cinnamon buns, cut them into equal-sized pieces, and bake them in a baking pan.
So now what are the tricks for yeast dough? We share our tipps in this article.
Vegan Chocolate Swirl Buns
8 buns
45 minutes (+ 60 minutes resting time + 20 minutes baking time)
Ingredients
For the dough:
250 ml (1 cup) plant-based milk
7 g (1.5 tsp) active dry yeast
60 g (0.33 cup) sugar
75 g (0.66 stick) vegan butter
500 g (4 cups) flour
1 pinch of salt
For the filling:
180 g (3.33 oz) nucao spread (creamy noisette) from The Nu Company
Also:
100 ml (0.5 cup) plant-based milk
2 tbsp agave syrup
chopped hazelnuts for garnish
Instructions
For the dough, heat plant-based milk until it's lukewarm. Parallelly, melt vegan butter in a second saucepan and let it cool down until it's also lukewarm. Mix lukewarm plant-based milk, active dry yeast, and sugar in a large bowl. Add lukewarm melted vegan butter and stir to combine. Let the mixture sit for approx. 10 minutes to activate the yeast – you should see bubbles forming on the surface.

After approx. 10 minutes, gradually add the flour and knead it in, then add a pinch of salt. Cover the bowl with a clean, damp kitchen towel and let the dough rise in a warm place for at least an hour until it has doubled in volume.

After the dough has risen, roll it out on a floured surface until you get a large rectangle, about 0.5 cm / 0.2 inches thick. Heat the chocolate-hazelnut spread briefly in a saucepan so that it becomes a little more liquid, then spread it evenly over the rolled out dough.

Fold the short sides of the dough towards the center to create a three-layered dough. Then carefully roll out the dough again and cut it into strips, about 3 cm / 1.2 inches thick. Roll up the strips to create the swirl buns.

Preheat the oven to 180°C/350°F (circulating air). Transfer the swirl buns on a lined baking sheet – preferably only 4 buns per baking sheet so they have enough space to rise in the oven. Let rise again for approx. 20 minutes.

Whisk plant-based milk and agave syrup in a small bowl and brush the chocolate-hazelnut buns with the mixture. Then bake the buns at 180°C/350°F (circulating air) for approx. 20 minutes.

Remove the chocolate-hazelnut swirl buns from the oven and sprinkle chopped hazelnuts on top. Serve the buns while still warm or leave them to cool and store the buns in an airtight container.