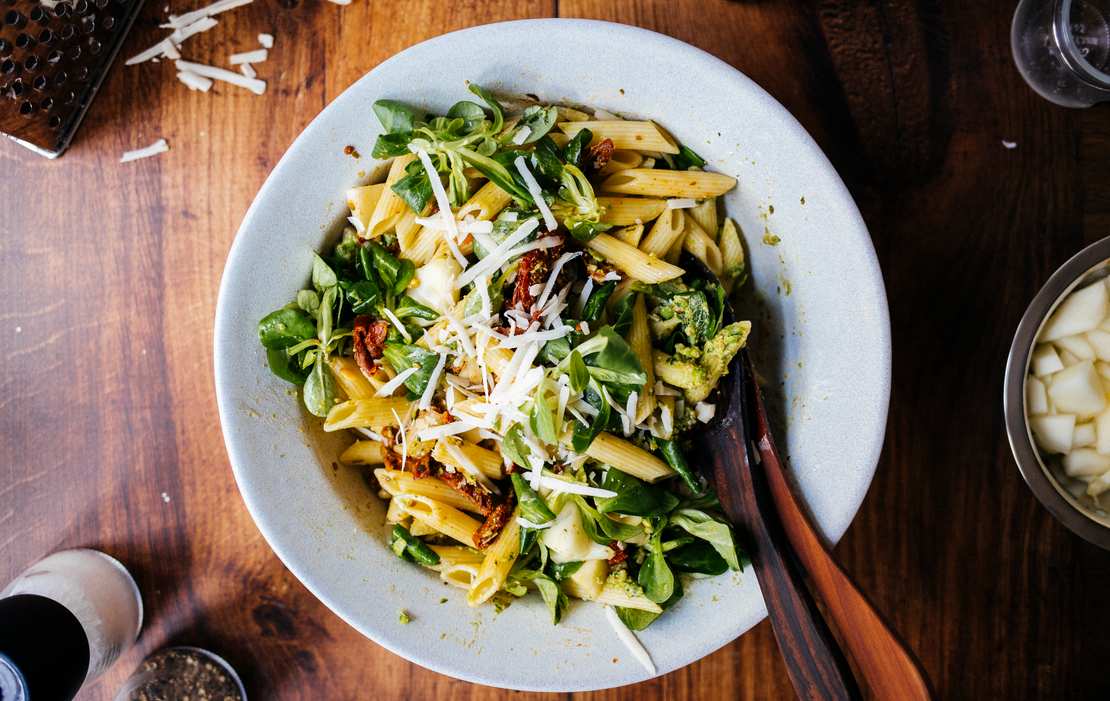 Vegan Pasta Salad with Pea Pesto & Honeydew Melon
Before the soy steaks and vegan sausages are roasted, it's time for: spooning pasta salad! Regarding barbecues, we are passionate about being part of team side dishes. Salads, potatoes, vegetable skewers, bread and dips warm our hearts even before the marinade has soaked into the soy steaks. And to be honest, we could almost skip the grill. The main thing for us is the right selection of salads.
Being full even before the grilling really starts is one of our absolute top qualities, with which we never disappoint at one single barbecue. That's why we're showing you a pasta salad today that doesn't require dried tomatoes and feta or arugula and olives. Instead of ready-made pesto, we use homemade pea pesto, which is combined with honeydew melon and lamb's lettuce. It sounds like an unusual mix but it is one of our favorite combinations. So here is the most essential info for you so that nothing stands in the way of this barbecue salad:
The pasta: For the recipe, you can, of course, choose the type of pasta that you still have at home or the one you like best. Penne, fusilli, maccaroni, farfalle, rigatoni, rotelle or orecchiette – they all work! For this recipe, we like the varieties with a little hole inside the most so that extra sauce collects inside. A secret trick among pasta salad pros!
The pea pesto: We used canned peas for the pesto, but you can also use fresh or frozen. Just remember to boil them first! Peas are generally quite wonderful as a base for a sauce or pesto because they are cheap, bring a beautiful color, and have a neat taste (and sweetness). That's why we add a few hearty components to our pesto, like fresh basil leaves, garlic and pine nuts. Of course, you can also replace the pine nuts with almonds or other nuts. Then simply taste the pesto again, because walnuts naturally bring significantly more bitter substances than, for example, almonds or pine nuts. If you like, you can stretch the pesto with some oil of the dried tomatoes or water so that the pasta salad is lovely and creamy at the end.
The fresh components: Well, without our fresh ingredients you could also think that we prepare pasta with pea pesto, but that's not the case! For sweetness and fruitiness, honeydew melon joins the barbecue party, which is directly balanced by the dried tomatoes from the jar. Lamb's lettuce isn't quite as flavorful as arugula, making it a great fresh component that doesn't need much. Vegan parmesan and a few toasted pine nuts add sophistication. And your salad is ready to be eaten!
And all of that before the barbecue is hot – of course.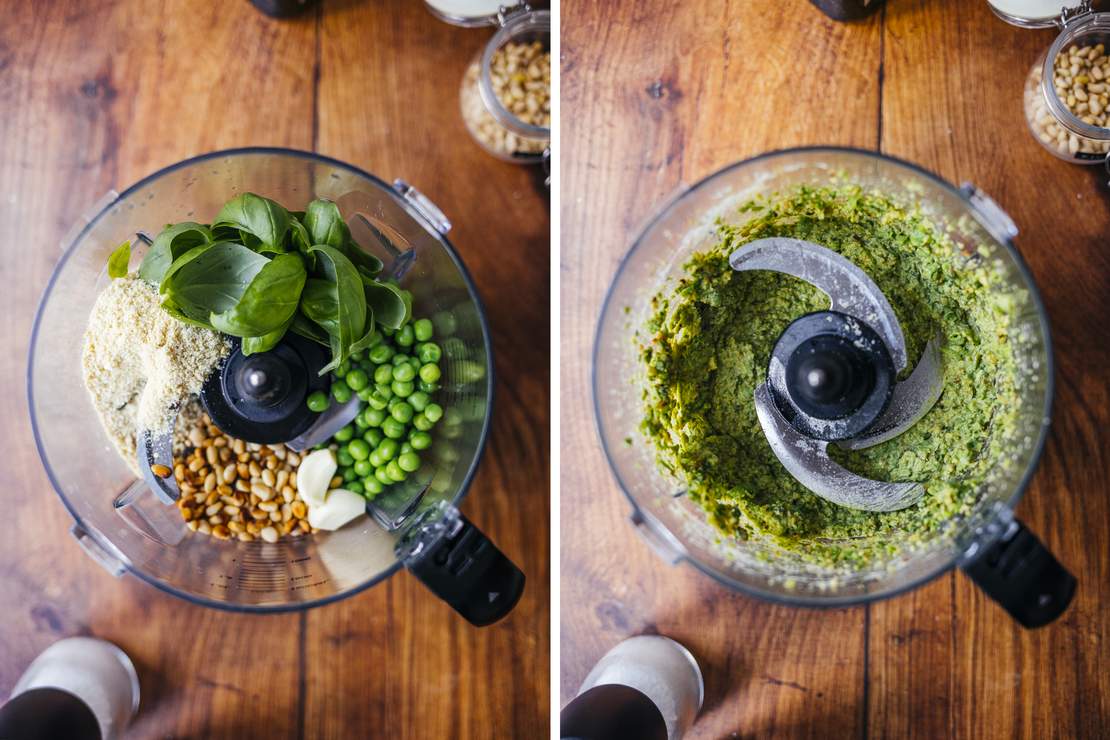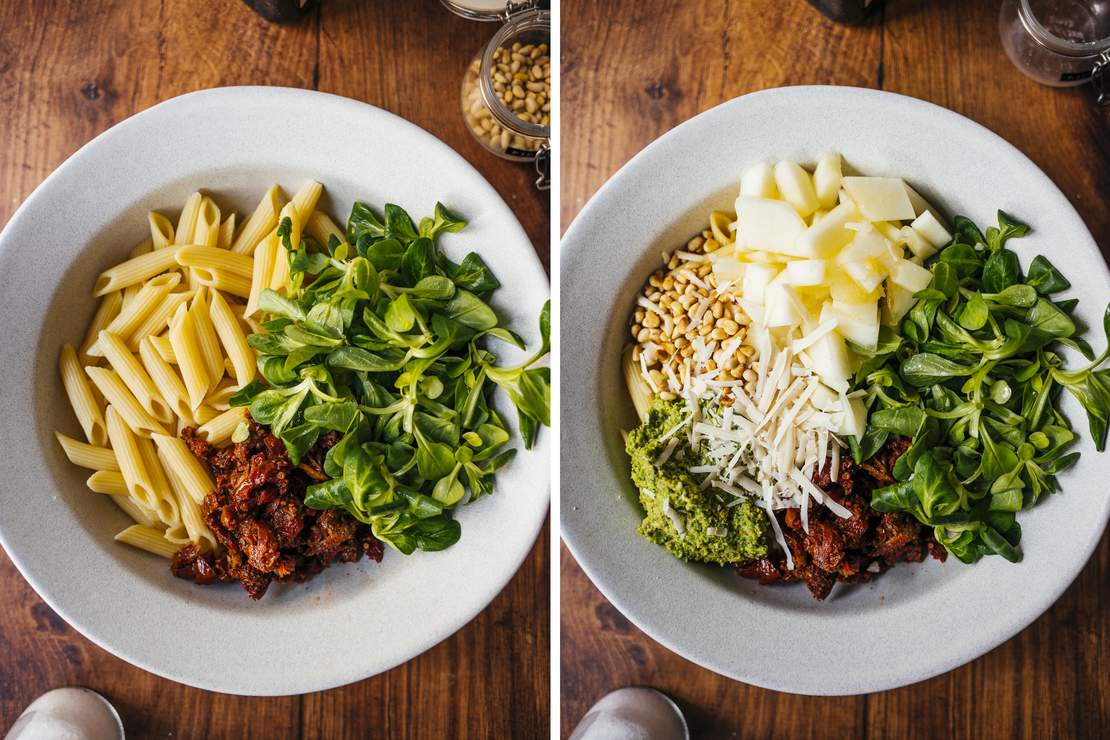 Vegan Parmesan Cheese
Ingredients
100 g (3.5 oz) cashews
50 g (2 oz) chopped almonds
3 tbsp nutritional yeast
1 tsp sea salt
0.5 tsp garlic powder
Instructions
Add all ingredients to a food processor and mix until you get fine crumbles. No worries, in case there should be bigger chunks left, that just makes your vegan parmesan a bit crunchy.

Store in an airtight container or jar and sprinkle on top of your pasta dishes or mix it into your pesto.
Vegan Pasta Salad with pea pesto & honeydew melon
Ingredients
For the pasta salad:
500 g (18 oz) short pasta
340 g (12 oz) sun- dried tomatoes in oil
150 g (5.33 oz) lamb's lettuce
300–400 g (10.66–14 oz) honeydew melon
25 g (1 oz) pine nuts
50 g (2 oz) vegan parmesan
For the pea pesto:
35 g (1.33 oz) basil
120 g (4.33 oz) peas (canned)
1 clove of garlic
75 g (2.66 oz) pine nuts
50 g (2 oz) vegan parmesan
70 ml (0.33 cup) olive oil
salt
pepper
Instructions
Bring salted water to a boil in a large pot and cook short pasta al dente according to the package directions. Drain and allow to cool.

While the pasta is boiling, prepare the pesto. To do this, drain the peas and peel the garlic. Place basil leaves, peas, garlic, pine nuts, vegan parmesan, olive oil, salt and pepper in a tall bowl and blend until smooth.

Drain sun-dried tomatoes (but save the oil) and cut into bite-sized pieces. Wash lamb's lettuce and remove roots if necessary. Peel, seed and chop honeydew melon, then toast pine nuts in a grease-free pan.

In a large bowl, combine the pasta, sun-dried tomatoes, lamb's lettuce, honeydew melon and the pesto and top with pine nuts and vegan parmesan. Stretch the pesto with a little water or the oil from the sun-dried tomatoes, if the salad seems too dry.