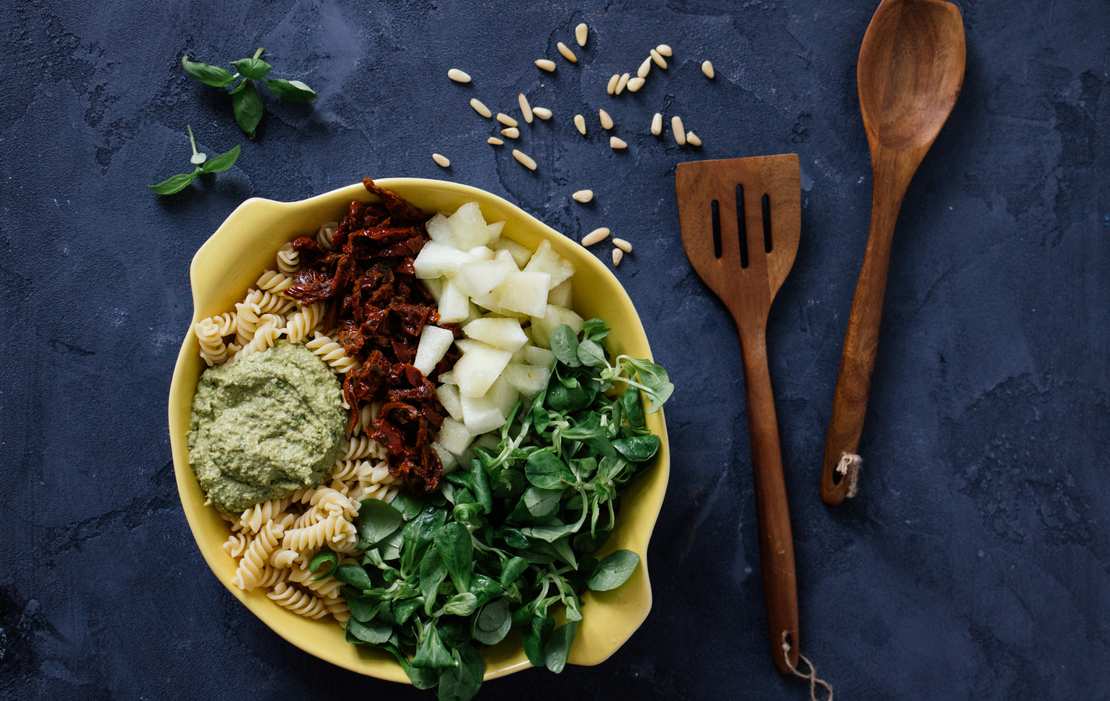 Vegan Pasta Salad with Pea Pesto & Honeydew Melon
Before our steaks are ready, we eat this pasta salad like crazy. I am in love with side dishes, and I guess Julia is too. Salads, potatoes, noodles, vegetables. Before our barbecue starts, we are full with all the side dishes around, dipping fresh bread in our favorites dips. Upsi, already replete. Guess you know this situation. This pasta salad is one of our favorite salads and of course, you can use your favorite type of pasta. Our pesto is made of peas because it's quite cheap and not that expensive than other pesto ingredients and second it's sweet, fresh and something new at the same time. Imagine that with honeydew melon – it's the perfect combination. Pesto made of peas is a super duper thing, you should definitely try!
Vegan Parmesan Cheese
150 g (5.5 oz) vegan parmesan cheese
5 minutes
Ingredients
100 g (3.5 oz) cashews
50 g (2 oz) chopped almonds
3 tbsp nutritional yeast
1 tsp sea salt
0.5 tsp garlic powder
Instructions
Add all ingredients to a food processor and mix until you get fine crumbles. No worries, in case there should be bigger chunks left, that just makes your vegan parmesan a bit crunchy.
Store in an airtight container or jar and sprinkle on top of your pasta dishes or mix it into your pesto.
Pasta Salad with pea pesto & honeydew melon
a big party bowl
30 minutes
Ingredients
PASTA SALAD
500 g (16.6 oz) short pasta
340 g (11.9 oz) sun dried tomatoes in oil
150 g (5.3 oz) mache
300 - 400 g (10.6 - 14.1 oz) honeydew melon
PEA PESTO
35 g (1.2 oz) packed basil
120 g (4.2 oz) green peas
1 garlic clove
75 g (2.6 oz) pine nuts
50 g (1.7 oz) vegan parmesan cheese (recipe on the blog)
5 tbsp olive oil
salt & pepper
TOPPING
25 g (0.8 oz) pine nuts
50 g (1.7 oz) vegan parmesan
Instructions
Boil pasta like instructed.
Add all the pesto ingredients in a food processor and combine until smooth. Add oil and water for the perfect consistency.
Slice sundried tomatoes and the honeydew melon.
Toast pine nuts for topping in a pan without oil. Wash mache.
Combine pasta, pesto, dried tomatoes, honeydew melon and mache in a big bowl.
Season with more lemon juice, salt, pepper or oil if needed.
Top with your toasted pine nuts and some more vegan parmesan. Serve warm!