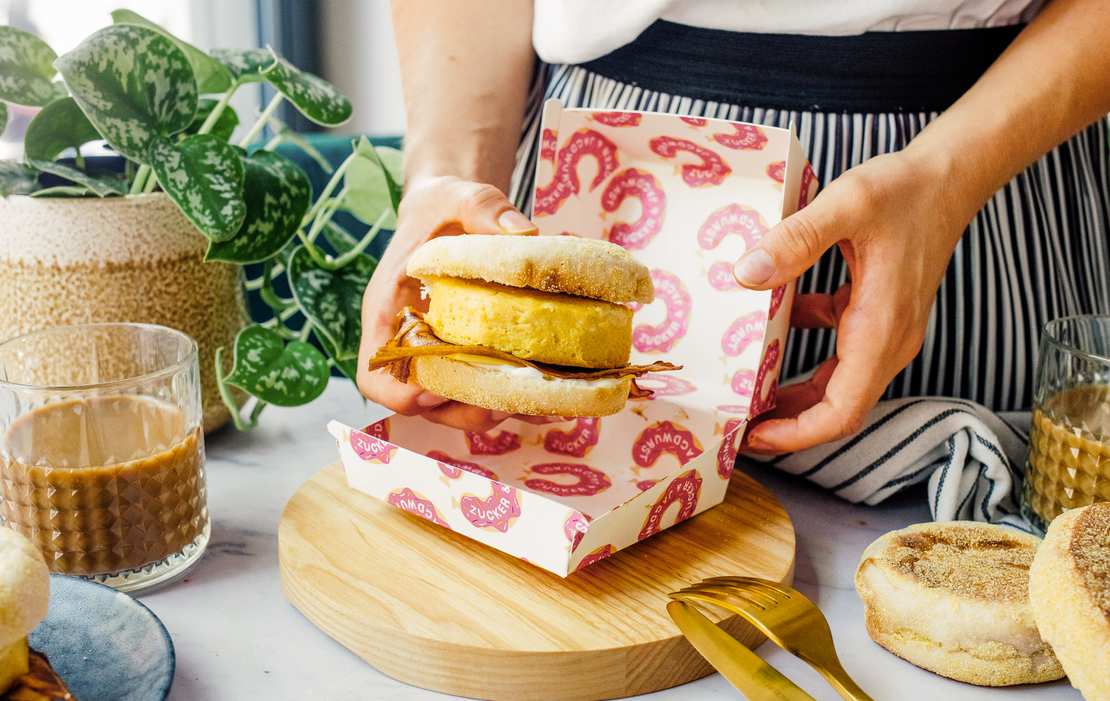 It's the last day of our vegan fast food week, and we're ending with a classic that is just perfect for your Sunday breakfast. English muffins meet an egg patty, lightly melted cheese, and crispy bacon – jep, we're talking about the McMuffin from McDonald's! And luckily, you can even eat our homemade vegan version all day long.
As so often this week, we've never eaten the original version of this fast food dish, so we had to rely on friends to tell us if we were going in the right direction when we developed the recipe. Some parts of this breakfast burger are actually very simple to veganize: English muffins are usually vegan anyway (you can otherwise bake them yourself using our recipe). Vegan cheese slices are nowadays available from many brands and in various varieties, so just use for your favorite ones or the one you currently find in your fridge.
That leaves us with the bacon and egg patty. As you might have already seen in our recipe for a vegan double down sandwich, we will also make crispy bacon from rice paper for our plant-based version of the McMuffin. The vegan egg patty is based on silken tofu, which you can find in organic stores or Asian supermarkets. Together with chickpea or soy flour and starch (they help with binding), as well as kala namak (which provides the egg-like flavor) and vegan heavy cream (which creates a slightly creamy consistency), we first prepare a thick mixture for the patties. If you want to make it more realistic, you can add ground turmeric to some of the mixture to mimic egg yolks, but this step is optional.
So how do you get the patties into the right shape? To get as close as possible to the original McMuffin, the silken tofu patties should be round, but of course, they will also taste good if you prepare them in any other shape. If you want to be precise, though, you can either use pasty rings for frying the silken tofu mixture or go for rectangular pastry molds and trim the patties afterward. If you don't have any metal molds at all, you can also fry the silken tofu mixture in a small frying pan and cut out round patties with a glass.
Vegan McMuffin
Ingredients
For the rice paper bacon:
4 sheets rice paper
2 tbsp soy sauce
0.5 tbsp liquid smoke
1 tbsp maple syrup
1 tsp mustard
vegetable oil for frying
For the vegan egg patties:
300 g (10.5 oz) silken tofu
100 g (0.75 cup) chickpea flour
100 ml (0.5 cup) plant-based heavy cream
20 g (2 tbsp) cornstarch
1 tsp kala namak
salt
pepper
vegan butter for frying
For the vegan egg yolk:
1 tbsp chickpea flour
1 tsp ground turmeric
For the burgers:
4 English muffins
4 slices vegan cheese
vegan mayonnaise
Instructions
Rice paper bacon
Preheat oven to 180°C/355°F (top and bottom heat). For the marinade, mix soy sauce, liquid smoke, maple syrup, and mustard in a shallow bowl.

Prepare a large bowl of water that is slightly bigger than the rice paper. First, dip two sheets of rice paper in the water, one at a time, for 5 seconds each, then place one on top of the other on a cutting board. Use scissors or a knife to cut them into wide strips.

Quickly toss the stripes in the prepared marinade to coat them from both sides.

Transfer the rice paper stripes to a lined baking sheet and bake them at 180°C/355°F for approx. 7 minutes. Keep an eye on them and remove them from the oven when they seem to be not quite done yet. They will dry a bit more afterward and otherwise become too hard.
Vegan egg patties
For the base of the patties, add silken tofu, chickpea flour, plant-based heavy cream, cornstarch, and kala namak to a liquid measuring cup, and blend until smooth. Season with salt and pepper to taste.

Set aside approx. 3 tbsp from the mixture and transfer it to a bowl. Add the remaining chickpea flour and ground turmeric, then stir to combine. This is our "egg yolk" mixture.

Grease four pastry rings. Melt vegan butter in a non-stick frying pan and add the pastry rings to the frying pan. Fill each pastry ring with a quarter of the silken tofu base and fry the patties over medium-low heat. After approx. 1 minute, add a dollop of the "egg yolk mixture" to the silken tofu base. Cover the pastry rings with a plate which will help to firm up the silken tofu.

As soon as the bottom of the patties is browned and the silken tofu mixture is firm, carefully remove the patties from the pastry rings (you might need a knife to cut around the patties). Afterwards, carefully flip the patties and keep frying until they are browned from the second side as well. Remove the patties from the frying pan.
Serving
Toast English muffins and spread both sides with vegan mayonnaise. Add a slice of vegan cheese on top of the bottom half of the buns, then transfer them to the frying pan. Cover with a lid and warm the buns over low heat until the vegan cheese begins to melt.

Transfer the bottom buns on a plate, top with rice paper bacon and vegan egg patties, then cover them with the top buns.