Let's fill our bathtub with this vegan cheese dip. We could seriously bath in this dip! You may know our recipe for vegan mac'n'cheese. The base for this queso dip is the same, but if you slightly alternate the recipe, you'll get the perfect party snack. Dear cinemas, please try this out, so we can enjoy movies with this darling!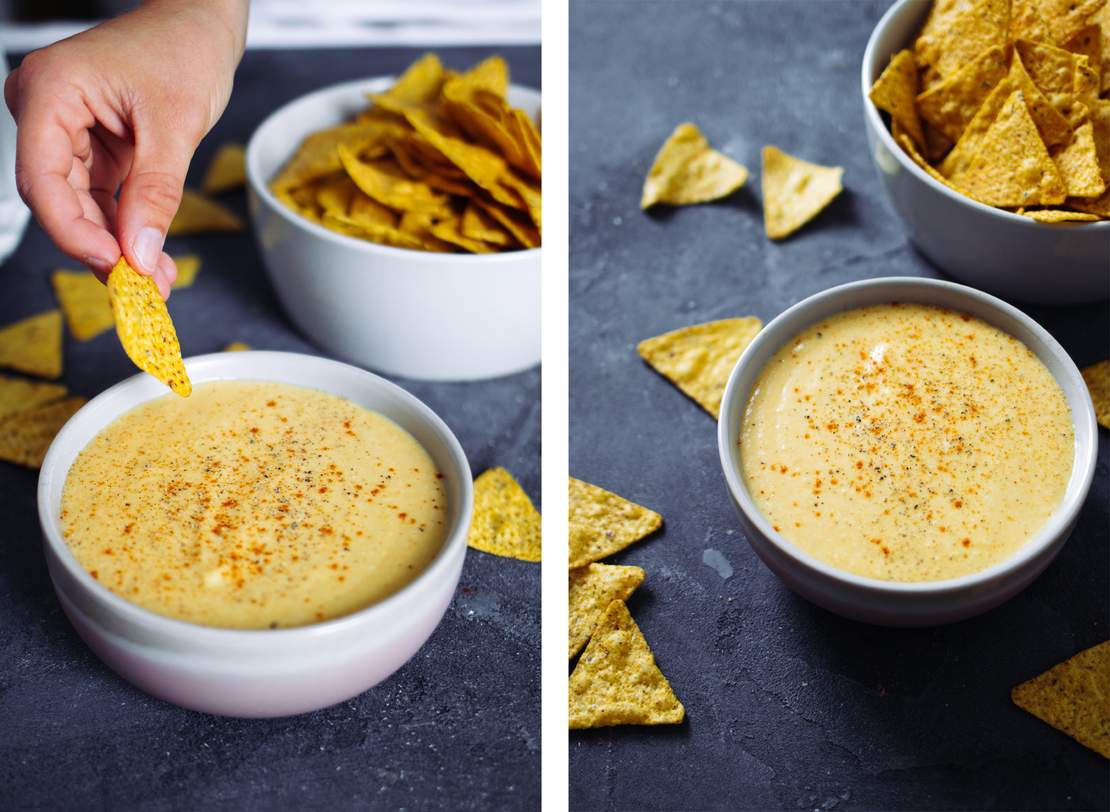 Vegan Queso Dip
Ingredients
400 g (14.1 oz) potatoes
1 carrot
1 small white onion
60 g (2.1 oz) cashews (soaked in overnight, or in warm water for at least 30 minutes)
30 g (1 oz) nutritional yeast
50 ml (0.25 cup) plant-based milk
0.5 tsp garlic powder
0.5 tsp onion powder
3 tbsp juice of jalapenos + 5 pickled jalapenos
1 tbsp lemon juice
salt & pepper
cayennepepper
Instructions
First: Veggies! Peel potatoes, carrot, and onion and cut them in equal sized pieces. Put them in a small pot and cover with salted water. Let it cook until your veggies are soft, then drain them, but reserve the cooking water.
Get your food processor ready. Put in your soft vegetables, cashews, jalapenos and nutritional yeast and pour in approx. 100 ml (1/2 cup) of reserved cooking water, soy milk, and juice of jalapenos. Turn on your processor and watch it getting creamier and creamier.
Now it's time for seasoning. Put in some garlic powder, onion powder, lemon juice, pepper, salt, and cayenne.
For those of you who like it really cheesy: Add some more nutritional yeast. Serve warm with your favorite nachos!