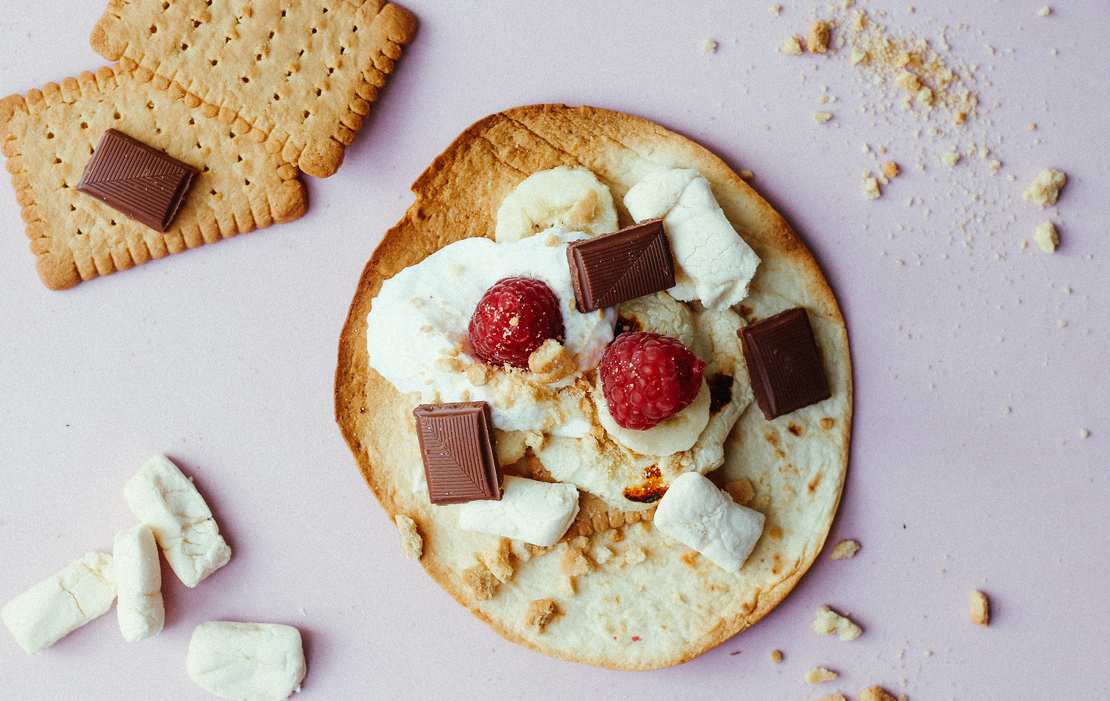 We have a soft spot for tacos and love to experiment with them. Besides classics such as fish tacos (vegan, of course!), tostadas or taquitos, we also serve Korean tacos, ramen tacos, chanterelles tacos or even chocolate tacos. You can find all our taco recipes here.
Graham cracker, chocolate, marshmallows – sounds like smores! But everyone is having smores at the time, so we want to have a Smores Taco, or well .. is it a Smaco? Uh yes! The combination of sweet, crunchy and chewy is just so addictive, it's hard to stop. So everything you need are 15 minutes, an oven and some vegan sweets. You can buy vegan graham crachers and marshmallows for example at Veganz. So let's start the Smaco Party!
Vegan Smores Tacos
Ingredients
3 soft tacos
5 vegan graham cracker
10 vegan marshmallows
1/2 vegan chocolate bar
optional: whipped cream, berries ...
Instructions
Prepare an oven dish and place your soft tacos on.
Spread chocolate, graham crackers and marshmallows on each taco.
Preheat oven at 180°C/ 350°C and bake for 5 minutes or until the marshmallows get slightly brown and the chocolate begins to melt.
Serve immediately and top with whipped cream and berries.
More Taco Tuesday - Vegan Taco Recipes