Vegan Baked Almond-Cashew Feta
Nowadays, it's probably just as easy for most people to buy vegan cheese in the supermarket as it is to buy cheese made from cow's milk. There are so many alternatives to find – from sliced and shredded cheese to plant-based mozzarella and feta cheese. Unfortunately, many substitute products are still pricy, preventing one or the other from buying them. Therefore, we've created a very simple substitute for you. If you want to make it more often, you should think about buying a cheesecloth which isn't expensive.
Our baked "feta cheese" consists almost entirely of nuts. First, we soak cashews and blanched almonds for an hour to soften them which makes it easier to blend them afterwards. Blanched almonds are more suitable here, as the skin would make be tough to get creamy. If you can't find blanched almonds, you can buy almonds with skin and soak them in hot water for approx. 10 minutes. Afterwards, you can just squeeze out the almonds to peel them quickly.
The nuts are blended with garlic, olive oil, salt, and lemon juice. Once you get a smooth mixture, you need to refrigerate it overnight to make sure that all the excess liquid can "drip off" (the kitchen towel will rather draw the moisture). The next day, the nut cheese is covered with a thick layer of dried herbs and olive oil and can finally be baked. The result is a wonderfully crumbly vegan feta cheese that we could snack right away when it's fresh out of the oven. Luckily, we got our act together and instead used it for our Greek salad. If you should have a nut allergy or just don't feel like eating that many nuts, we also have an easy vegan feta version made with tofu on our blog.
For our vegan spring panzanella or our summer salad with grilled peaches, you can also leave out the store-bought feta cheese and replace it with this homemade one.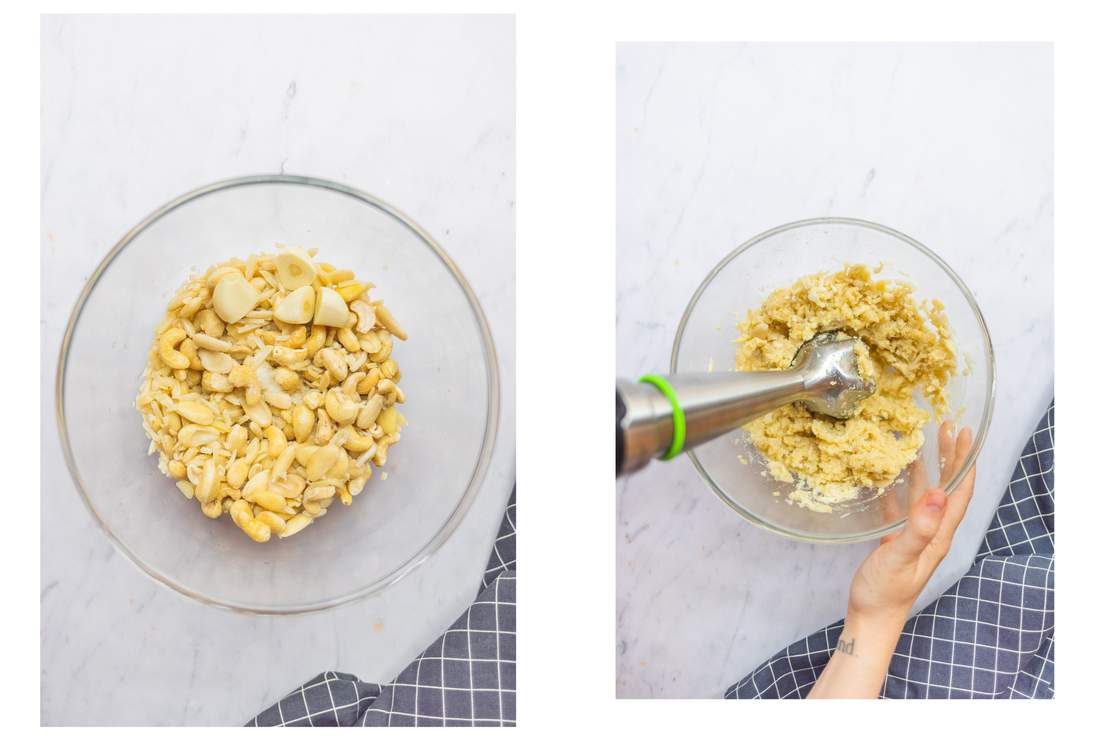 Vegan Baked Almond-Cashew Feta
approx. 300 g (10.5 oz) plant-based feta cheese
2 hours (+ waiting time)
Ingredients
For the nut mixture:
200 g (7 oz) blanched almonds
100 g (3.5 oz) cashews
0.5 lemon (juice)
4 tbsp olive oil
2 cloves garlic
1.5 tsp salt
For the herb mixture:
4 tbsp olive oil
3 tbsp dried herbs (e.g. basil, thyme, rosemary, marjoram, ...)
Instructions
Add blanched almonds and cashews to a bowl and cover them with fresh, warm water. Let the nuts soak for at least 1 hour, then drain and rinse under clean water.

Add the soaked nuts to a food processor along with lemon juice, olive oil, peeled garlic cloves, and salt. Blend everything well until you get a slightly sticky mixture. Season with salt to taste.

Set a colander over a large bowl and place a cheese cloth or clean kitchen towel over the colander. Transfer the almond-cashews mix into the colander, then gather the corners of the cloth to tightly cover the nut mixture and secure it with a rubber band. Set the strainer over a larger bowl that would catch any possible liquid. Refrigerate the mixture overnight.

The next day, preheat the oven to 180°C/355°F. Unwrap the mixture from the cloth – you should notice that it's drier then before. Transfer it to a small baking dish.

In a small bowl, mix olive oil and dried herbs. Brush the mixture all over your "cheese" ball, then bake it at 180°C/355°F for approx. 30 minutes, or until it's golden brown on top.

This baked vegan feta can be crumbled over salads and vegetable dishes, but can also be eaten as a spread.