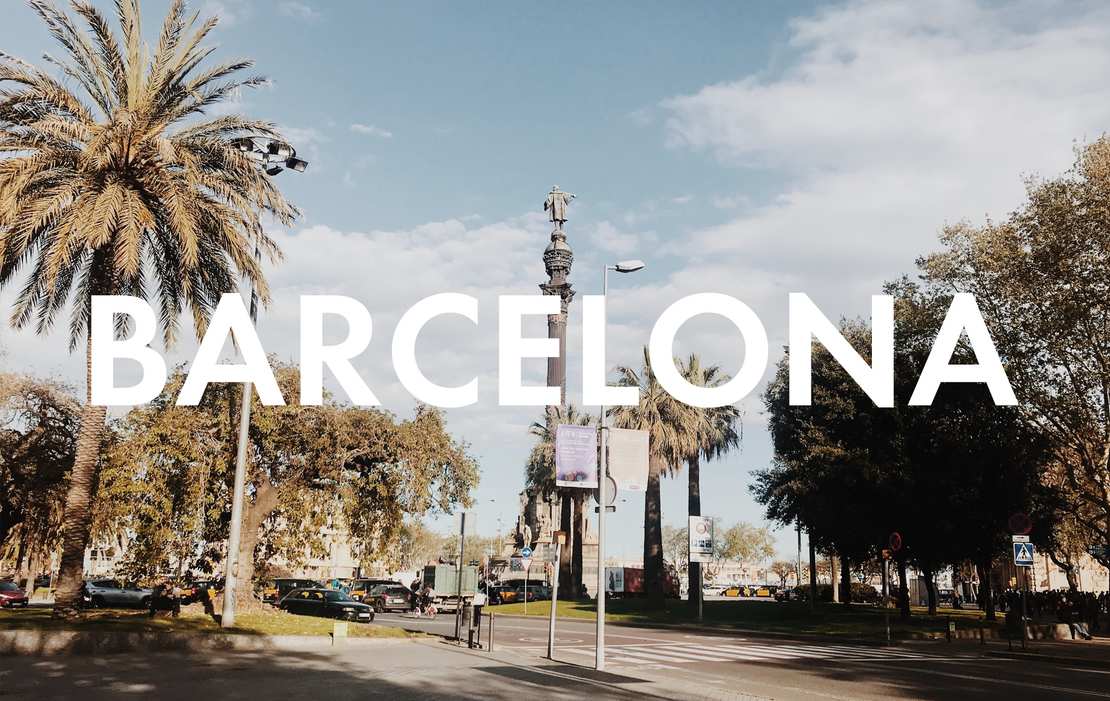 How to Eat Vegan in Barcelona: Our favorite restaurants
Z&J Traveling: Even when traveling, we spend most of our time eating and want to share this with you, too. You want to know where to eat vegan in Barcelona, Athens, and Copenhagen and what to not miss in New York City, Lisbon or Mallorca? Check out all of our travel guides here.
Two and a half days. That was the time I had for my first vacation in Barcelona, which happened to be my first vacation in Spain as well. When I was in their neighbour country Portugal, it turned out to be extremely difficult to find vegan local food, so I was especially interested about this in Spain, speaking of course about: tapas!
If you're currently thinking about a trip to Barcelona, I can do nothing but recommend it. The tapas situation turned out to be very vegan-friendly and even though we were there on the probably only two rainy days of the year, the city was too beautiful with its stunning house facades. I'll definitely go back to Barcelona again, because (believe it or not) I haven't eaten a single scoop of ice cream there. Buh. But instead of refreshing ice cream, I ate tapas and one of the most delicious cakes ever. Here's where to go and what to eat in Barcelona.
"Flax&Kale" is owned by Teresa Carles, a pioneer of the vegetarian-vegan restaurant scene in Barcelona, if you want to say it like that. She not only owns a self-named restaurant but also three stores of "Flax&Kale" which are all beautiful and offer a delicious selection of vegan food. I had only time to visit the biggest Flax&Kale restaurant which looks like you could "copy-paste" it to Berlin. Stylish interior meets rustic rooms with brick walls, you can directly take a look into the kitchen and busy employees with headphones guide you to a free table (if there is one). Depending on the time of the day they have several menus, but there's always a super large refrigerator with juices in all colors (there's even a Berlin juice in the national colors of Germany... okay). I liked their breakfast and coffee a lot, and there's plenty more to chose from. My favorite though was a small cake that was recommended to me via Instagram (thanks so much for that!) It's called Pink Lady and is filled with a cashew-lemon cream, covered in a vegan white chocolate layer colored with beetroot. It just tasted heavenly, so you need to try it once you're there and in the meantime I have to find out how it's done.
'La Besnéta' is the first vegan patisserie in Barcelona and I just passed it by accident instead of checking it out for my 'go-to list' before. They offer vegan cakes, cupcakes, cookies and sweets and even though I wasn't hungry I couldn't resist a carrot cake cupcake, because I was just so happy to have found this place. You definitely have to have a sweet tooth for this patisserie, but it's very delicious!
Dolce Pizza y Los Veganos
"Dolce Pizza y Los Veganos" is the Italian pizzeria in Barcelona, but the name might be a bit confusing (or maybe it's just because of my bad Spanish?!). The restaurant is not all-vegan but vegetarian (with a very, very large menu for vegans though) and it's not only offering pizza but also burgers, pasta, salads, snacks and dessers. Still I was ordering the pizza since it seems like their signature dish but I have to admit that I've eaten better vegan pizzas. You might ask why I'm still recommending this place, so here are the reasons: you can always argue about taste and I've only tested one of many pizzas. They even offer several vegan cheese options, so maybe it was just this one that wasn't the best one. You can definitely go there and try it for yourself.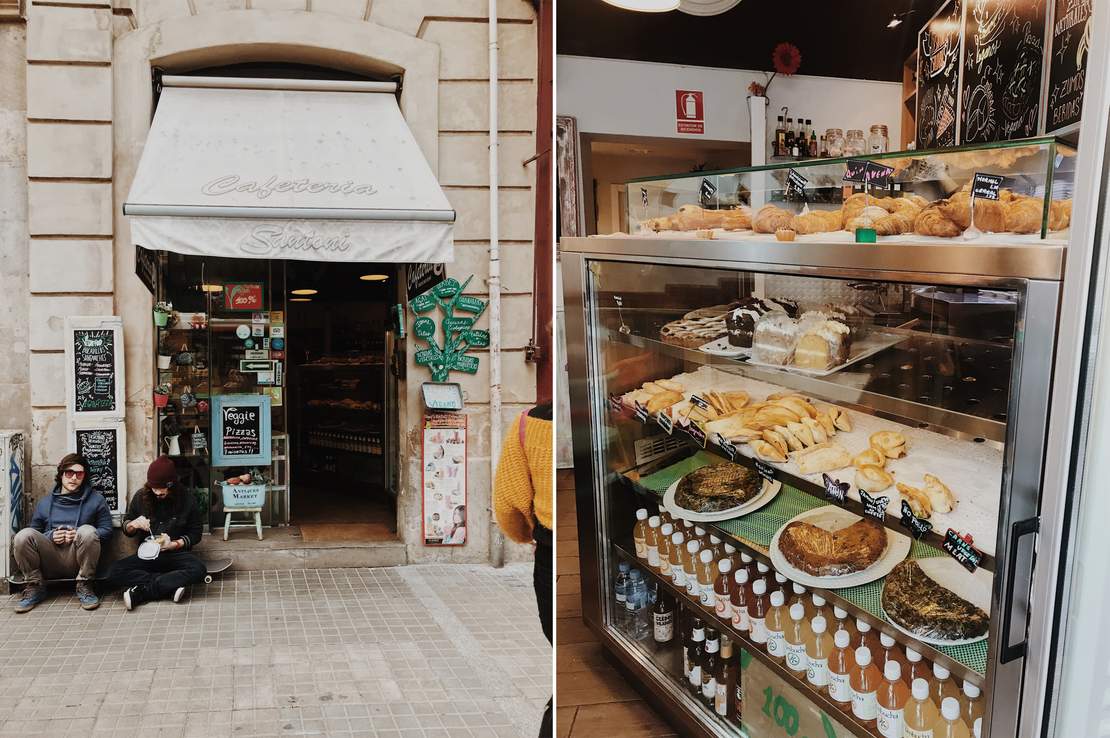 If I would live in Barcelona, I would definitely be a regular guest at this all-vegan small café. They have delicious, crispy (even filled) croissants, empanadas, bocadillos, kombucha, fresh pressed juice and even "Club Mate" (which wouldn't be my number one reason to go there, but it's still nice to see where this drink is offered). There are only a few seats inside, so I'd recommend it more for snacks to go.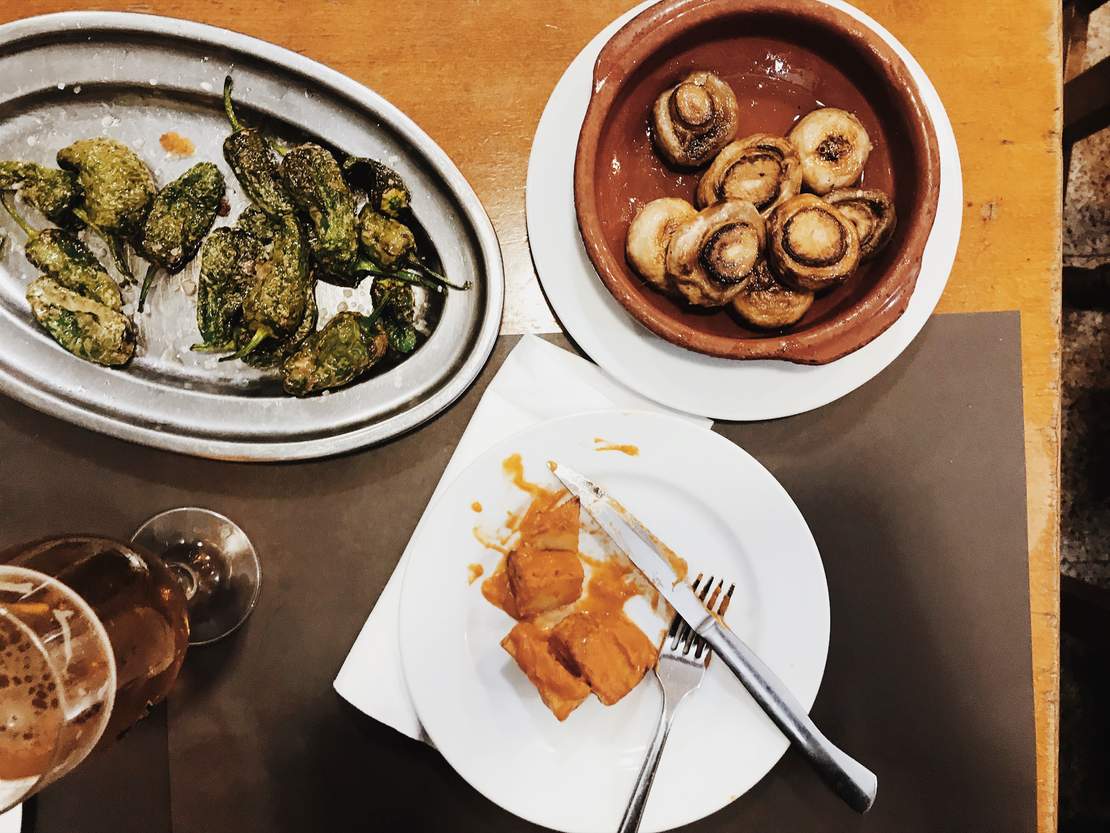 Of course tapas is THE thing to eat when you're in Barcelona. It's especially great since you'll get vegan tapas in every café, restaurant or wherever you go, though sometimes more, sometimes less. The picture above might not be the most appealing, but I've already eaten some of the tapas (whoops) and some others came later, so this was just a snapshot. Here are some vegan tapas that you can always ask for or that will be on most menus anyway: Pimientos de padron (grilled green bell peppers season with salt), escalivada (grilled vegetables), pa amb tomàquet (toasted bread with tomatoes) and patatas bravas (potatoes with a spicy bell pepper and tomato sauce, that often can be served with mayonnaise as well, so make sure to tell them before that you're vegan). Depending on the season there are also various other tapas as grilled artichoke or so.
Unfortunately I haven't made it to "BarCeloneta Sangria Bar" that is often recommended for vegan tapas and even offers vegan shrimp. So if you're there, check it out and tell me if it was good, ha.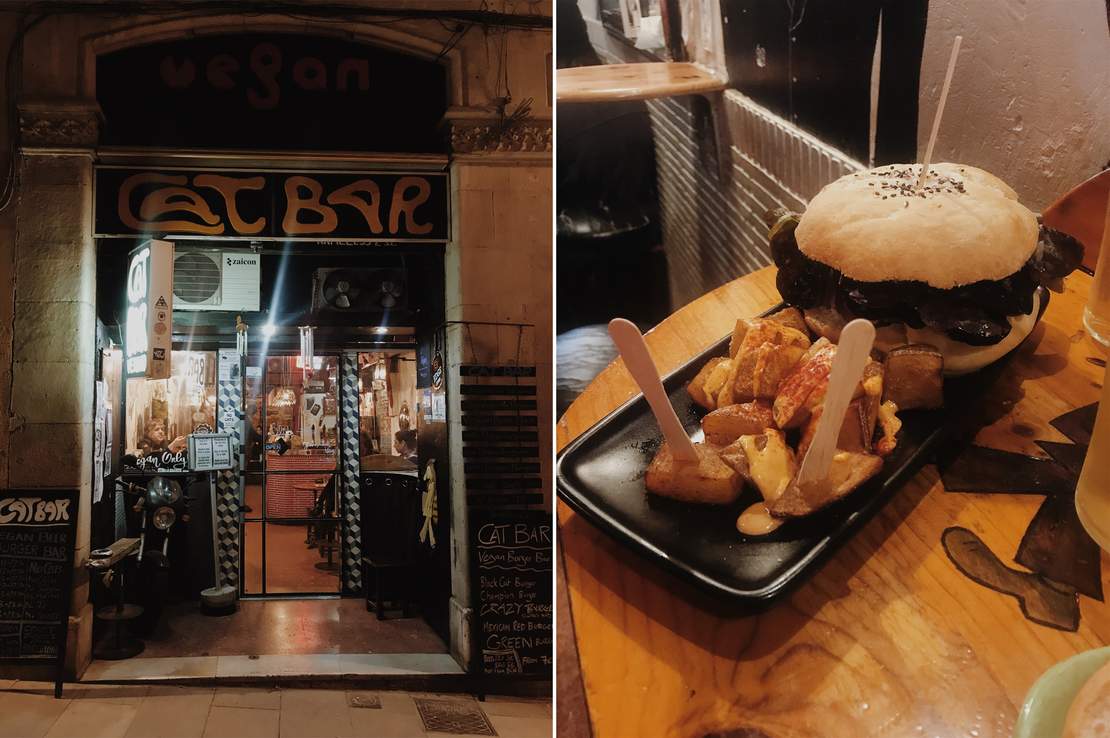 Another great dinner spot is 'Cat Bar'. Besides a large collection of Craft Beer you can find vegan comfort food there to fill your stomach, such as burgers, fries, and also tapas like patatas bravas. We ordered burgers which where tasty, but potatoes just make my heart beat faster, so make sure to order patatas bravas as a side dish.
'The chocolate kitchen' is a dream coming true for every dessert lover. This place called 'Chök' is full of big and small sweets and amongst them are also vegan ones such as cookies, muffins and filled donuts. If you have the change, grab one of the latter, because they are impressive! Those donuts are not only filled with chocolate cream but also topped with a heavy dollop of it, so it makes sense to stop eating a few hours before going there.
I seem to possess the superpower to find vegan hot dogs even when I'm not looking for them. Well, what can I say, it's definitely not the worst superpower ...If you're hungry for a snack to go, then make sure to visit "the dog is hot" and order a vegan hot dog there. You can either chose the one from the menu or basically chose whatever kinds of ingredients and sauces you want. The stuff helped me a lot with finding out what's vegan. Mission completed.