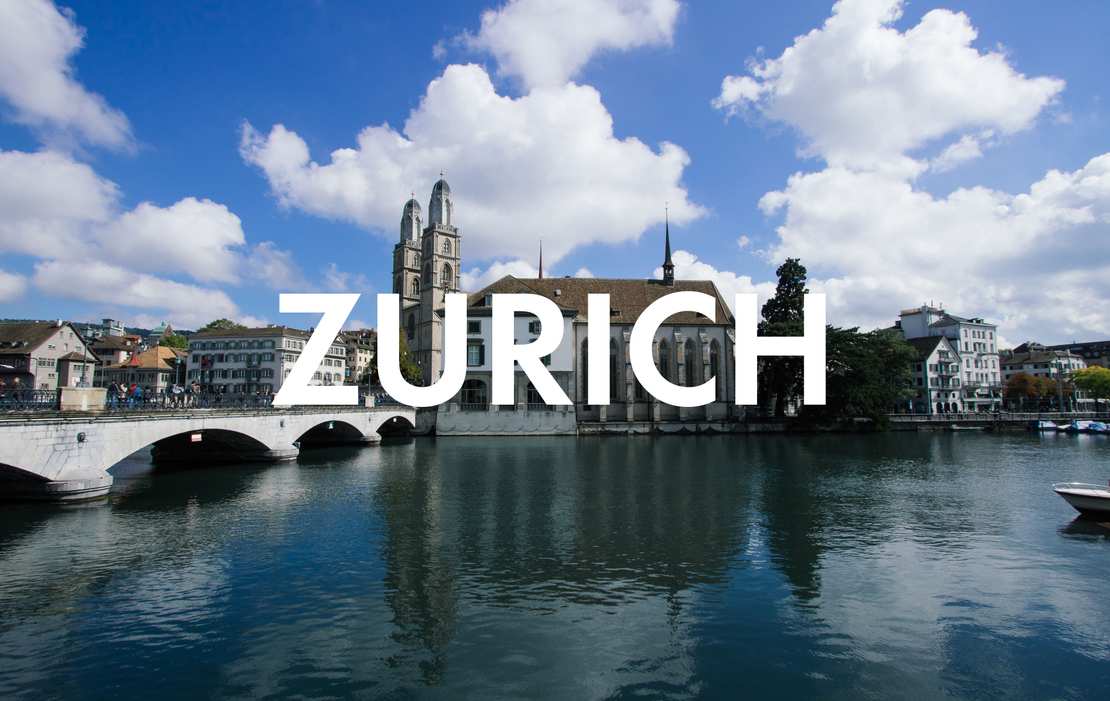 How to Eat Vegan in Zurich: Our favorite restaurants
Z&J Traveling: Even when traveling, we spend most of our time eating and want to share this with you, too. You want to know where to eat vegan in Barcelona, Athens, and Copenhagen and what to not miss in New York City, Lisbon or Mallorca? Check out all of our travel guides here.
"Greeting from Zurich. The weather is nice, the city is nice, the gang is nice, everything is expensive."
That's what could have been written on our postcard if we would have had the time to write one. But in reality we were on a short adventure trip to Switzerland and only had time for walking around and eating. That was actually very lovely, because we could concentrate on food only! What a dream!
We were invited by Visit Zurich and by chance, the event 'Food Zurich' took place the same time. This means 11 days of food featuring 111 events, according to the advertising campaign. Sounds too good, in fact we're pretty sure that there were way more. From workshops, dinner, city tours, a street food festival and another food event named 'Fooby' , you could say that food is all over the town. And right in the middle: Our Fiber family with In Search Of, Krautkopf, findingberlin, Biancissimo, Two Foodies Eating and Berlin Food Stories. And us!
Our small culinary trip was a real feast. We kept running into each other from time to time and updated us on where and what to eat. And we all fell in love with Zurich! The people are just too sweet and polite, the city is beautiful and so clean, but well... we all just have to get used to pices there. After 24 hours in Switzerland, we felt that a hot dog for 9 francs was a real bargain. BUT whatever, it's vacation time so we were there to enjoy Zurich to the fullest and to tell you about our favorite vegan spots there!
John Baker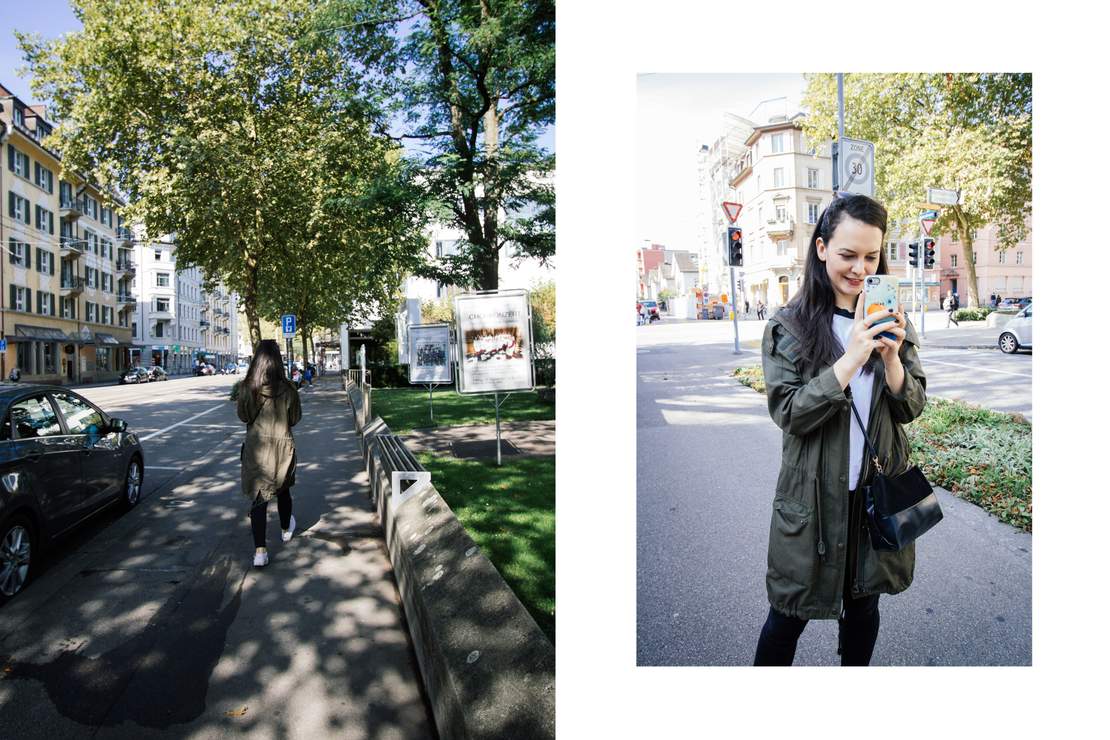 Our trip startet at John Baker. Isa was more than hungry since she hasn't eaten the evening before. Yannik and Susann from Krautkopf recommended this spot and we directly met them there. We could have eaten a whole bread! The whole place is very "instagramable", or let's just say very pretty) and there are some vegan options. Just ask for it and you'll get a cripsy olive roll, a sandwich with parsley pesto and grilled veggies and coffee with plant-based milk. A very good spot to start right in the day.
Elle'n'Belle
Elle'n'Belle calls itself "Rock'n'Roll Food" on their website. We don't know about you, but we had a few thoughts before on the questions whether we'd go to a themed party now. BUT leave all your concerns at home and visit this restaurant. It's very cozy and has a pleasant menu. We tried out salad and cake and have to say that this was one of the best carrot cakes we've ever eaten. Pretty sure, that the rest of the menu (burger and dinner dishes) won't disappoint either.
Streetfood Market
It's so interesting that this large street food festival is only once each year. Only once! Unthinkable for everyone from Berlin. But this maybe means that they put all effort and love in this event. The location was on spot in a large circus-like tent. We ate a hot dog for 15 Swiss francs there as well as vegan kofte and borek. So we can only recommend to check out if some type of food festival is happening when you're in Zurich.
Marktküche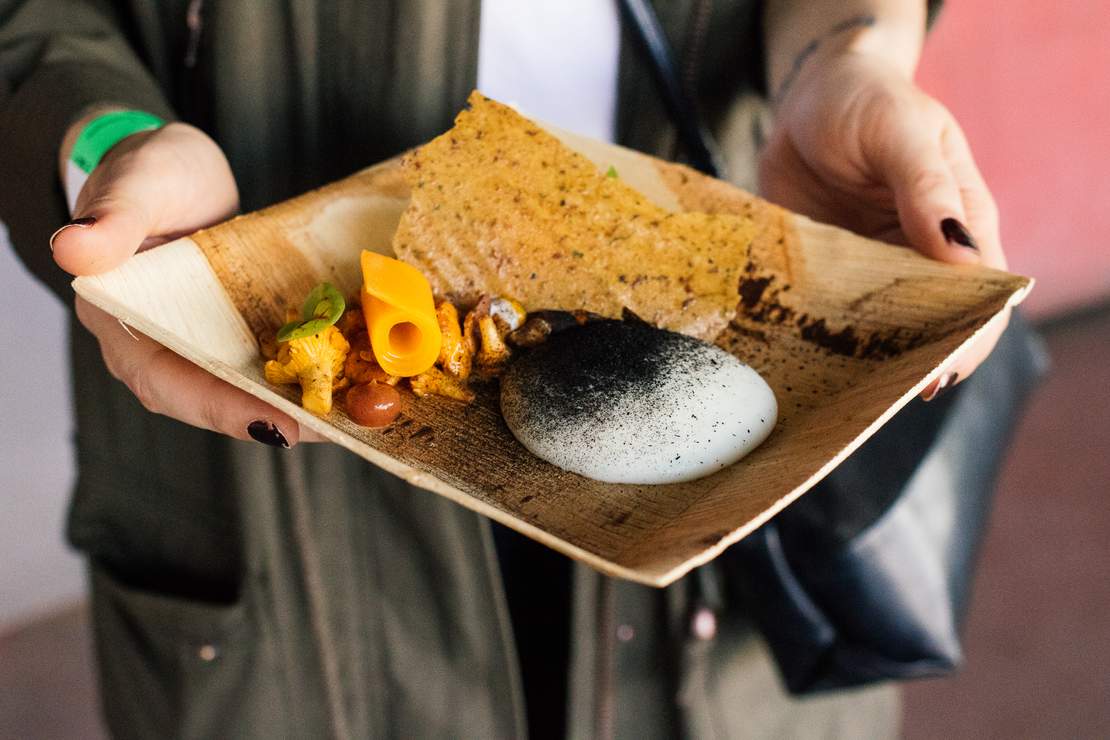 Here comes the highclass recommendation for everyone who wants to eat a bit fancier. At Marktküche, young chef Tobias Hoesli is cooking vegan dishes in a modern and creative way. We couldn't get a table on this very weekend, but they were part of Fooby, where probably all Zurich restaurants offered some signature dishes to buy. From Marktküche we ate mashed mountain potatoes with chanterelles, carrots and leek ash. Oha. Our tiny comfy-food-used-hands were shaking from all this foamy dreaminess and we still try to find out how leek turns into edible ash.
Stüssihof
At the cinema Stüssihof we probably had the most bizarre experience of our trip. It starts with the Toys'r'us like typo and a painted absinthe-advertising on the window and ends with two funny dudes behind the counter who probably live in a chaotic appartment around the corner. Our bewildered enthusiasm even went further when we were handed out a formula to order. Uuh! As we were assured, you can choose as many toppings as you like and still pay the same. (And here comes the fun fact, the website says that "This hot dogs with all its fine ingredients is incredibly cheap: only CHF 8.50!" So only 8 Euro for a hot dog! Incredible!) But well, go there, get it and you'll eat a very tasty hot dog with potato salad as a topping.
Roots & Friends @ Balboa
While there are people doing sports in the gym on the lower floor, on the upper floor at balboa roots is serving a very tasty brunch every Sunday. We're still not sure who is feeling better in this situation: the sorty people downstairs since they are SO active or us people upstairs because we eat SO much tasty stuff. You decide. For CHF 35 (remember, you're on holiday, treat yourself!) you could eat for 6 hours. They serve new dishes from time to time: Salads, scrambled tofu, desserts, waffles, spreads and more. If you don't have time for brunch, roots also has a daily restaurant at Lintheschergasse 15.
Hiltl
Hiltl is the oldest vegetarian restaurant in the world. They have been eating vegetarian long before it even existed, so to say. One could think, that if you've been successfully serving vegetarian and vegan food since 1898, now on peak of the hype you can now just rest on the laurels. BUT Hiltl developed modern concept stores - a vegetarian butcher, a new restaurant with drive-through windows, some takeaway places and a buffet at Hiltl Sihlpost. You pay your food by weight (CHF 4,50 for 100g/3.5oz) and then get everything from breakfast to vegan 'Zuricher Geschnetzeltes', a regional classic dish.
Vlowers
"Vlowers" is the name of a Swiss blog by Sandra Weber who works as a writer and author and is currently doing an training for a vegan nutrition consultant. She shares all her knowledge in the correspontent magazine which released the very last edition thi summer. Boh, what a pity! Instead she's now producing a podcast and offers a vegan brunch every first Sunday of the month. Unfortunately we missed that date, but we thought that this women should definitely be part of our guide. If you have the chance, visit this brunch and let us know about it!
This article is part of our cooperation with Visit Zurich. Thank you so much!