How to Eat Vegan in Tel Aviv: Our favorite restaurants
Z&J Traveling: Even when traveling, we spend most of our time eating and want to share this with you, too. You want to know where to eat vegan in Barcelona, Athens, and Copenhagen and what to not miss in New York City, Lisbon or Mallorca? Check out all of our travel guides here.
Oh Tel Aviv, you wonderful, wonderful city. You stole my heart so quickly and it was never easier to find the most delicious vegan food in a foreign city. If you're currently planning your next vacation, I strongly recommend to put a week in Tel Aviv on the list.
Here you can swim in the Mediterranean sea, relax on the beach, walk through streets full of Bauhaus beauties and of course eat the very best falafel and the most creamiest hummus of your life.
The local dishes (falafel and hummus, of course) are always vegan. On top, more than 5 percent of the city's population are already living vegan which results in endless restaurants, café and bars where you'll always find vegan options. And did I mention HOW delicious they all are? The only downside: Tel Aviv is quite expensive, so falafel and hummus at a local spot are probably the cheapest foods to eat, but it still adds up after a week here.
Nevertheless, enjoy this city! Hummus and falafel will never taste the same after you holiday.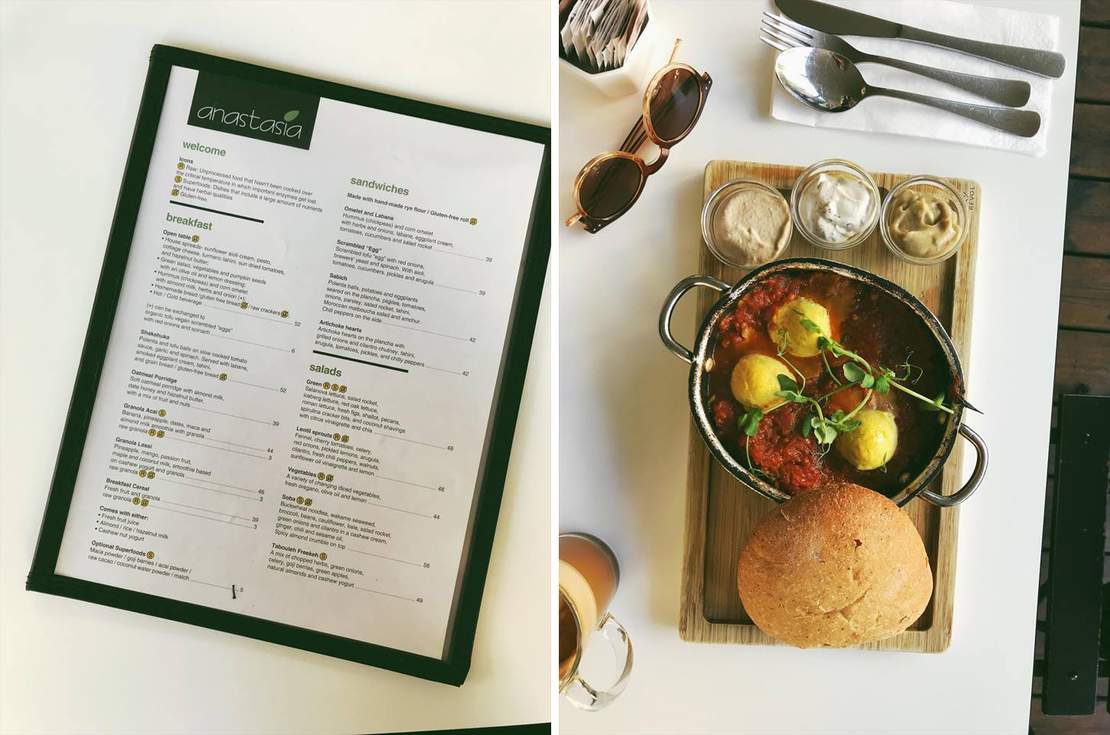 During my pre-holiday food research I kept reading about the vegan restaurant Anastasia and everybody recommended it - especially their vegan shakshuka. So I went there, I ordered the shakshuka and now I can do nothing but put it on the next to-eat list, because the place and food are wonderful! You'll also get breakfast, sandwiches, salads and desserts - all vegan.
King George Street became one of my favorite streets during my holiday where I kept coming back again and again. There are numerous restaurants, cafés, bars also the vegan restaurant Goodness that offers vegan fast food. Full of falafel, I could only eat this buckwheat crêpe with cashew cheesy cream, cauliflower and salad, but it was very tasty! If you're really hungry, you can also order vegan pizza, burgers, seitan schnitzel and more.
At Meshek Barzilay, you can not only eat classic Isreali dishes but also more "international" ones such as gnocchi, lasagna, Asian noddles, Masala dosa and more. This may sound like culinary chaos, but everything I ate there was delicious. Enjoy your food in their green courtyard!
The big question where to get the best hummus in town isn't only a question in Berlin but also here in Tel Aviv. Though every hummus dish here tastes better than anywhere else. I didn't want to get distracted by the question and simply ordered hummus whereever I could find it (everywhere!) and I could have taken a bath in each of them. Don't be afraid of the raw onion you get served, but bite in it, yay! And then it still happened... and I ate the slightly crispiest falafel and creamiest hummus at Abu Hassam. I still dream of this.
After a hearty dish we love to eat something sweet, followed by something hearty - you know the deal. I've spotted the vegan Ben&Jerrys in numerous supermarkets, but there was even a vegan bakery in town. And unfortunately, you've read right: there WAS, but the place closed down end of 2017. I still want to feature Seeds in this list, because who knows. Maybe they'll reopen somewhere else, so better check it out before you go there and enjoy their sweet treats.
Nanuchka is a really special, charming place in Tel Aviv that I would love to take to Berlin! They serve vegan Georgian cuisine, uuh! I've never been to Georgia which made it even more exciting to read through their menu and chose what to order first. The restaurant is stuffed and kind of cheesy - but in the best way! It felt like being invited for dinner an a stranger's living room that directly felt like home somehow.
Sometimes you get really lucky with the accommodation you've chosen. We just looked for a nice apartment but on our arrival day we directly noticed the great bakery nearby. I love such moments as much as the scent of freshly baked bread. So every morning I would go there, get a soy coffee, sometimes a vegan shawarma, sit down, watch street life and enjoy life.
The vegan restaurant BANA could easily open in Berlin and would be an hot spot right away. That's not only because of the very modern look, but also because of the fresh, tasty food. They serve modern Israeli dishes with fresh vegetables from the market. Portions are not huge, but everything is well seasoned and nothing tastes the same. Their lukewarm potato zucchini salad with chard and a mustard vinaigrette was so simple and delicious that I directly "re-cooked" it when I was at home.
Landwer Café is a franchise which stores you will not only see in Tel Aviv but across the country. They have a fully vegan menu with sandwiches, stews, casseroles and desserts. My favorite was the huge vegan breakfast plate with a lentil flour omelett, fresh spreads, roasted vegetables, olives, soy yogurt with berries, jam, bread, coffe AND a halva spread that tastes like liquid candy. SO good! After this breakfast, you'll be definitely full for the next hours.
Malabi is no spot to recommend, but an Israeli dessert that you shoud look out for. There are some variations of this dessert in other countries but thanks to the kosher diet, you'll often find vegan Malabi in Tel Aviv that is based on almond or coconut milk. It's thickened with starch or rice flour and served with different syrups and toppings. Just the best when it's hot, because Malabi tastes sweet but is no heavy dessert and even kind of refreshing. We've found a very delicious malabi at Hamalabiya!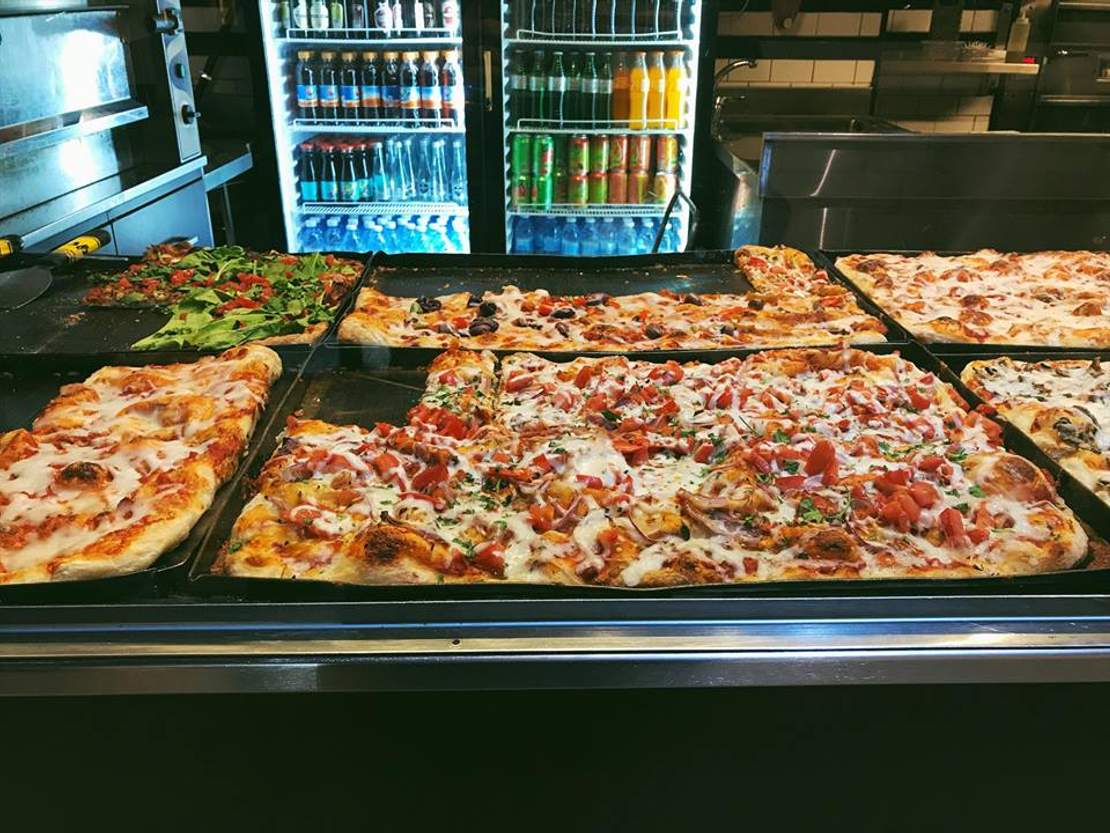 First things first: I have to admit that this picture might suggest vegan pizza paradise when actually 85 percent of the shown pizzas are not vegan. Let's focus on the one in the top left corner (the one with the greens of course!). This is the first pizza ever that comes close to the pizza perfection I experienced in Rome. Thin and crispy crust, a lot of toppings and you can choose the size of your piece of pizza and pay depending on the weight. They also feature a larger vegan pizza with red onion, mushrooms, tomatoes, olives and soy cheese. So if you're looking for a quick falafel break, this is the right place for you!
You should not miss ice cream at Anita! Fortunately, there are several locations in Tel Aviv you can visit. The vegan selection is slightly different in every store and every day, but includes vegan "soy caramel cookies," "soy salted caramel" or "peanut butter sorbet."
If you're looking for a great vegan breakfast spot in Tel Aviv head to Café Xoho! You get very good tofu scramble and crazy delicious banana bread with cashew cream here. It's a super pretty location you should not miss.
Want to meet the young and hip people of Tel Aviv? Visit Citizen Garden and say Hello to healthy bowls, a Black Forest chia pudding and overnight oats. Check their beautiful and hidden backyard, where you can have a very relaxed breakfast or lunch.
You get one of the best hummus of the city at Hummus Kiki. The small store is super pretty, and you can also top your hummus with onions or mushrooms. By the way, their homemade lemonade tastes very delicious, and the salad bar looks just gorgeous.
Sultana is the first completely vegan shawarma shop we know. You can find a big skewer in there with "meat" from soy and mushrooms, which looks like a real "skewer" stacked with meat. Fill your sandwich with the ingredients you like the most and enjoy the shawarma with a big shot of tahini. As a side dish order their fries, cause they are made of smashed and deep-fried potatoes and delicious as hell!
Guess what you will get at Hummus Eliyahu. Right, it's hummus! On the menu are some vegan specialties, which I rarely saw anywhere else. So top you creamy hummus with soy meat and veggies. It's so delicious!
Café Michelangelo offers a great selection of vegan breakfast options, such as croissants, sandwiches, cakes or spreads. The café is located on a small street in Yafo and offers burgers, hummus, and salads if you come over for lunch.