How to Eat Vegan in Bratislava: Our favorite restaurants
Z&J Traveling: Even when traveling, we spend most of our time eating and want to share this with you, too. You want to know where to eat vegan in Barcelona, Athens, and Copenhagen and what to not miss in New York City, Lisbon or Mallorca? Check out all of our travel guides here.
Ice Cream, More Ice Cream, Bratislava! Our Traveling-Foodguide is today more a guide for ice cream, than for food, because well, you can have extremely good ice cream here. It's a mess! We didn't had much anticipation about Bratislava, when we booked the trip, so it was extremely cool when we discovered this beautiful city, all the yummy ice creams and the amount of vegan restaurants and shops. Really! It's absolutely abnormal that this small city offers so many vegan options. So Lisa was the person on my side for the Bratslava-trip and managed to find all the hot spots cause my orientation is awful. So don't underrate Bratislava, there is so much to discover! Find the evidence here!
Koun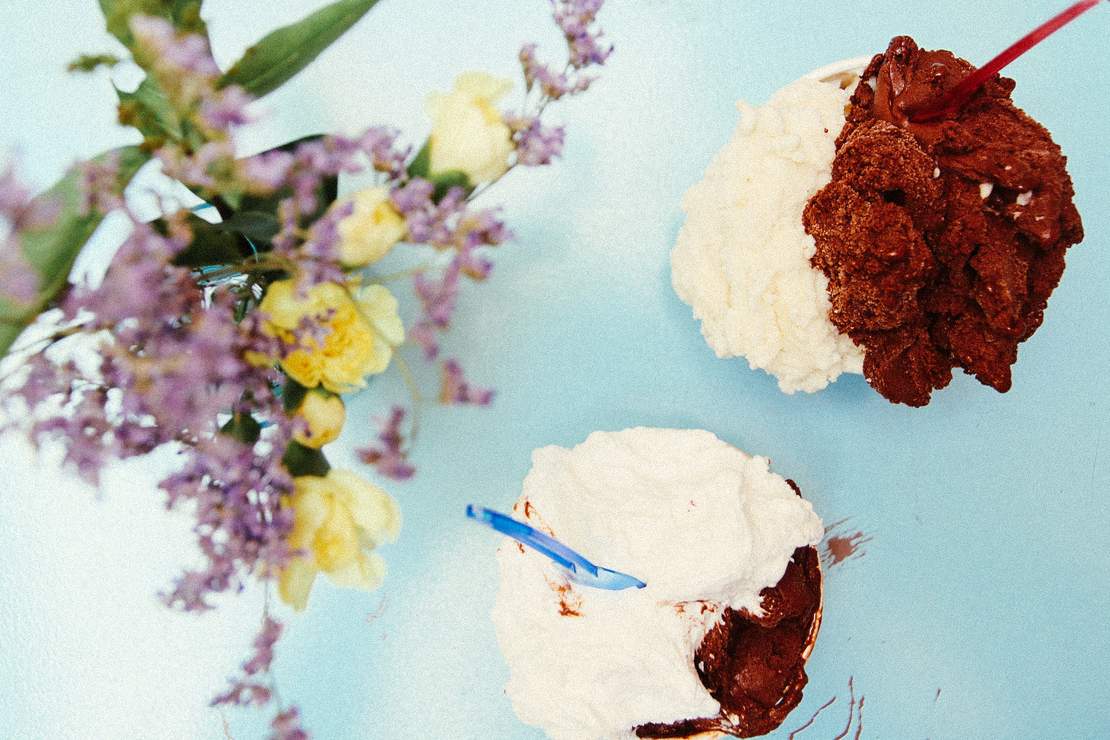 So let's start with ice cream, what else? We found the best ice cream of Bratislava here, at Koun. A bit hidden in a backyard, you will find it because there are always a lot of people waiting in front. The ice cream is just fantastic, even if they have only a few vegan flavors. But the consistency of the coconut ice cream was just fantastic. OH MY ICE CREAM! You should definitely try this!
Soho House
So when we first entered the Soho House the room was too crowded to get inside, because this place is not that big. Fortunately we came back another day. Also the menu card was limited but the dishes are really tasty and are always served with some fruits. It's a really hip and cool place. The drinks are fancy and the furniture is really pretty.
Made with laf
"Made with laf" is one of my favorite places in Bratislava. The waitress was extremely kind and explained each dish in the menu for us. We loved all of the food here. It's a nice place to calm down and to have a falafel burger.
Vegan Bar
The "Vegan Bar" is not that chic than the Soho or the Laf. It's like a canteen, so their are not that many seats to have lunch. It's hidden in a backyard between some crowded streets. The dishes are alright.
Luculus
Luculus is THE famous place for ice cream in Bratislava, but I would prefer Koun. haha! It's in the heart of Bratislava so you can't fail it. It's always a crowded place but you can have some ice cream and walk around the streets in the summer. They tag the vegan flavors, which is very clever. I tried sweet chestnut and it was ok, but there is also Koun two minutes from here…
Mondieu Café
I didn't read about the "Café Mondieu" when I searched for vegan breakfast in Bratislava. It's so bad because they have so many vegan options. May the open sandwich was the best breakfast I had in Bratislava. They serve porridge, sandwiches and more vegan stuff including coffee, soy milk and ice cream. My beetroot sandwich with pomegranate was so yummy! You can find Mondieu at Laurinska Street, one of THE streets in Bratislava. So don't miss this place!
Arthur Ice Cream
So at some point Lisa and me had a obsession to ice cream and wanted to try each ice cream shop we passed. We also had to tried the chocolate ice cream of "Arthur Ice Cream" and felt very satisfied afterwards.
U Kubistu
The "U Kubistu" is a really hip place but a bit off the historical heart of Bratislava. They do not have a lot of vegan options but they give their best to get you some yummy stuff. They serve really good food and the menu is always changing so you should definitely try it!
Re:Fresh Club
The Re:Fresh Club has only two options for vegans. First, a humus sandwich (like a lot of cafés) and some fried bread with vegan egg and ketchup. I know the last one sounds a bit strange but I had to try it. In the end it was a bit fatty and a nice dish for hangover but I hadn't one so it was just fatty. Pity!
Le Kaffé
We also couldn't pass the "Le Kaffé" without trying some ice cream. The coconut ice cream was really good and they have a ice cream bar that rotates. Crazy!
Urban Bistro
The Urban Bistro is another really hip place. I really liked the tofu sandwich I had for breakfast. It's a realxed and stylish place to chill and hang out. A perfect place to start your day right!
Kofola
Kofola is the slovakian coca cola. It's not a must do but it's nice to taste, cause it's a bit like beer, not that sweet than coke and sparkling.
Thali
So when we first visited Thali it was also closed. Which was a pity because I was really hot for indian stuff. But we had luck and there was a food market around the castle of Bratislava and Thali had a booth their selling some wraps and chickpeas. We really loved the chickpeas but the wrap was not that good. Maybe next time !
Unfortunately we didn't make it to: All Inclusive Pub, Brownjoy, Azza, Bemba