How to Eat Vegan in Vienna: Our favorite restaurants
Z&J Traveling: Even when traveling, we spend most of our time eating and want to share this with you, too. You want to know where to eat vegan in Barcelona, Athens, and Copenhagen and what to not miss in New York City, Lisbon or Mallorca? Check out all of our travel guides here.
What was the last time that you've been on vacation with your parents? For me, it's been ages, probably more than ten years, but this year it took us to Vienna (maybe because of our old, beautiful memories of our hiking holidays in Austria). And oh my, what a beautiful city this is, just perfect for a long weekend!
When you travel with your parents, you of course have to "rearrange" a bit and change your holiday routines. Usually I go from café to snack to café to snack, but this time, we did a lot more touristic stuff which was actually also a nice change. Of course, I still checked out a few vegan places, so here are my favorites.
Depending on the time of day, ULRICH can be a café, restaurant or a bar. If you go there in the morning, you'll get a large vegan breakfast plate with corn fritters, hummus, a tiny portion of porridge and more. The menu also offers juices, coffee, vegan salads, flatbreads, gnocchi, and more. I highly recommend going there, because the combination of ingredients is anything but boring, the whole spot is very beautiful, the staff is friendly and everything I ate there was just delicious.
They also have a second spot called ERICH which is only a few minutes to walk away and their food is more Mexican inspired. They offer vegan huevos rancheros, bowls and a sweet potato with soy dip.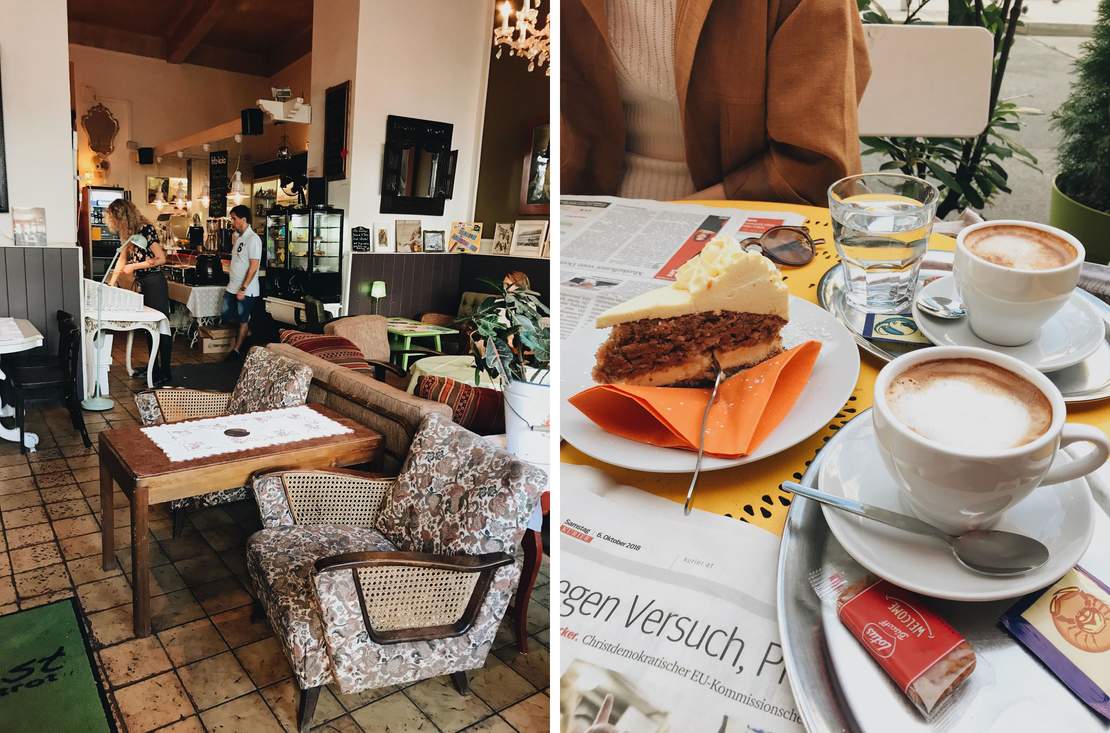 I was so mad about myself that I wasn't even too hungry when I stopped by Harvest Bistro, so I only ordered a coffee and a piece of carrot cake. But taking a look at the menu, I wished I would have ordered the vegan Wiener Schnitzel with potato salad. The food is completely vegan and they offer everything from breakfast (e.g. scrambled tofu) and snacks (seaweed caviar!) to desserts and the vegan Wiener Schnitzel. The café is super cozy and looks like grandma's living room. On weekends, you will also get an "all vegan brunch" there.
"Veggiezz" seems like it's the vegan restaurant that everyone in Vienna can agree on. The franchise already has five stores in the city, so if you want, you could open the sixth one! From burgers and wraps to salads, soups and pasta, I was almost a bit overwhelmed by their large choice. Finally I ordered the Farmers Burger with grilled tomatoes that was huge and came in a pretzel roll - very tasty! I can also recommend their homemade lemonades.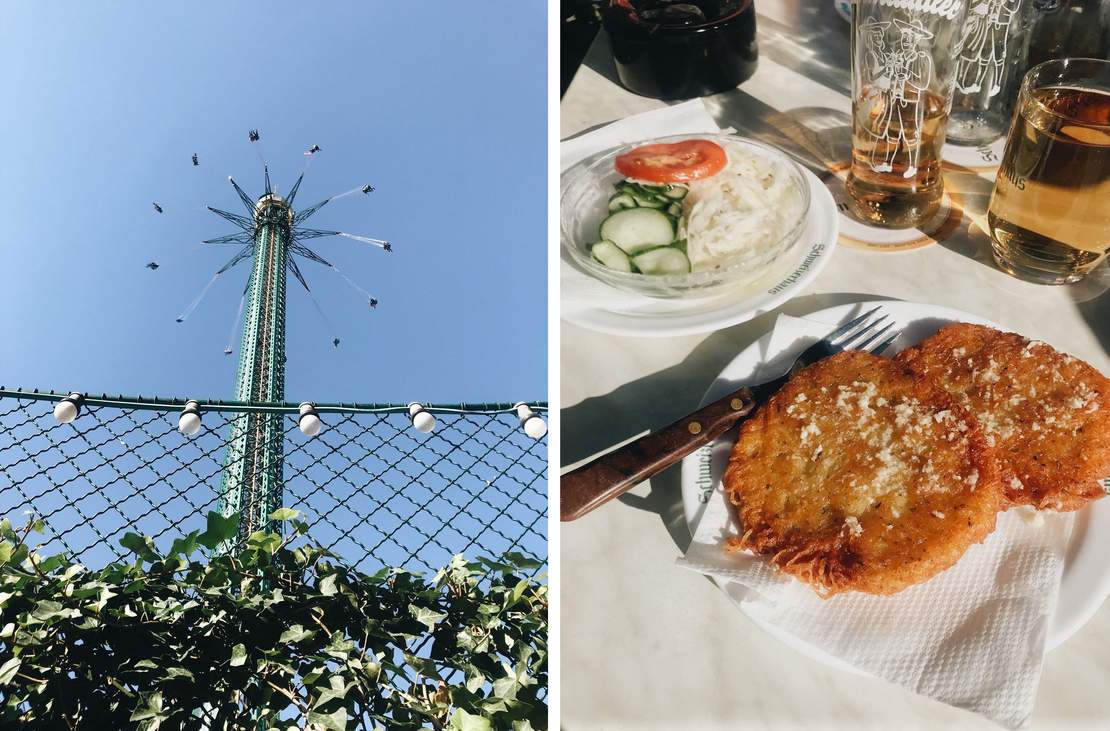 There are only a few places where I'd tell you to do other things than eating, but the "Prater" in Vienna is one of these places. The amusement park has tons of crazy roller coasters you should try (each one is better than the next!). It's open from March to October and even free, which also means that you can just take any snacks or drinks there, but still I "found" the "Schweizerhaus" in one corner of the park which has some vegan dishes on the menu. The fritters are super crispy, delicious and you can order them with a good amount of garlic on top (highly recommended!).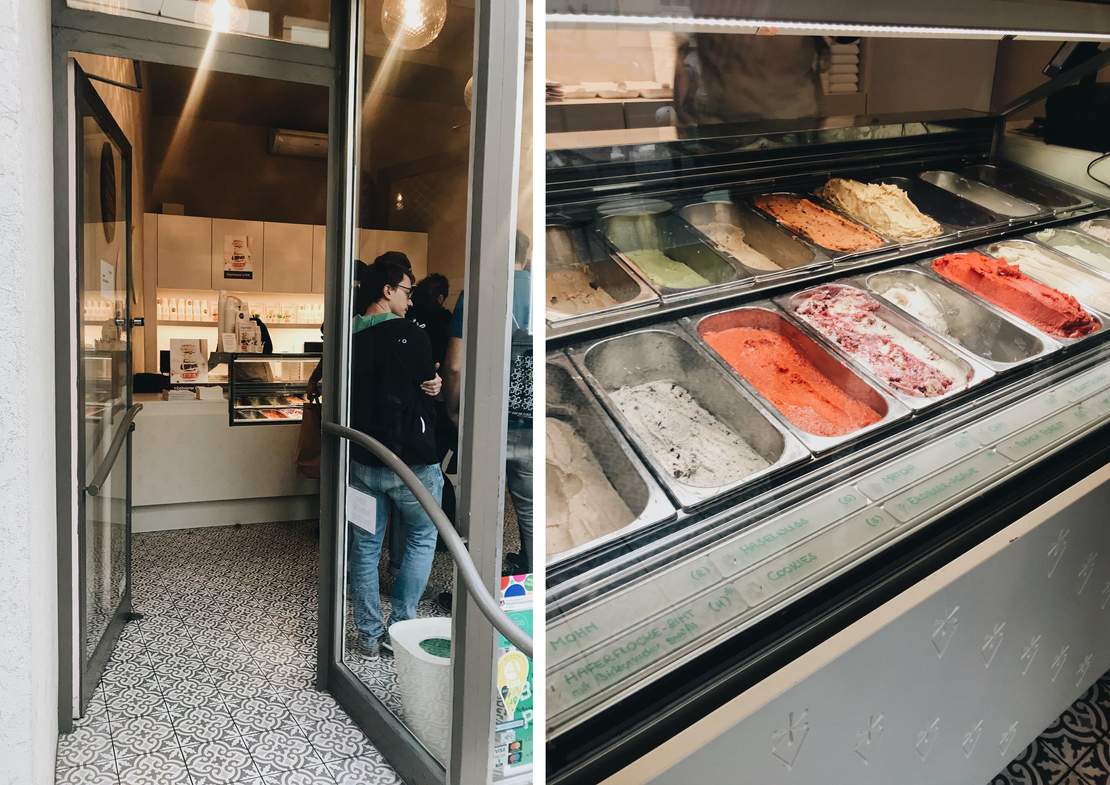 Founded by two sisters, the all-vegan ice cream shop "Veganista" already has six stores in Vienna. They produce 18 fresh ice cream flavors every day - from hazelnut to strawberry, from poppy seeds to matcha and from chocolate to tahini. If possible, ingredients are regional and from natural ingredients only. Even their ice cream cups and spoons are biodegradable, uh! If you can't get enough of their ice cream, just buy their "cookbook" and learn how to make ice cream at home.
I usually rarely visit classic restaurants, but of course it was a bit different this time since I was there with my parents - and I realized I should do that much more often! The challenge now was only to unite all tastes and desires. Fortunately, there are quite a few restaurants in Vienna where you can find both Austrian classics and vegan dishes, such as the restaurant "Zum Wohl". The menu includes vegan salads, soups, spinach dumplings with mushroom goulash and more.
There's a similar restaurant called "Heuriger Weingut Feuerwehr Wagner", but since it's a bit further out of the center, we didn't make it there. But if you have time, please go there and let us know how it is!
If you're neat the Vienna "Naschmarkt" anyway, check out the small vegan fast food place called "Voodies". They offer vegan burgers, hot dogs, fries, salads and more. Since I wasn't super hungry when I was there, I only got a hot dog with a seitan sausage that was really good. If you want the real deal, order the "San Diego" with chili sin carne, onions and vegan cheese!
There's also a second vegan fast food place in Vienna called "Swing Kitchen", which even now has a store in Berlin, but unfortunately, we didn't make it there.