How to Eat Vegan in Bari: Our favorite restaurants
Z&J Traveling: Even when traveling, we spend most of our time eating and want to share this with you, too. You want to know where to eat vegan in Barcelona, Athens, and Copenhagen and what to not miss in New York City, Lisbon or Mallorca? Check out all of our travel guides here.
Taking a quick trip to Italy for little money? Hello, Bari!
I would have introduced Bari as a charming litte town on Italy's coast, but my badass reserach just told me, that there are more that 300.000 people living there. But it doesn't feel that crowded when you're actually in the city. You can easily walk from one spot to the other. In the beautiful historic center you can even watch Italian "nonnas" preparing original Orecciette. Italy is always quite comfortable for eating vegan. Pasta (without egg) al pomodoro, arrabiata or aglio e olio – yumm! A pizza marinara should not scare you because of its simplicity. Those Italians really know their handcraft and how to make even the simplest dish perfectly. Ordering soy milk there was luckily no real problem in Bari you'll get a "cappuccino di soya" in nearly every café.
Apart from the typical dishes above, there are some specials in Bari that you should give a try. "Pecciette alle cime di rapa" for instance. I've never eaten "rapa" before and you had to get used to its bittere note. But it was delicious! Be careful since they sometimes serve it with anchovies, but it should be no problem to un-order them. Unfortunately I didn't found "cicero e tria", which is tagliatelle and chickpeas in a vegetable broth. Well, doesn't sound THAT fancy at first, but one part of those noodles are cooked normally and the other one is… fried. Oh my! Get if if you can and tell me how it tasted in our comments, please!
But enough talking, here are three spots that won't disappoint you.
Frulez
Frulez is a combination of bistro and juice bar. There is a huge auswahl of juices and lemonades, also coffee, breakfast as well as burgers, wraps, even sushi and gebäck. All vegan options are gekennzeichnet on the menu and they offer soy milk. Also not to forget to mention, since it's not common in Italy: They are opened durchgängig and don't close around afternoon.
Mastrociccio
As I mentioned: It will be no problem for you to get a classic pizza marinara or even a vegetable pizza "Senza formaggio" in Bari, or Italy at all. Mastociccio is more of a modern pizzeria, you even have to ziehen a number before ordering. Sometimes, when the number display is not working, be carful to listen to Italien numbers or else you'll wait forever (düpüpdüp, I know what I'm talking about). There are for big vegan pizzas, some paninis and salad. Definitely order "Ciccioli al Sale", it's really cheap and some kind of better chips.
At the supermarket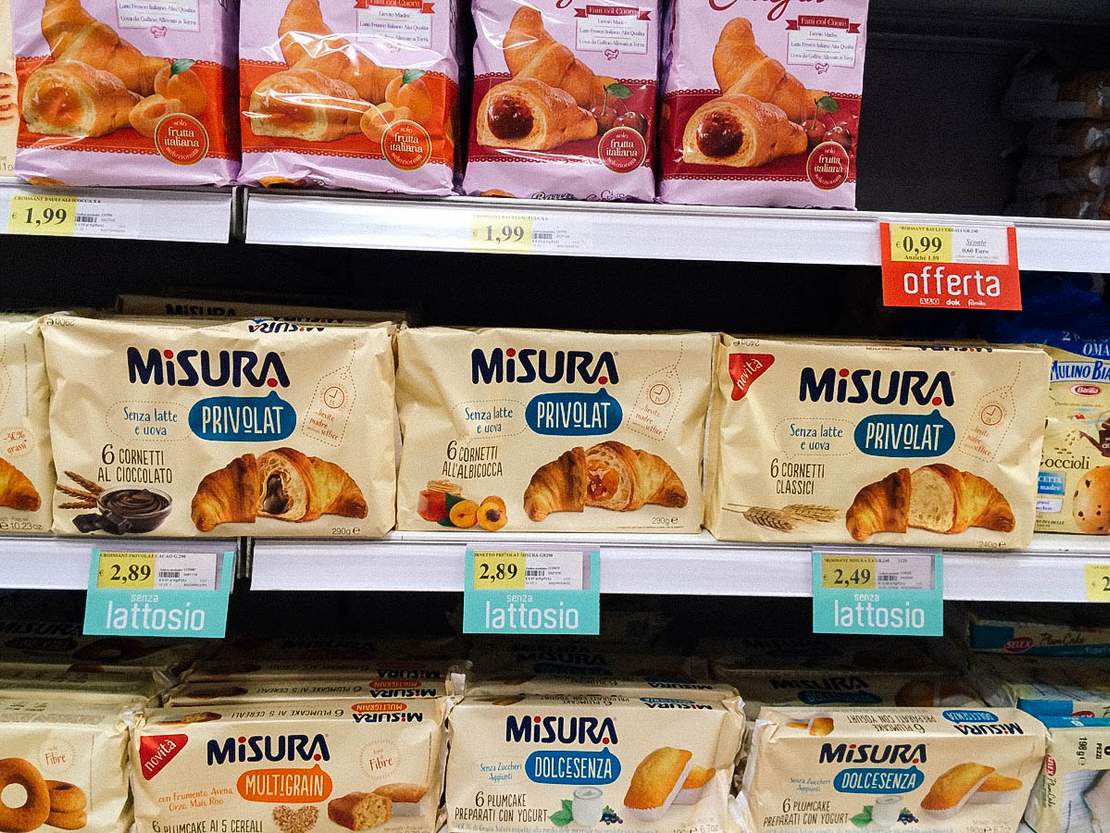 You'll find Valsoia products in nearly every supermarket, since it's an Italian brand. Offers depend from soy milk, ice to chocolate aufstrich, cream cheese, ricotta, meatlike stuff and pizza. Especially the ice is tasty AF. Make sure to grab some croissants from "Misura", they offer it with marmelade or chocolate cream.
Unfortunately didn't make it to: Terra Terra. It was recommended to me, but the citchen opened to late (around 8pm) and I was bereits some level of hangry.