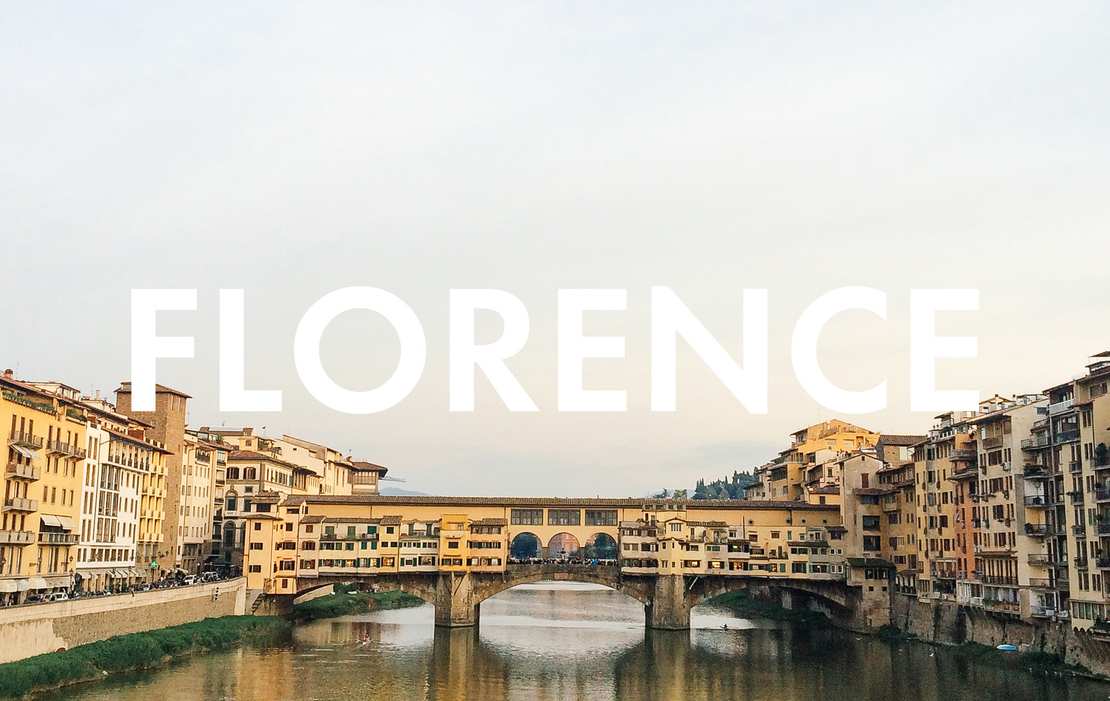 How to Eat Vegan in Florence: Our favorite restaurants
Z&J Traveling: Even when traveling, we spend most of our time eating and want to share this with you, too. You want to know where to eat vegan in Barcelona, Athens, and Copenhagen and what to not miss in New York City, Lisbon or Mallorca? Check out all of our travel guides here.
Welcome to Italy's maybe most beautiful city! I was told that Florence is Italy's most beautiful city before I travelled there. And Florence, you didn't disappointed me! Fun Fact: Just later, when I stood on some piazza I recognized that I've even been there before during a school trip. I totally forgot about that. But this time I was more attentive and enthusiastic. Florence has a pleasant size for a city trip, the "old city" over the river "Arno" is charming, and in the evening everyone meets at the piazza. Someone even had the genius idea to do a happy hour with buffet. Meaning, that for the price of one drink, you'll get a at least huge dish of food. But if you do some research before, you'll even find some spots where you can get a whole buffet to fill your belly. Apart from that, you find numerous restaurants and cafes. Here are my highlights:
Le Vespe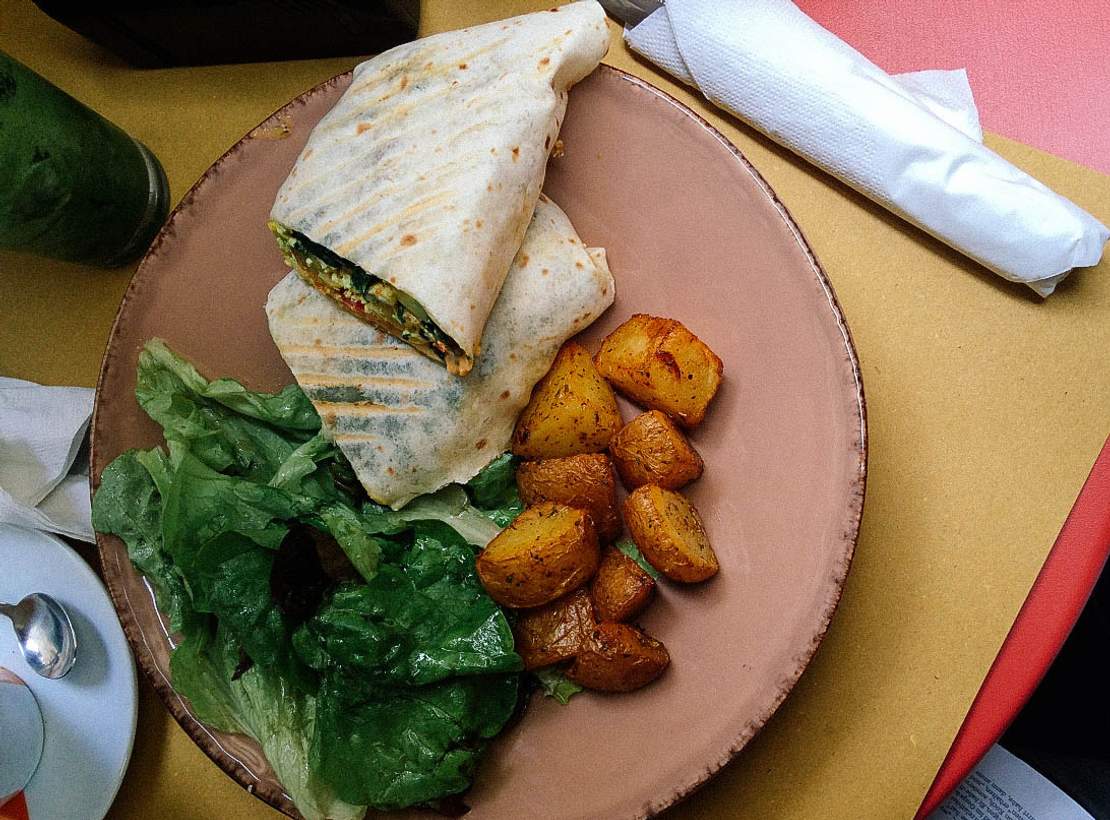 "Le Vespe" is a comfy small bistro, that waits for you with a breakfast and lunch menu with vegan options. My wrap made me really full also thanks to the potatoes (that were utterly good seasoned, by the way). Regarding this, 8 Euro for my dish are quite okay. Smoothies, juices and coffee are on top of that.
Universo Vegano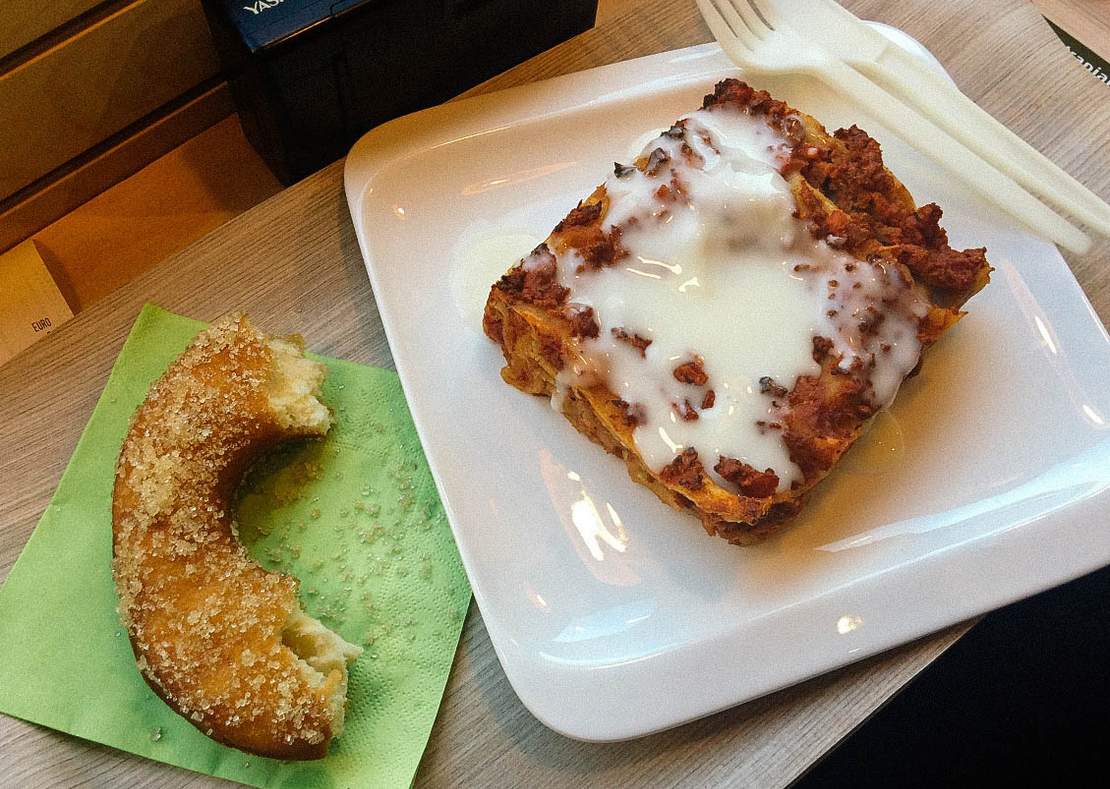 Universo Vegano is a franchise with shops throughout Italy. There are some things on their card that are not my taste, but then, I'm not a great fan of those… how do I say it right… those kind of "clumpy" burger patties. BUT the desserts at Universo are on top and they also have some funny other ideas. You'll get burgers, sandwiches, wraps, soups, pizza, salad but also lasagna, cannelloni and paella, the latter of which I think are the most interesting since you don't get those kind of things that often. And since I didn't even know that some day in the future, I would write about this online: What a shitty picture. Oops. But I haven't eaten this donut-like somewhat for ages so I accidentally ate half of it just on my way to our table.
Shake Cafe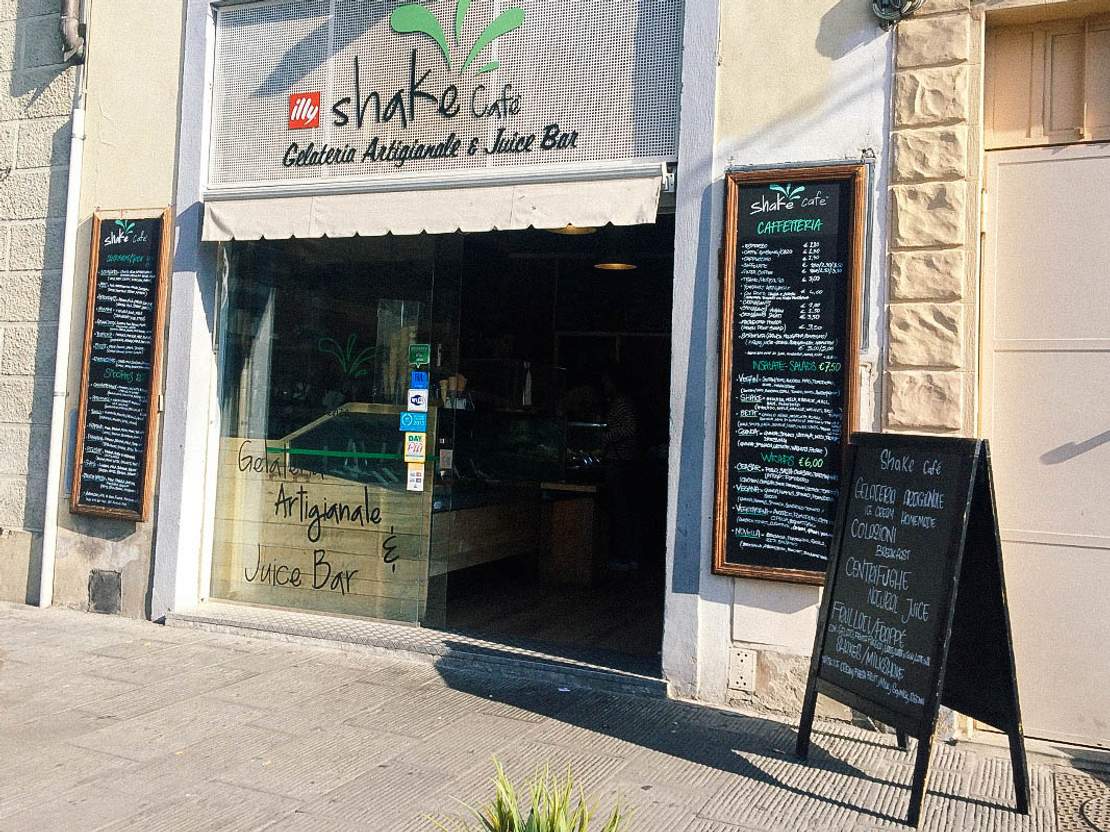 When you arrive in Florence via train, you'll find Shake Cafe pretty fast when walking from the train station into city center. So it's the perfect spot for your first and last snack in Florence. Apart from fresh juices, they offer wraps, sandwiches and salads. There's a vegan option for each category, e.g. a salad with seitan or tofu. Also they do have some desserts and even a vegan croissant you can eat on your way to your next food stop.
Unfortunately I didn't make it to: 5eCinque, Dolce Vegan, La Fate, Il Vegetariano. Oh, I think I have to go back to Florence sometimes.
On the right on this picture you can see a traditionell snack that's called "Cecina", which is a crepe-pizza-kind-of-thing made out of chickpea-flour. Since it's always vegan, I wouldn't want to miss it, but to be true, it wasn't really kicking me. Maybe if you top it with something fresh…