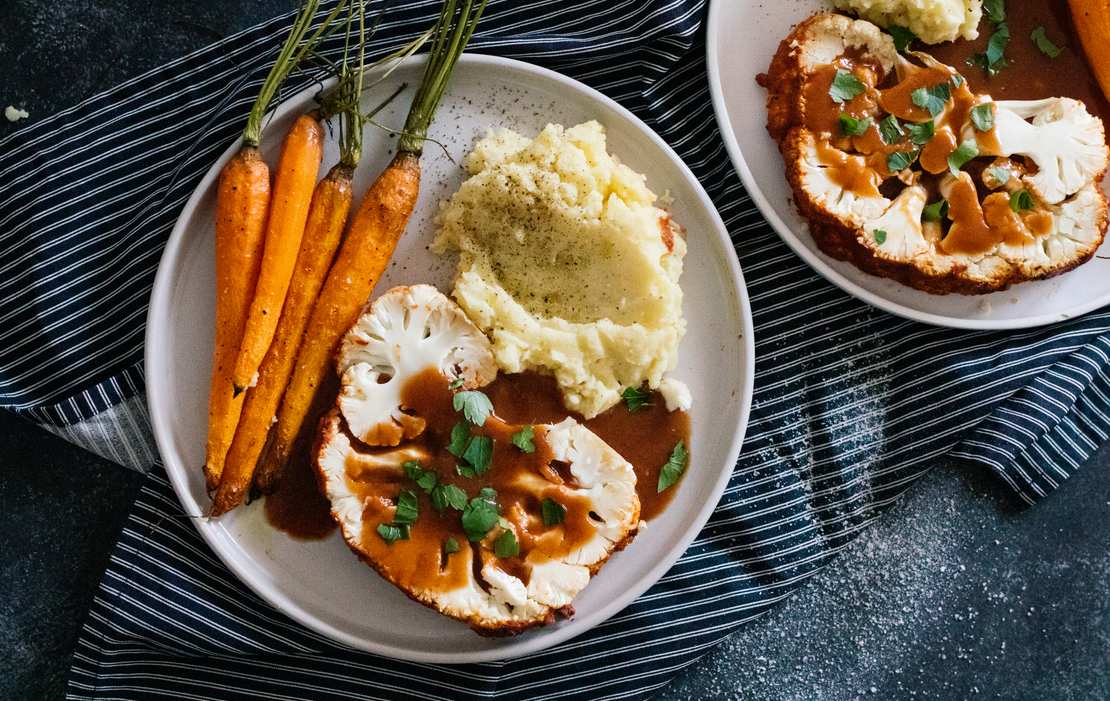 Baked Cauliflower Roast with Mashed Potatoes & vegan Gravy
Christmas is just around the corner, which means that we spend more and more time in the kitchen. [Homemade dumplings] (https://www.zuckerjagdwurst.com/en/recipes/Vegan-Potato-Dumplings-Mushroom-Ragout-Red-Cabbage), [a stuffed butternut squash] (https://www.zuckerjagdwurst.com/en/recipes/stuffed-butternut-squash-with-vegan-cream-sauce-and-potato-mash) or an [homemade lentil loaf] (https://www.zuckerjagdwurst.com/en/recipes/lentil-loaf-with-vegan-potato-gratin) are just the beginning of our huuuge Christmas projects this year. Today we show you a main dish for your Christmas menu that is not as elaborate as it seems and full of veggies!
As a "substitute" for the roast, we did not use seitan, tofu, or lentils, but a whole cauliflower. We baked the cauliflower in the oven and coated it with an aromatic marinade. If you have the time to rest the cauliflower in the marinade for 1-2 hours, go for it! If you do not have the time, then just brush the cauliflower with the marinade during the baking process for several times. We served the baked cauliflower with sweet carrots, creamy mashed potatoes, and an aromatic gravy, which is also made of veggies.
By the way: this dish is also a great soy-free option if you can't use tofu or soy chunks. You can replace the soy sauce in the gravy and the marinade with a little more salt. Otherwise, you will also find more Christmas recipes [here] (https://www.zuckerjagdwurst.com/en/categories/vegan-christmas).
Vegan Gravy made of Veggies
Ingredients
1 red onion
1 garlic clove
2 carrots
3 mushrooms
0.5 leek
plant-based oil
1 pinch of sugar
2 tbsp flour
2 tbsp tomato paste
50 ml (0.2 cups) vegan red wine
750 ml (3 cups) veggie stock
2 branches of rosemary
2 bay leaves
1 tsp mustard
1 tbsp soy sauce
1 tbsp sugar beet syrup/agave syrup
Instructions
Peel onions, garlic and carrots, clean mushrooms and remove the outer layer of leek. Cut everything in pieces. It doesn't have to be accurate since we use it for taste only.
Heat up some oil in a large pan and gently roast veggies, season with salt, pepper, and a pinch of sugar. Let it roast for 5-10 minutes until veggies are soft.
Add 2 tbsp flour and 2 tbsp tomato puree and let roast for 1-2 minutes. Afterward, deglaze with vegan red wine and fill up with veggie stock.
Time for seasoning! Add rosemary, bay leaves, mustard, soy sauce, and sugar beet syrup. Let simmer for 5 minutes.
Take out a large pot and a colander and put your sauce in it, scoop by scoop. The veggies get filtered, and you will get all the gravy in your pot.
Let the sauce simmer for at least 5-10 minutes or until you get the texture you'd like.
Time to season again. Use salt, pepper, sugar, red wine, mustard, soy sauce, or sugar beet syrup/agave syrup to create the taste you like.
Baked Cauliflower Roast with Mashed Potatoes & vegan Gravy
Ingredients
cauliflower roast
1 cauliflower
2 tbsp oil
2 tbsp mustard
1 tbsp tomato paste
2 tbsp soy sauce
1 tbsp lemon juice
1 tbsp agave syrup
1 tsp onion powder
1 tsp garlic powder
1 tsp thyme powder
salt
pepper
carrots
12-15 carrots
1 tbsp white sugar
1 tbsp plant-based butter
salt
pepper
mashed potatoes
800 g floury potatoes
100 ml plant-based milk
3 tbsp plant-based butter
salt
pepper
nutmeg
Instructions
cauliflower
Preheat the oven to 180°C/350°F (convection).
Mix all ingredients for the marinade in a small bowl.
Wash the cauliflower, remove the leaves and stalk and place the cauliflower on a baking tray with baking paper.
Brush the cauliflower with half of the marinade. Bake at 180 ° C on a medium rack for 45 minutes. Take the cauliflower out of the oven every 15 minutes and brush with the remaining marinade.
Prepare the gravy according to the recipe on our blog.
glazed carrots
In a small pot, melt the plant-based butter and add the sugar.
Peel the carrots and trim the carrot greens slightly.
Carefully remove the baking tray with the cauliflower 15 minutes before the end of the baking time and place the carrots also on the baking tray.
Brush the sweetened butter on the carrots and add salt and pepper.
Put the baking tray (with the cauliflower and carrots on it) back into the oven and bake for the remaining 15 minutes.
mashed potatoes
Peel potatoes and cut in similar sized pieces.
Put them in a pot and fill up with water until everything is covered. Add 1 tsp salt. Bring to boil and let it simmer until all potatoes are soft.
Drain and let the potatoes steam to cool down.
Mash potatoes in a big bowl and add as much plant-based milk and butter as you like until you get the best texture — season with salt, pepper, and nutmeg.
serving
Wash the parsley, shake it dry and chop with a knife.
Remove the cauliflower from the oven and serve with the mashed potatoes, the carrots, and the gravy. Top with the fresh parsley.