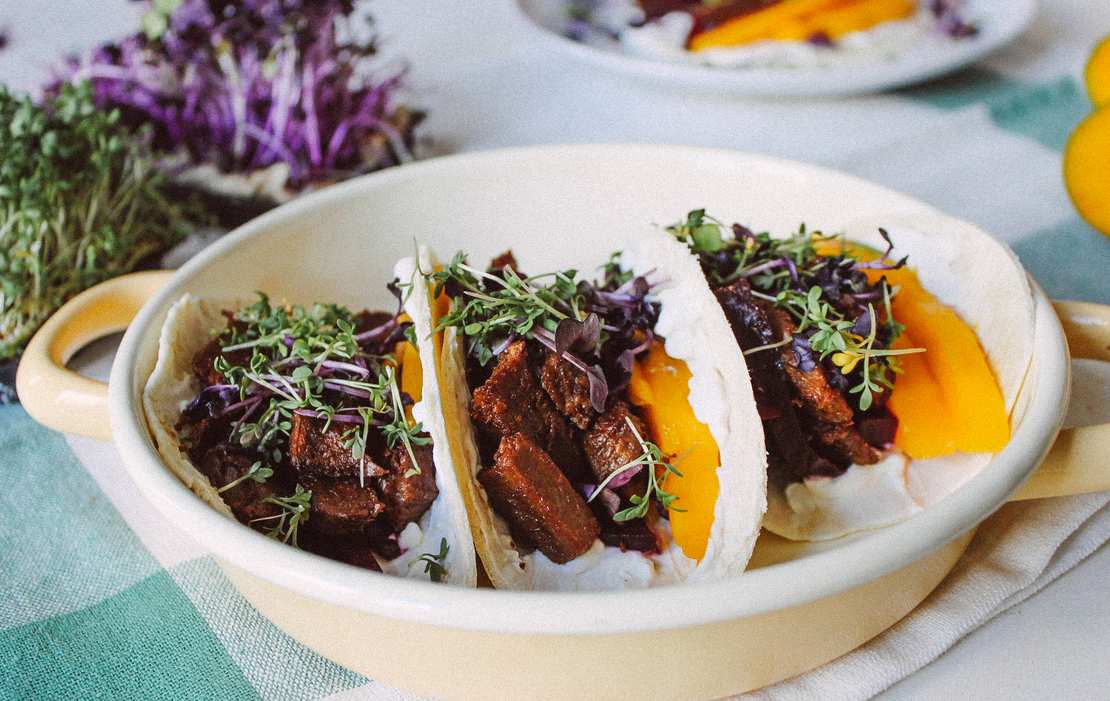 We have a soft spot for tacos and love to experiment with them. Besides classics such as fish tacos (vegan, of course!), tostadas or taquitos, we also serve Korean tacos, ramen tacos, chanterelles tacos or even chocolate tacos. You can find all our taco recipes here.
In today's Taco Tuesday we've thrown together some things lying around the kitchen. And this is what I love about tacos – you can simply combine all ingredients that would not be enough for a proper main dish but wouldn't last any longer. Mango and beetroot – who would have thought that this is such a great idea? By the way, we used 'beef free strips' from 'LikeMeat', but they are optional.
Beetroot Mango Tacos
Ingredients
6 soft tacos
1 mango
2 cooked beetroots
cress
100 g (3.5 oz) vegan cream cheese
vegan 'meat' (optional, we used Beef Free Strips by LikeMeat)
oil
Instructions
Roast your vegan meat substitute in a large pan with some oil until it's crispy. You could also use tofu, of course.
Peel and slice mango and also cut beetroot in thin stripes.
Take a taco, spread some vegan cream cheese on it and top with vegan meat, mango and beetroot.
Finish with some nice cress on top.
More Taco Tuesday - Vegan Taco Recipes