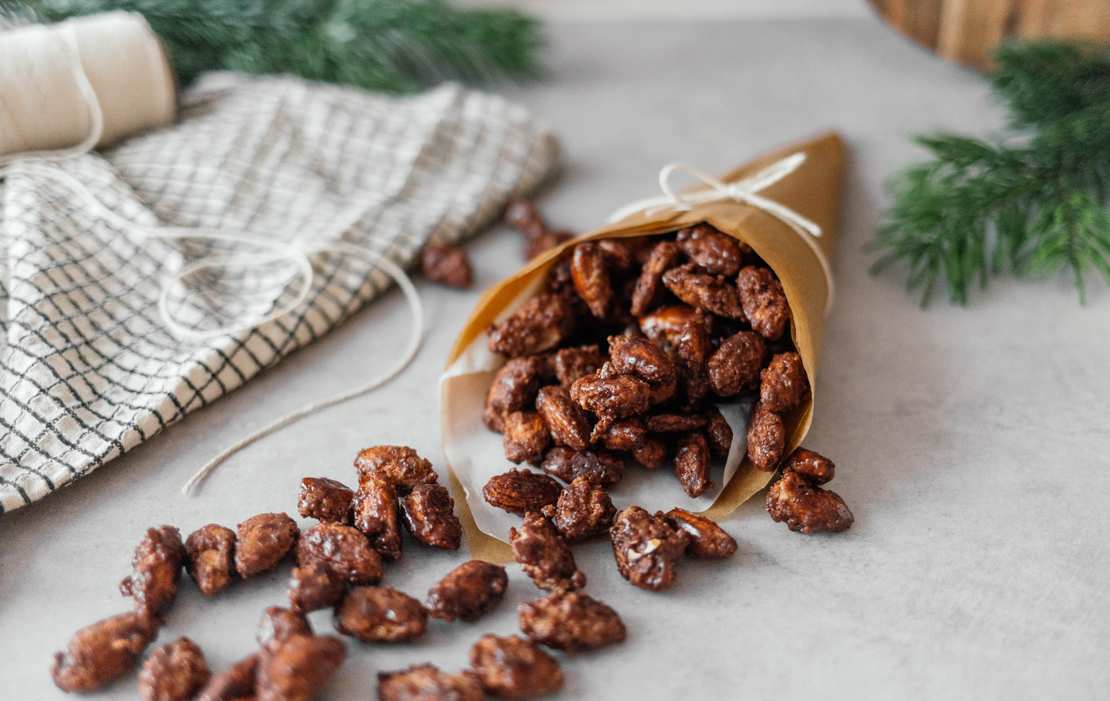 Candied Almonds (and Many More Nuts)
No matter which German Christmas market you stroll through, there are a few sweet snacks that you can always find, such as gingerbread hearts, chocolate-covered fruit, and of course, candied nuts! And how happy would you be if we told you that you don't have to go out in the cold anymore to enjoy candied nuts, all fresh and still warm? Well, that's what we thought (and are just as pleased, of course).
These candied almonds are significantly cheaper than the ones at the Christmas market and a kind of request show. You decide which nuts go into the pan – you can even create your very own nut mix. But before you start, here are a few essential tips before you start.
Preparation is everything: Prepare all the ingredients and utensils in advance so you don't have to rush through the kitchen and lose sight of the nuts – they burn faster than you think. This also includes a lined baking sheet on which the nuts dry after caramelizing.
From almonds to cashews: As mentioned above, you can use any nuts for this recipe. Smooth nuts and kernels (e.g., cashews and blanched almonds) will make the sugar layer remarkably even and relatively "thin." Coarser nut surfaces (e.g., walnuts and regular almonds) allow the sugar to adhere better, making them a bit thicker and more compact but super crunchy.
Stir, stir, stir: With candied almonds, it's best to continue stirring all the time, so the nuts are nicely coated at the beginning and are also always in motion afterward, and the sugar doesn't burn.
After dull comes shiny: If you notice that your sugar layer becomes dull and fine-crumbly in between: Don't panic. It's supposed to! From this point on, continue to heat and stir the nuts until the sugar layer melts and becomes shiny.
What kind of sugar should I use? White sugar is traditionally used for candied nuts because it caramelizes best, but with some coarser sugar, you get the typical sugar layer, which is not quite even. So feel free to mix several types of sugar here. This recipe used beet sugar and a teeny bit of coconut sugar. Of course, this recipe is anything but a "healthy snack," - but if you still want to save some sugar, you can reduce the amount to 100g (3.5 oz).
Don't forget to clean your pan asap! The easiest way to clean your pan is not to let the caramel dry out but to clean it immediately after preparation. If the caramel is already solid, you can fill the pan with water and bring it to a boil so that the sugar softens again.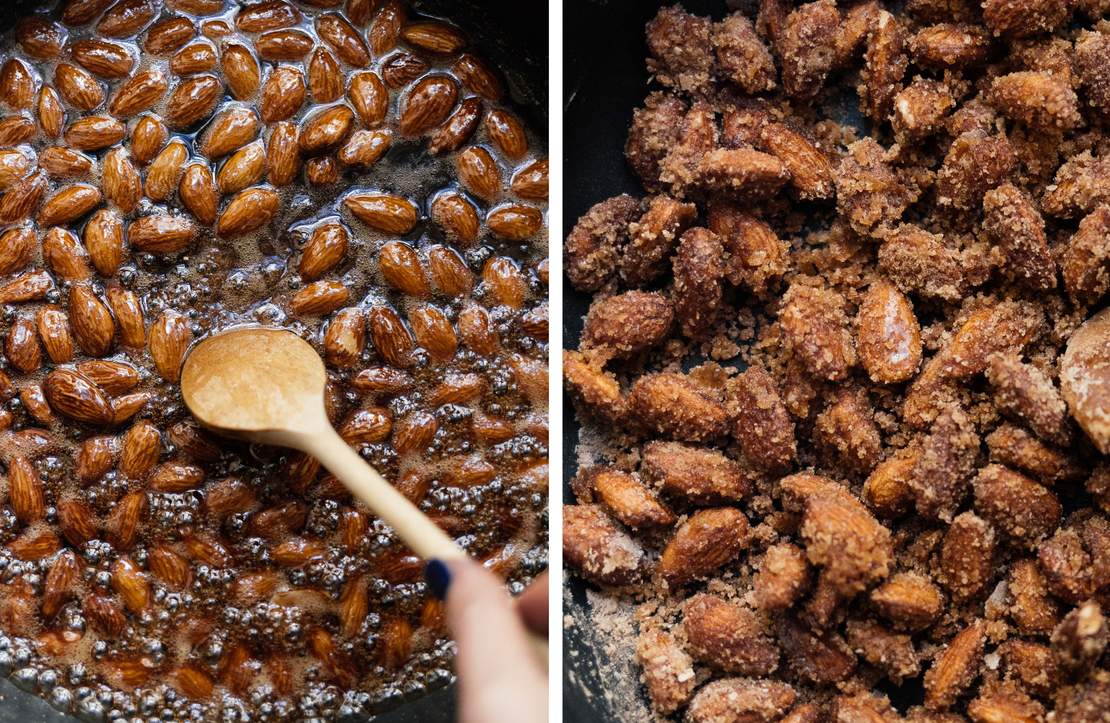 Candied Almonds (and Many More Nuts)
approx. 300 g (10.5 oz) candied nuts
20 minutes
Ingredients
150 g (0.75 cup) white sugar
1 tbsp coconut sugar
1 tsp ground cinnamon
0.5 tsp ground cardamom
1 pinch of salt
80 ml (0.33 cup) water
200 g (7 oz) almonds (or other nuts)
Instructions
Add white sugar, coconut sugar, ground cinnamon, cardamom, salt, and water to a large and deep frying pan. Heat, while stirring, until the sugar is completely dissolved.

Add almonds (or other nuts) and toss them in the sugar syrup to ensure they're coated from all around.

Heat the nuts over medium heat (and keep stirring) until the sugar mixture has simmered away and the nuts get a crunchy and dull sugar coating. Then increase the heat slightly and continue to heat the almonds until the sugar coating melts, caramelizes, and gets shiny.

Transfer the nuts to a lined baking sheet and loosen them from each other with two forks. Let them dry and cool down. They will keep for several weeks in an airtight container.