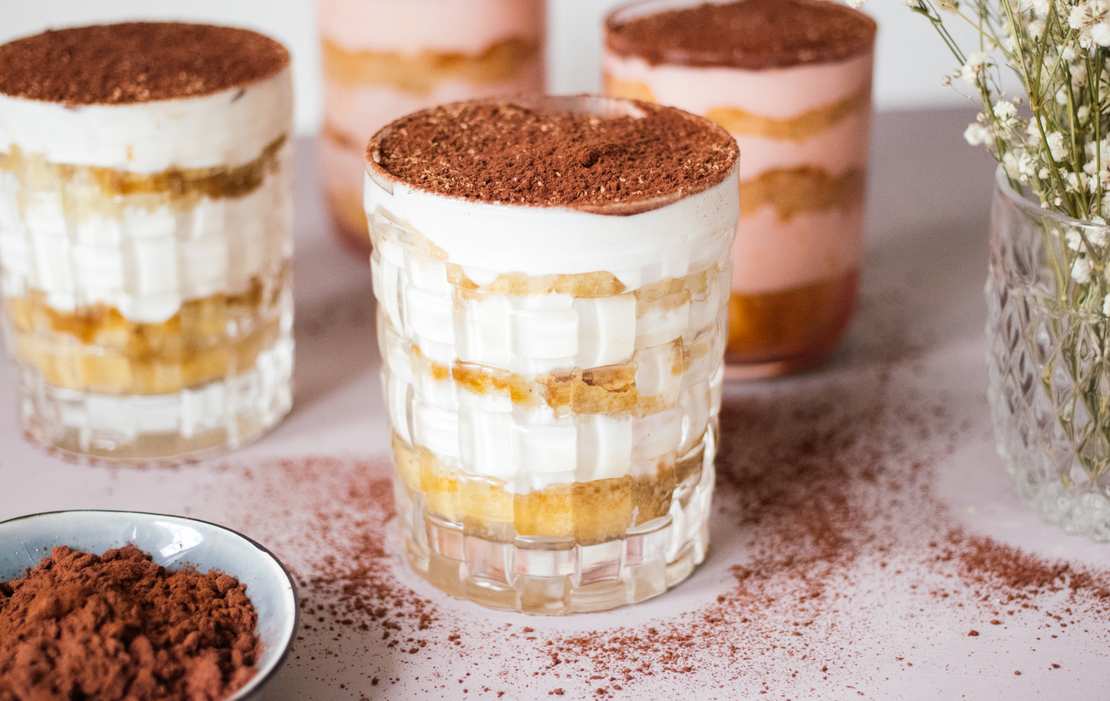 Before we start baking today, here's a quick question: who understood the subtitle "Pick me up!" in reference to this recipe and who was confused? Because here's the thing... this is what the Italian word tiramisu literally means. Pick me up. But what exactly are we picking up today?
Of course, we would never claim to make an authentic vegan tiramisu, because (as far as we know) neither is there a good vegan version of sponge fingers, nor is it possible to create a one-to-one vegan version of the cream, that usually consists of mascarpone, egg yolk, and sugar. But we DO want to claim, that this version is an effortless and delicious dessert that you can prepare ahead for any occasion.
Instead of using sponge fingers, we decided to simply bake [a fluffy sponge cake] (https://www.zuckerjagdwurst.com/en/recipes/vegan-sponge-cake-so-fluffy-and-easy). If you're in a hurry, you can also replace it with zwieback, but instead of just brushing it with the espresso mixture, you should dip the crispy slices into the liquid to make it soak better. For the cream, we also did a simple version based on plant-based yogurt. Feel free to choose your favorite one (we loved coconut yogurt in this combination!). The lemon zest isn't common for tiramisu (but hey, it's not authentic anyway, right?), but adds a nice fresh note to the tiramisu. Enough talking, pick me up!
We're happy that [Edeka] (https://www.edeka.de/rezepte/genussthemen/rezeptwelt-weihnachten.jsp) supported us and this recipe. They have a pretty large selection of vegan products for every kind of vegan Christmas dessert - from organic vegetable oil that we used for the sponge cake to plant-based yogurt!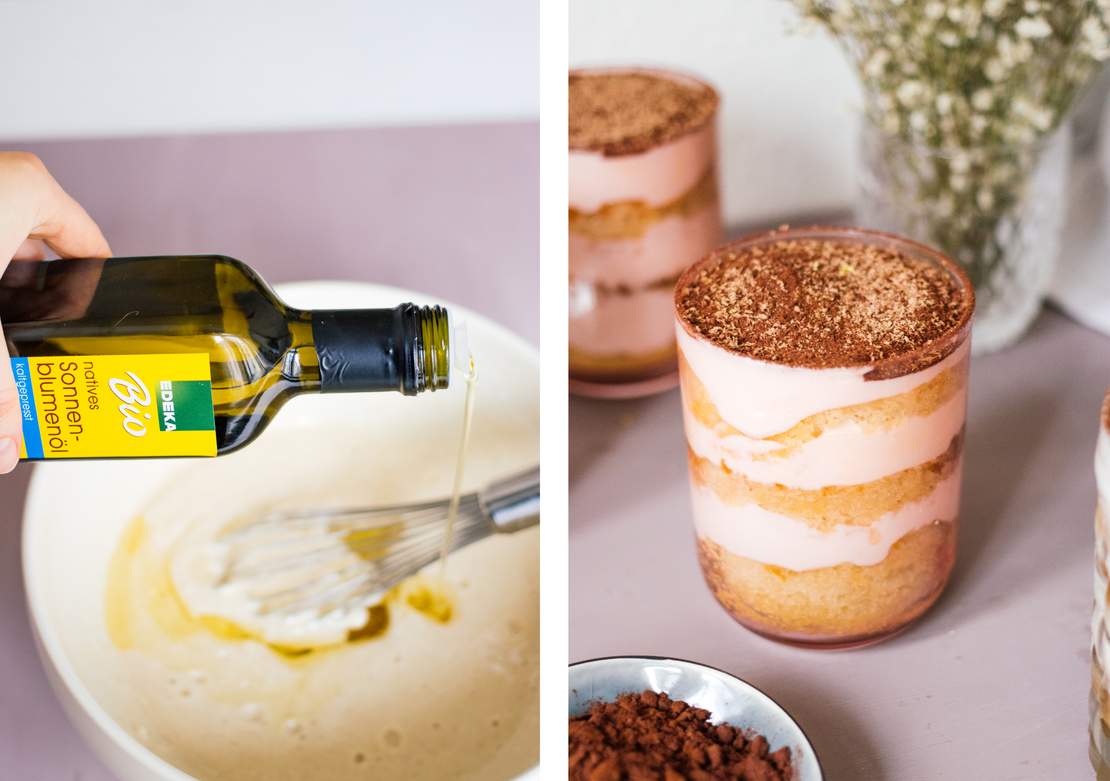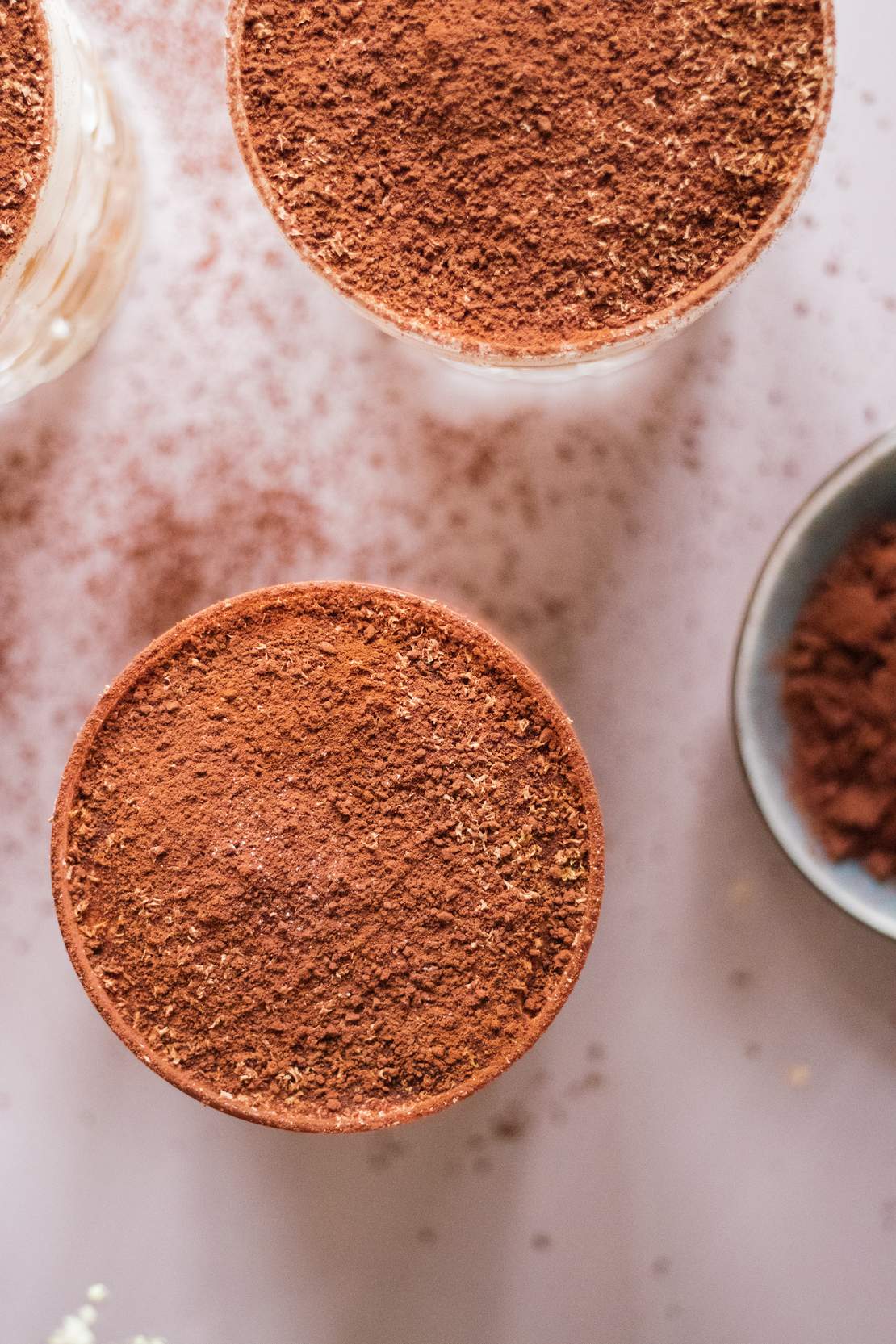 Easy Vegan Tiramisu
Ingredients
100 ml (0.4 cup) espresso
3 tbsp amaretto (you can also use sambuca, Marsala wine or brandy)
400 g (14 oz) plant-based yogurt
200 g (7 oz) whippable plant-based heavy cream
0.5 lemon (zest)
cocoa powder for dusting
Instructions
Start preparing the sponge cake, but instead of baking it in a spring pan, grease and flour a deep baking tray and spread the dough on it, so it doesn't bake too high. You only need to make sure, that the baking time will shorten because of this, so keep an eye on the cake and don't let it burn. Afterward, remove from the oven, allow to cool down and cut out the needed dough (with a glass or the dish you're going to use). You'll need 2-3 layers of dough for each tiramisu.
In the meantime, cook espresso, let it cool down and then stir in amaretto.
For the cream, add plant-based yogurt to a bowl. Beat plant-based heavy cream until fluffy and kind-of stiff, then add to the bowl and gently fold it in. Add some fresh lemon zest and if desired, sweeten with confectioner's sugar.
Once sponge cake, espresso, and cream are prepared, it's time for the tiramisu! Add the first layer of sponge cake into a jar (or any other kind of dish), then brush generously with espresso-amaretto mixture and spread a layer of cream on top. Repeat all layers for a second, and if desired for the third time. Finally, dust with a lot of sieved cocoa powder.
Refrigerate the tiramisu overnight and enjoy!
Vegan Sponge Cake
Ingredients
225 g (2 cups) flour

150 g (0.7 cups) sugar

250 ml (1 cup) sparkling water

50 ml (0.25 cup) plant-based oil

1 tsp baking powder

8 g (0.28 oz) vanilla sugar
You need a 9 inch/22 cm circular cake pan for this recipe.
Instructions
Preheat your oven to 180°C/350°F.
Mix in a bowl: flour, sugar, vanilla sugar, baking powder. Whisk until combined.
Add the oil and the sparkling water. Mix the dough for another time.
Grease a cake pan and add the batter. Bake for 30 minutes. Test with a wooden stick if your sponge cake is done. Extend or reduce the baking time until cake is golden-brown.