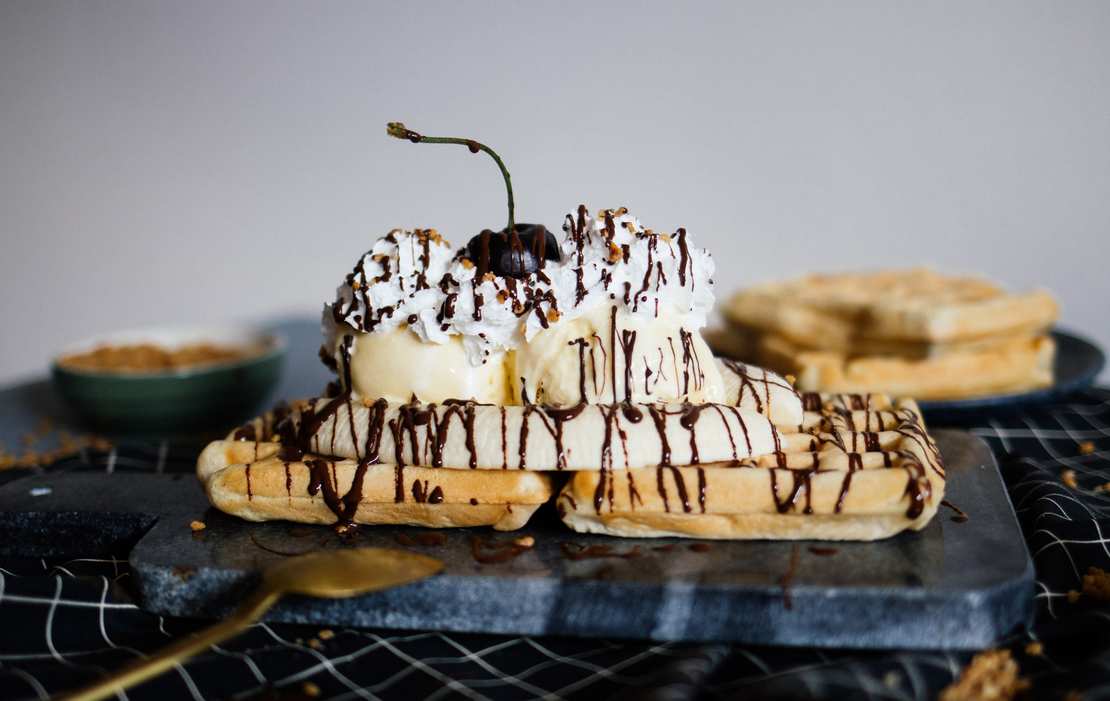 Vegan banana split with waffles
Two weeks ago, we presented our recipe for a vegan brownie sundae. Today another classic sundae follows: a vegan banana split! If you always look sadly through the ice cream menu, because there is no vegan vanilla ice cream or even plant-based whipped cream – this is your day! We wrote down our recipe for a vegan banana split.
The banana split comes originally from North America. After the Second World War, the banana split came to Germany and is now one of the ice cream classics on every ice cream menu. (Wikipedia). We love the combination of ice cream, whipped cream, and bananas and combined it with soft and freshly-baked waffles. You can find the recipe for our vegan waffles here but also below in the post!
We are very happy that LUVE supported us with this recipe. All products from LUVE are based on local lupins (from Mecklenburg-Western Pomerania) and thus support the regional agriculture - completely without genetic engineering. LUVE's ice cream is naturally lactose-free, gluten-free (except for the biscuit flavors), soy-free and super delicious. Besides the packaging is 100% biodegradable! You can find the products of LUVE at Kaufland, Aldi Nord, Veganz or at online delivery services.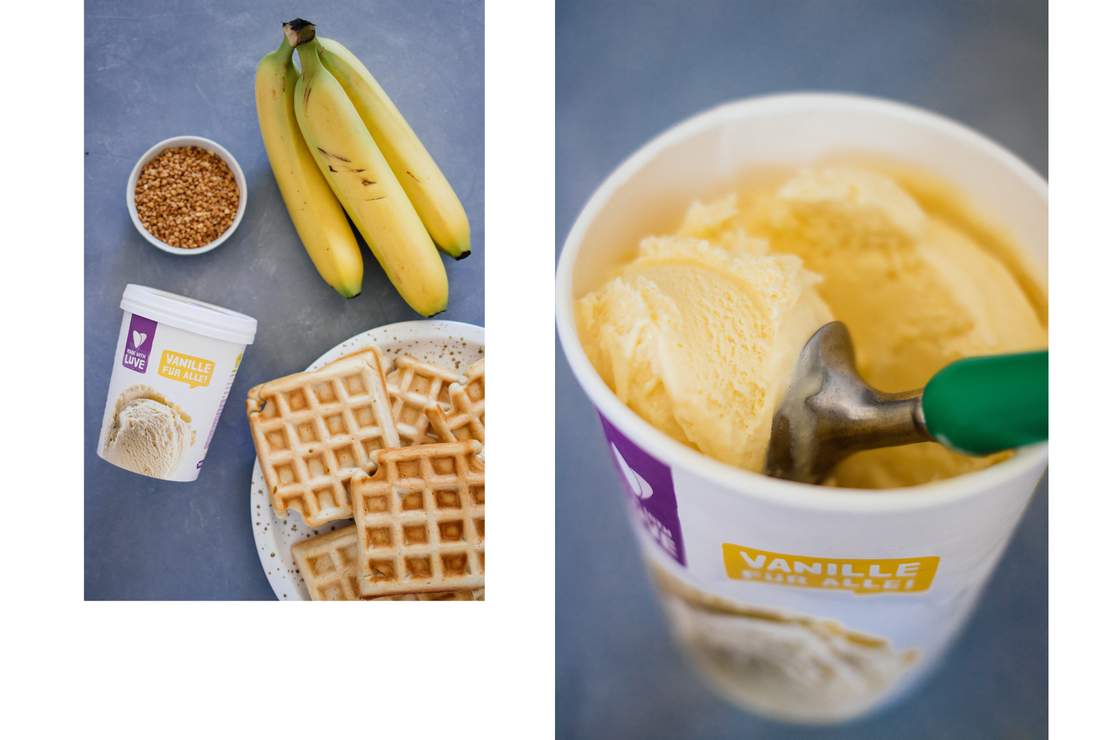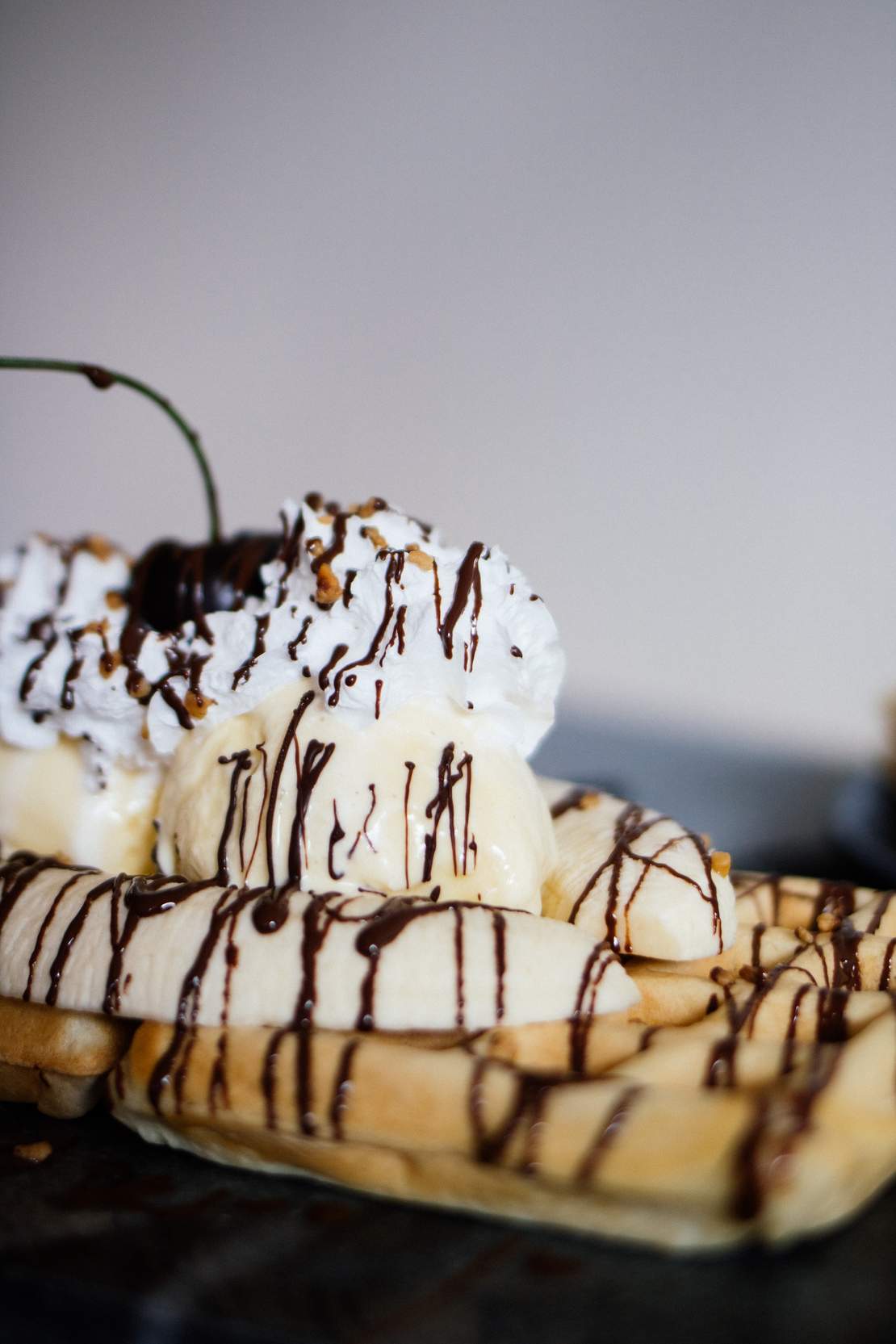 Vegan Waffles
Ingredients
waffel dough
300 g (10.5 oz) flour
200 ml (0.8 cup) oat milk
50 g (1.7 oz) brown sugar
1 package baking powder
1 package vanilla sugar
20 ml (0.08 cup) plant-based oil
100 ml (0.4 cup) sparkling water
pinch of salt
additional
vegan butter
toppings: sugar&cinnamon, fruits, apple sauce ...
Instructions
Add all ingredients for the dough in a big bowl. Start with the dry ones and gradually add all the liquids.
Heat a waffle iron and grease with vegan butter.
Cook the waffles until golden and crisp. Serve immediately!
Vegan banana split with waffles
2 servings / 2 cups
10 minutes
Ingredients
4 vegan waffles (recipe on the blog)
4 scoops of vegan vanilla ice cream (e.g., from LUVE)
2 bananas
50 ml (0.2 cups) chocolate sauce or melted dark chocolate
50 g (1.5 oz) brittle
6 fresh cherries
100 ml (0.4 cups) plant-based cream for whipping
1 tbsp cream stabilizer
Instructions
Prepare the waffles according to our recipe on the blog. You need two waffles per banana split.
If necessary, melt the dark chocolate, so you get a chocolate sauce.
Whip the plant-based cream with the cream stiffener until nice and firm.
Now it's time to serve: place two waffles on a plate. Peel a banana, cut it in half lengthwise with a knife and place both halves on the waffles.
Add two (or three) scoops of vegan vanilla ice cream and top with plant-based whipped cream, chocolate sauce, brittle and fresh cherries. Serve immediately.