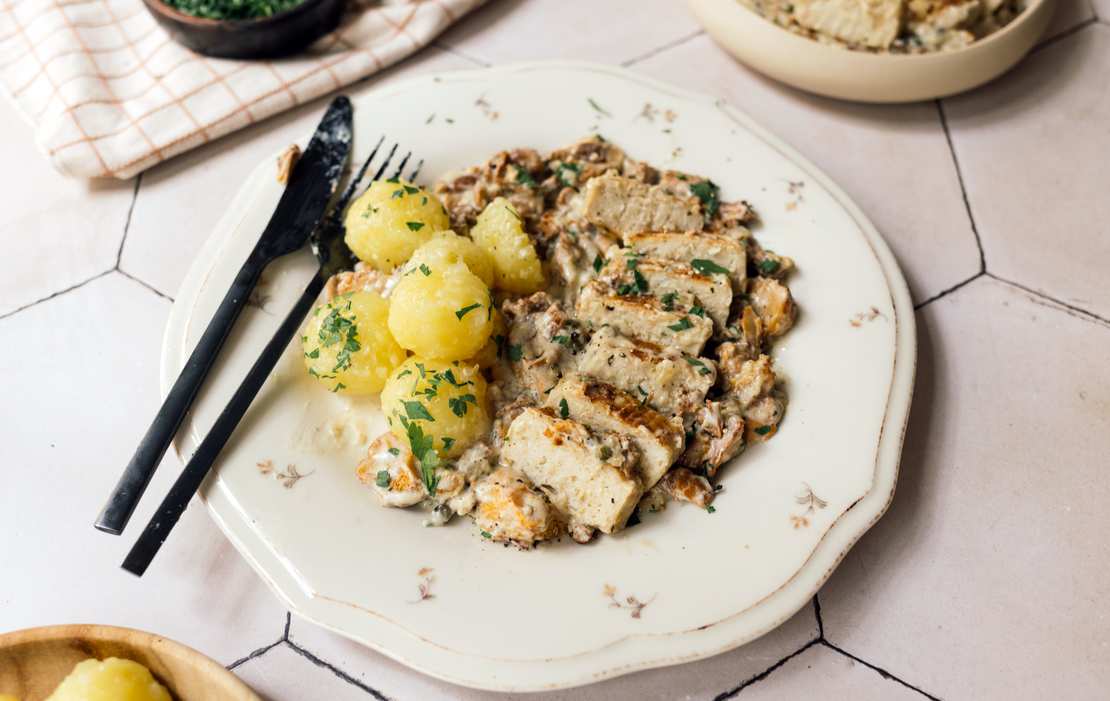 Plant-Based Chicken in Creamy Sauce with Chanterelles
When I was editing my own photos for this recipe, for a brief moment I thought that some of them didn't look like a vegan dish at all, and was unsure if they were actually the photos that I had shot. But still, everything here is and always will be vegan. Even these vegan filets in chanterelle cream sauce.
From June to October is chanterelle season!
We are currently in the peak of the chanterelle season and for me they are what rhubarb and asparagus are to some in spring: rare highlights that I look forward to every year and then try for several weeks to get the best and most out of them until we say "Goodbye, see you next year". Frozen chanterelles or those from the jar I personally do not like at all and dried chanterelles are for me (as in this recipe) rather an additional ingredient, where I mainly aim at the mushroom broth. Fresh chanterelles are and will remain the best.
What is the best way to clean chanterelles?
The eternal cleaning is the only thing I suppress every time I do this. I have to clean no other mushrooms as thoroughly as chanterelles, and because of their shape, it's not that easy. If you get stuck with a kitchen brush or paper towel because the chanterelles are still dirty, you can first dust them thoroughly with flour and then, for once, rinse them briefly with water until the flour (including dirt) comes off. After that, they should be placed on a clean dish towel, preferably in the sun, to quickly completely dry again.
The alternative to chanterelles
If chanterelles are not in season, you can make this dish with any other mushroom you choose. This also applies to the dried mushrooms, which are soaked in hot water and then used for cooking along with the broth. Here I suggest dried porcini mushrooms as an alternative, but if you don't want to use mushrooms at all, you could also replace the broth with vegetable broth.
The alternative to vegan fillets
I was looking for a chicken alternative in one piece for this recipe, so I ended up with vegan fillets that are now available from numerous companies. However, the recipe would also taste great with your favorite natural tofu, which you can cut in half horizontally for this so it's not quite as thick.
The vegan cream pepper sauce
Chanterelles and vegan cream are an absolute culinary match. We do not only know that since we made creamy tagliatelle with soy chunks and chanterelles. But since we've shown you this combination before, this time I wanted to bring a third main character into play: pickled peppercorns. You may have had a pepper sauce with crushed dried pepper. However, we're going with green pickled pepper, which still has an intense flavor but isn't as spicy as the dried grains. The biggest difference is mainly that pickling and cooking them in the sauce softens them. However, if you have never cooked with them before, it is better to add less to the sauce first and feel your way forward. If you don't like the intense pepper flavor, you can omit the seeds completely and season the sauce with ground pepper.
More recipes with chanterelles
If you have already cleaned a larger portion of chanterelles, then plan directly another recipe with them in the next few days. How about vegan pretzel dumplings with chanterelle ragout, vegan schnitzel with chanterelles & spaetzle or our chanterelle leek quiche?
Plant-Based Chicken in Creamy Sauce with Chanterelles
Ingredients
20 g (0.75 oz) dried chanterelles
250 ml (1 cup) hot water
1 onion
2 cloves of garlic
300 g (10.5 oz) chanterelles
4 vegan chicken fillets
2 tbsp flour
approx. 200 ml (0.75 cup) mushroom broth of dried chanterelles (alternatively vegetable broth)
150 g (5.33 oz) vegan cream
1-2 tbsp pickled green peppercorns from a jar
1 tsp mustard
approx. 500 g (1 lb) vegan mini dumplings
1 tbsp vegan butter
vegetable oil for frying
parsley for serving
salt
nutmeg
lemon juice
Instructions
Soak the dried chanterelles in hot water for about 20 minutes. Then remove the mushrooms from the broth, squeeze them, but keep the liquid.

At the same time, peel and finely dice the onion and garlic. Clean the fresh chanterelles thoroughly and cut especially large specimens a little smaller if necessary.

Heat vegetable oil in a large frying pan and fry the vegan fillets until browned on both sides. Then remove from the pan and set aside.

Add some oil to the pan again and fry the fresh mushrooms for about 5 minutes. Add the onion and garlic and fry for another 2–3 minutes until the onion cubes are translucent. Then add the soaked chanterelles and fry them also for 2–3 minutes.

Dust the mushroom mixture with flour, deglaze with the mushroom broth and simmer the liquid for 4–5 minutes over medium heat. Then add the vegan cream, pickled pepper and mustard and mix. Season with salt and pepper, add the vegan fillets to the sauce and simmer over low heat.

While the sauce is simmering, prepare (mini) dumplings according to package directions.

Season the sauce with salt, nutmeg and a little lemon juice before serving. Finally, stir in vegan butter until melted. Serve the chanterelle fillet pan with the dumplings and sprinkle with chopped parsley.