Taco with crispy baked Avocado & Lime Dip
We have a soft spot for tacos and love to experiment with them. Besides classics such as fish tacos (vegan, of course!), tostadas or taquitos, we also serve Korean tacos, ramen tacos, chanterelles tacos or even chocolate tacos. You can find all our taco recipes here.
Today, avocados touch down in the oven. Uuh yes! Baked avocados taste real good AND they are crispy. If you prepare them in the oven and not in a pan with oil, you even save yourself some fat. As a refreshment we add papaya and lime soy yogurt dip that's ready in ten seconds. Yay! And by the way: Black sesame seeds are available at most asia food stores, where they cost way less than in any supermarket. So let's go!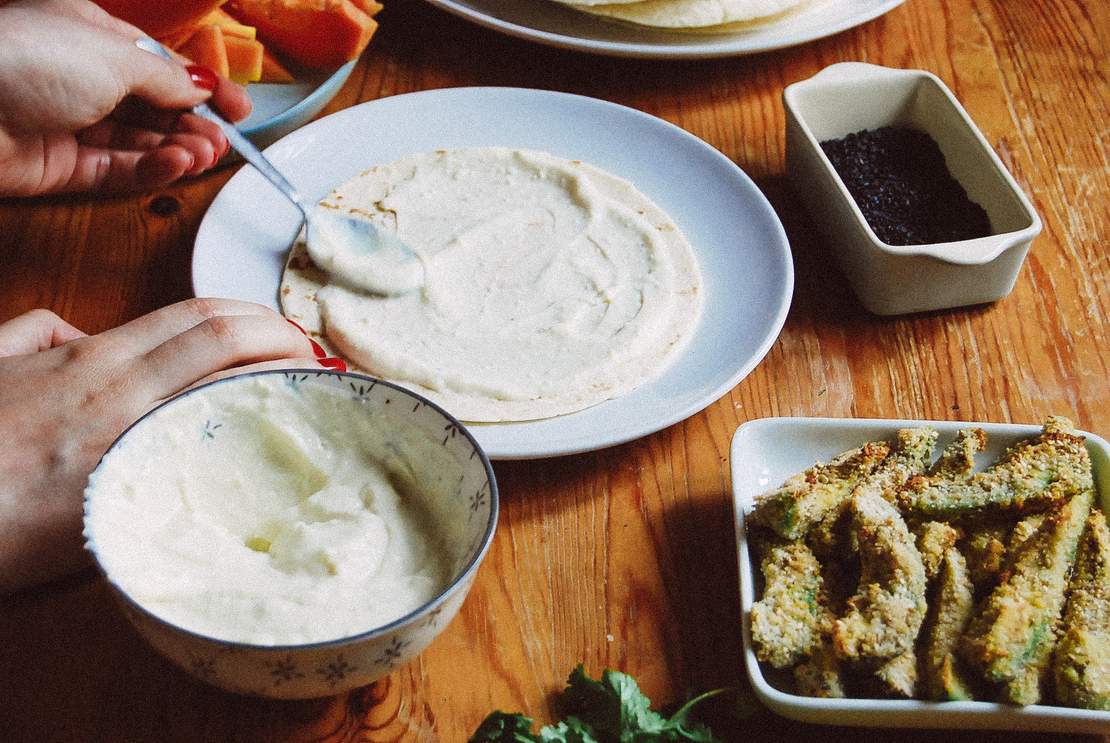 Taco with crispy baked Avocado & Lime Dip
Ingredients
FOR YOUR FILLING
2 avocado
1 papaya
150 ml (0.6 cup) plant-based milk
150 g (5.3 oz) breadcrumbs / panko
Black sesame
Cilantro
FOR YOUR DIP
1 lime (juice)
250 g (8.8 oz) plant-based yoghurt
salt&pepper
Instructions
Peel avocados and cut them in stripes.
Take out two small bowls and prepare them for crumbing. Fill one bowl with soy milk and the other one with panko/breadcrumbs. Start by dipping your avocado into the soy milk, then turn them over in breadcrumbs.
All avocado slices crumbed? Great! You can now place them on a sheet of baking paper and let them roast in the oven for 10 minutes at 150°C/350°.
In the meantime, wash and cut the cilantro. For your dip, you only have to stir in lime juice into your soy yoghurt and season with some salt and pepper.
As soon as your avocado slices are golden brown, spread some dip onto your soft taco. Add baked avocado slices, papaya slices and finish with cilantro and black sesame.
More Taco Tuesday - Vegan Taco Recipes