Tomato and Mango Salsas with Tortilla Chips
Just a few days ago, I shared one of my favorite summer dishes on the blog: rice with tempeh and mango avocado salsa. And because there's really no summer without salsa for me, I'll share another salsa recipe today, but this time it's a classic one with tomatoes.
I can highly recommend to prepare a big amount of this salsa and use it in various dishes, e.g. as a snack with corn chips, as a side for a rice dish or as a topping for tacos. And as soon as your salsa is all used up, just make the next batch!
Today's recipes include a spicy tomato salsa and the mentioned fruity mango avocado salsa. The latter is super easy to prepare: cut, mix, done! For the spicy tomato salsa, I ask you to pay attention to two important details. First, use plum tomatoes! They are quite firm and have a lot of pulp, which is why the salsa won't get watery, but fruity – exactly what we want! And the other detail: Use a chili depending on your taste, but do use one! There are no excuses today. If you don't like to eat spicy, start gently with only half a jalapeno without seeds, and then feel free to add more or spicier chilis step by step.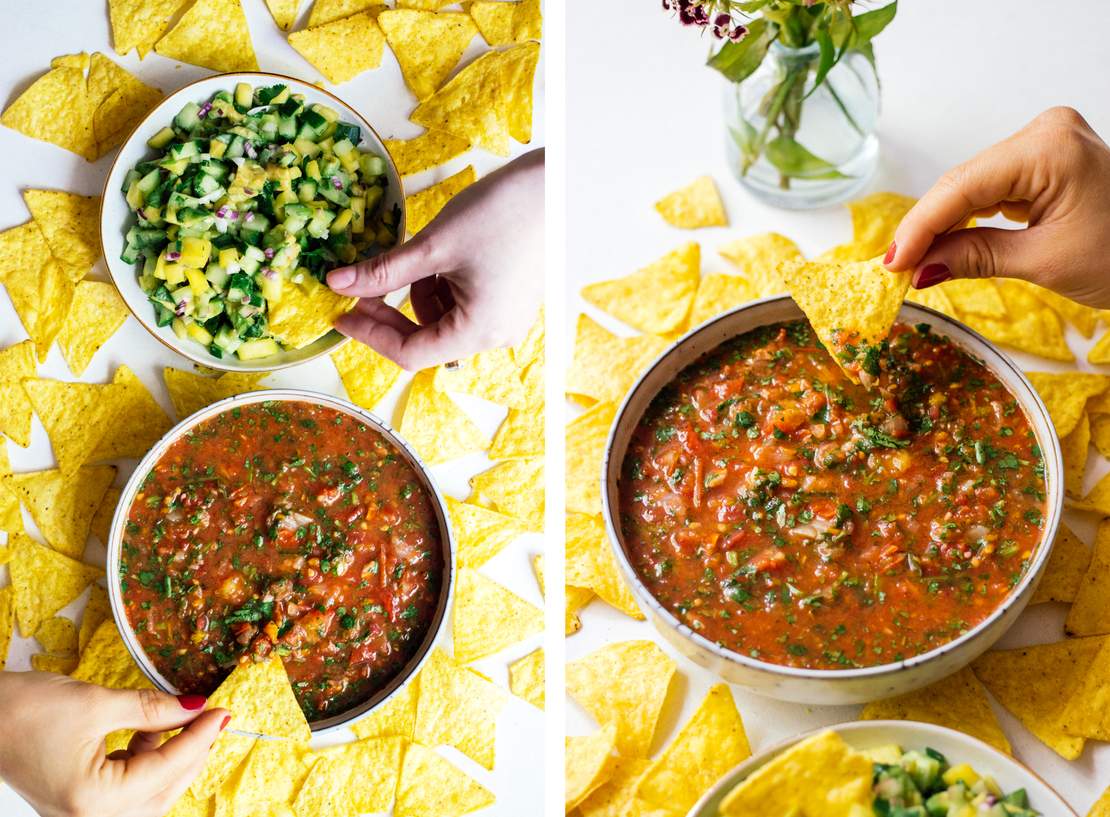 Habanero Tomato Salsa
Ingredients
400 g (14 oz) roma tomatoes
2 habanerno pepper
1 onion
20 g (0.5 oz) cilantro
2 garlic cloves
0.5 lime (juice)
salt
pepper
vegetable oil for frying
tortillas for serving
Instructions
Halve habanero chilis and remove any seeds plus the white parts around. Depending on how safe you feel doing this, you can also wear kitchen gloves doing so. In any case – don't rub your eyes after this step! Peel and halve the onion and peel garlic.

Heat vegetbale oil in a frying pan and fry the halved habaneros, onions, the whole garlic cloves and tomatoes over medium heat for approx. 5 minutes. They should get some nice roasted darker spots until then. Afterwards, let cool down.

Transfer all ingredients from the frying pan, cilantro, and lime juice to a food processor. Using the pulse function, mix these ingredients until you have a finely chopped salsa with some juices. But don't overblend it – you don't want a sauce, right? Season with salt and pepper to taste and serve the salsa with tortillas. You can store it in a closed container in the fridge for 2-3 days.
Mango Avocado Salsa
Ingredients
1 small mango
1 avocado
1 small red onion
0.5 cucumber
10 g (0.33 oz) cilantro
0.5 lime (juice)
salt
pepper
Instructions
Peel and finely dice mango, avocado, and red onion. Halve cucumber and remove the liquid core, then finely dice it. Finely chop cilantro.

Add everything to a large bowl, and season with lime juice, salt, and pepper to taste. Stir to combine and serve right away or store the salsa in a closed container in the fridge up to 2-3 days.