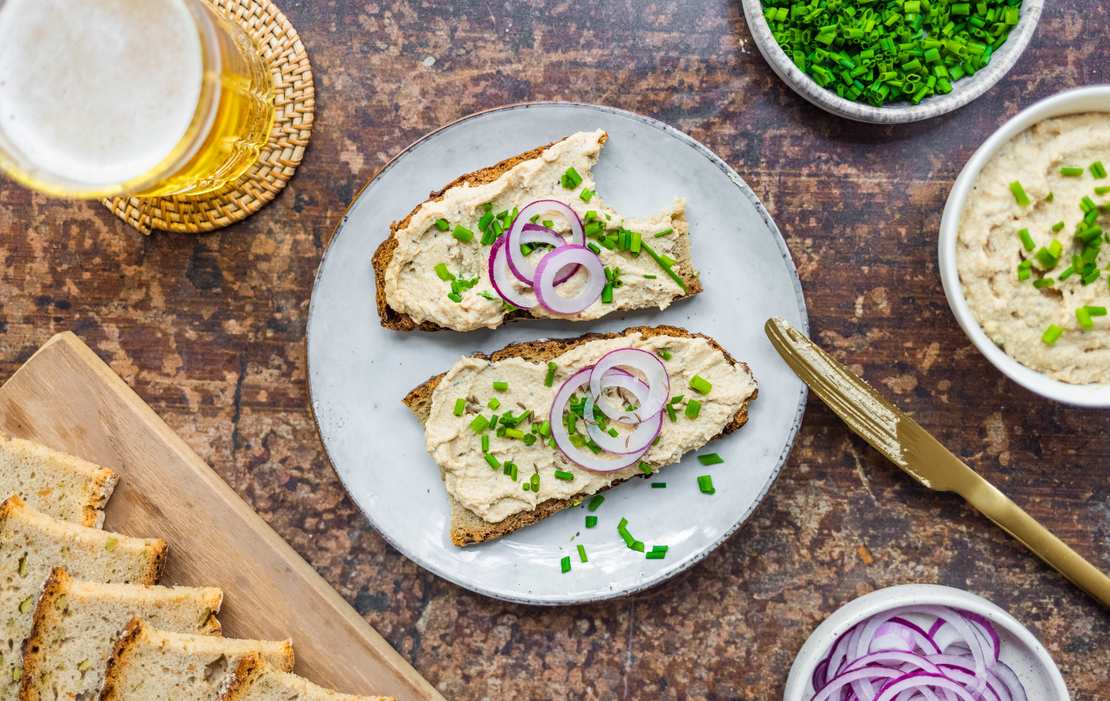 Vegan Bavarian Cheese "Obazda"
How do you veganize something that you've never eaten yourself? This question went through my head when I thought about developing a vegan recipe for "Obazda", a Bavarian cheese. It couldn't be missing from our Oktoberfest special, but I had never eaten it because I wasn't a fan of camembert cheese in the past either. So I asked "Dr. Obazda" for help, aka my friend Marie. She ate 2-30 portions of this cheese during our vacation in Munich. The result is a dip that is still not 100% like the original, but it's still delicious and reminds Marie of her vacation in Munich – and isn't this the most important thing?
Instead of camembert, we used soaked cashews as a base (as in almost all of our cheese substitute recipes) because only a few of us will find vegan camembert in the supermarket around the corner. Cashews provide a creamy base, so let them soak for a long time which should help to blend and mix them well. We added soaked rice cakes for a better texture, vegan butter and heavy cream, beer, and spices like sweet and spicy paprika and caraway (be sure to season to your own taste and use more or less of the spices).
If you're looking for other spread recipes, check out our dips and spreads category. If you need something to serve next to your dips, here's a recipe for homemade pretzel rolls and if that's not enough typical Bavarian food for you, check out our 6 Oktoberfest recipes.
Vegan Bavarian Cheese "Obazda"
Ingredients
For the cashew ricotta:
250 g (9 oz) cashews (soaked for at least 30 minutes, best overnight)
0.5 lemon (juice)
50 ml (0.25 cup) water
1 garlic clove
5 tbsp nutritional yeast
salt
pepper
Also:
2 rice cakes
6 tbsp water
2 tbsp vegan butter (soft)
7 tbsp plant-based heavy cream
50 ml (0.25 cup) wheat beer
0.5 tbsp ground caraway
1 tbsp sweet paprika
1 tsp spicy paprika
salt
pepper
For the topping:
Instructions
For the cashew ricotta, add soaked cashews, lemon juice, water, garlic, and nutritional yeast to a blender or use an immersion blender to mix until creamy. If the mixture becomes too firm, add some more water. The cashew ricotta should become a rather creamy mixture with small cashew chunks left. Season with salt, pepper, and nutritional yeast to taste.

Add rice cakes to a bowl and start to add 2 tablespoons of water first. Gradually add more water as needed until you get a rather lumpy texture.

Add cashew ricotta, soaked rice cakes, soft vegan butter, plant-based heavy cream, wheat beer, ground caraway, sweet and spicy paprika to a bowl, and stir until combined. Season the with salt and pepper to taste.

Use the vegan "Obazda" as a spread or dip and garnish with red onion rings and finely chopped chives.