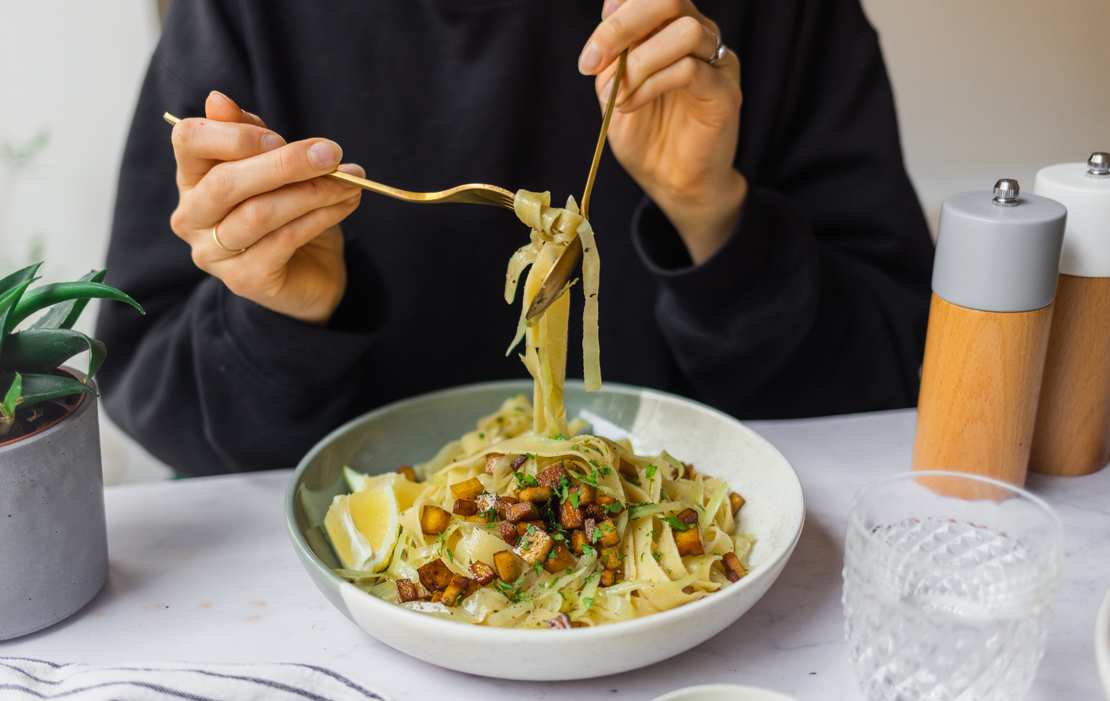 Vegan Cabbage and Onion Pasta
For a long time, I wasn't a fan of cabbage. I can't say why – maybe it's because of my aversion to kohlrabi or because cabbage always reminds me of old German recipes that use a lot of meat. But now that I'm in my late 20s, I've realized that this is absolute nonsense - better late than never, right?
Meanwhile, I know that many great cabbage dishes are full of important nutrients, antioxidants, and vitamins. Especially in autumn and winter, you get a wide variety of cabbages such as pointed cabbage, white cabbage, red cabbage, savoy cabbage, or broccoli at reasonable prices. You can cook modern, delicious, and often quite simple dishes with each of them. Here are some of our recipes as examples: hide broccoli in a casserole, serve savoy cabbage as a side dish, or add it to mashed potatoes. You can wrap roulades with white cabbage, and prepare a huge portion of fruity red cabbage. But cabbage isn't only versatile. It can also be grown in Germany, supporting a much better carbon footprint. So there are many reasons to love cabbage and add it regularly to your cooking routine, especially during the cold season.
And that's exactly why we're going to show you a dish for a hearty and simple pasta with white cabbage and onions today. For this, we heat a large portion of vegan butter, which also serves as a "sauce," and cook the cabbage for 20 minutes until it tastes buttery and slightly sweet. We add smoked tofu for some extra bite, which we prefer to sauté with a dash of soy sauce and a few drops of liquid smoke. Finally, for some acidity and freshness, we top the pasta with fresh parsley and lemon juice. And after less than 30 minutes, you'll have a wintry pasta on your table that you'll want to dig into. By the way, this recipe is also rather cheap as it costs less than 5 € for four servings, so it's ideal if you're short of money at the end of the month. So by now, I'm definitely team cabbage and hope you will be too, at the latest after this pasta.
Vegan Cabbage and Onion Pasta
Ingredients
1 kg (2.25 lbs) white cabbage
4 onions
200 g (7 oz) smoked tofu
200 g (1.75 sticks) vegan butter
50 g (0.25 cup) sugar
500 g (17.66 oz) vegan wide pasta (e.g. fettuccine or linguine)
1 lemon
15 g (0.5 oz) parsley
vegetable oil
soy sauce (optional)
liquid smoke (optional)
salt
pepper
Instructions
Slice white cabbage into strips. Peel and halve onions, then also cut them into strips. Finely dice smoked tofu.

Heat vegan butter in a pan over medium heat and sauté onions for about 2-3 minutes until translucent. Then add cabbage and sugar and mix everything well. Cook over medium heat with a lid on for about 20 minutes, until the cabbage is buttery soft. Stir every 5 minutes, to make sure the cabbage cooks evenly.

In the meantime, prepare the pasta according to package directions.

Heat vegetable oil in a pan and sauté the smoked tofu over medium heat for approx. 3-4 minutes. Optionally, add a dash of soy sauce and a few drops of liquid smoke. Then set aside.

For the toppings, wash the lemon and cut it into wedges. Wash and finely chop parsley.

Add the cooked pasta to the cabbage, and season with salt and pepper to taste. Serve each plate with smoked tofu, fresh parsley, and a lemon wedge.