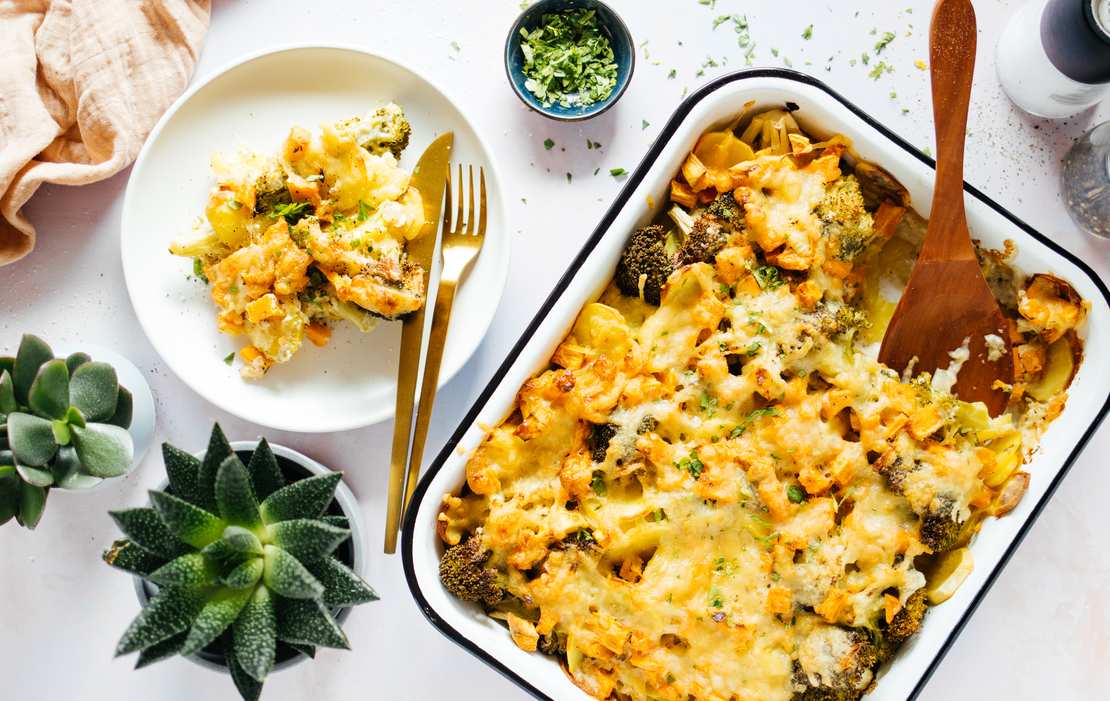 Creamy Vegan Potato Broccoli Casserole
Whether you serve them as a leftover dish, comfort food on Sundays, or as a crowd pleaser for family evenings: casseroles are a perfect dinner match for a lot of occasions. As a leftover dish, they are perfect for hiding all your leftover vegetabl under a crispy vegan cheese crust at the end of the week. As a cozy dinner, it warms from the inside and leaves a wonderful smell in your apartment. And as it's so easy to prepare in advance, you can feed a whole crowd with casseroles and make sure, that it will be ready just in time when they arrive.
We already have a recipe for a vegan potato casserole with vegan "minced meat" on the blog, but today we add a green version to it: a vegan potato and broccoli casserole. It's easy to prepare and you can of course adjust the vegetables according to the season. If you want an extra crispy vegan cheese topping, turn on the grill function of your oven in the last minutes of baking (but always keep an eye on the casserole so it does not burn).
The creaminess is provided by a simple vegan cream sauce, which we prepare in a small pot beforehand. We recommend using oat or soy-based heavy cream for this which you can find in almost every supermarket. Make sure to use a heavy cream for cooking and not a vegan whippable heavy cream as they are often sweetened. You can also find vegan shredded cheese in a lot of supermarkets nowadays. We recommend you mix the cheese with some oil and water beforehand as this will help with melting in the oven (we included the instructions in the recipe below).
Creamy Vegan Potato Broccoli Casserole
4 servings
30 minutes (+ 40 minutes baking time)
Ingredients
For the casserole:
750 g (1.66 lbs) waxy potatoes
800 g (1.75 lbs) broccoli
0.5 sweet potato
vegan butter for greasing
For the cream sauce:
1 onion
2 tbsp vegan butter
1 tbsp flour
600 ml (2.5 cups) plant-based heavy cream
2 tbsp nutritional yeast
0.5 tsp ground nutmeg
0.5 tsp dry rosemary
0.5 tsp dry thyme
salt
pepper
For gratinating:
150 g (5.5 oz) vegan shredded cheese
3 tbsp vegetable oil
3 tbsp water
For serving:
Instructions
Peel potatoes, sweet potato, and onion. Thinly slice the potatoes, dice the sweet potato, and finely dice the onion. Wash broccoli and cut the florets off the broccoli stem. Peel and dice the remaining stem.
For the vegan cream sauce, melt vegan butter in a pot and fry diced onion for approx. 2-3 minutes or until translucent. Dust with flour and heat for approx. 1-2 minutes while stirring.
Stir in plant-based heavy cream and season the sauce with nutritional yeast, salt, pepper, nutmeg, dry rosemary, and dry thyme to taste. Set aside the sauce for later.
Preheat your oven to 180°C (circulating air) and grease a baking dish (28x28 cm / 11x11-inches) with vegan butter. Add sliced potatoes, broccoli, and sweet potato to the baking dish and pour the vegan cream sauce over the veggies.
Mix vegan shredded cheese, oil, and water in a small bowl, then sprinkle the mixture over the casserole.
Bake on the medium level of your oven at 180°C for approx. 40 minutes.
After baking, remove the baking dish from the oven, but let the casserole sit for approx. 10 minutes before serving. Sprinkle with chopped fresh parsley.