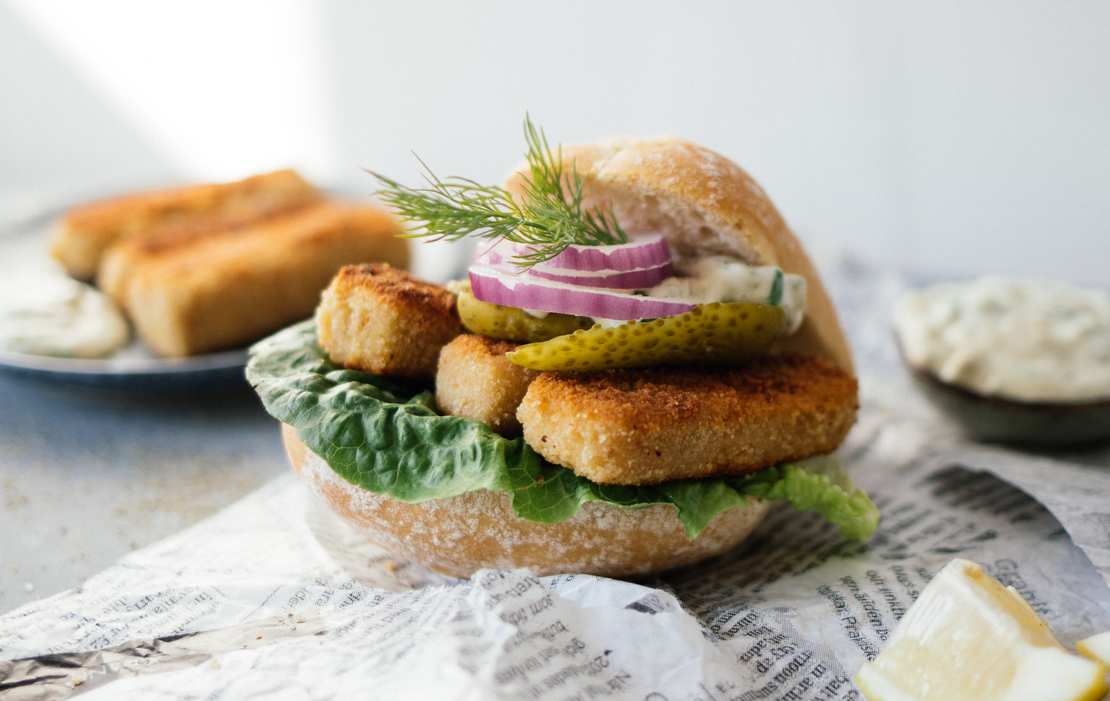 Vegan Fish Sandwich with Homemade Fish Sticks
Imitating fish isn't easy at all! The smell, the consistency, the shape - extremely difficult! A proven ingredient for imitating the taste of fish are nori sheets. We already used them for our homemade plant-based fish sauce and our vegan fish tacos. The dried seaweed tastes and smells fishy and works perfectly for plant-based "fish" dishes. Very similar to the fish tacos, we place a small piece of the nori sheet on top of our tofu to get the fishy taste into our fish sticks.
But the work is not done yet! Usually, tofu hasn't many similarities to fish, especially when it's about the consistency. We talked with some other vegan food bloggers about this point and heard that freezing tofu changes the texture from firm to crumbly. So we cut our firm tofu in small sticks and put them in the freezer overnight. The next morning they turned light brown and had a more crumbly texture. What a good idea!
So our fish sticks turned out really good! And in combination with fresh lemon juice and homemade remoulade - a dream!
Vegan remoulade sauce
180 g (6.3 oz) remoulade
10 minutes
Ingredients
150 ml (0.6 cups) vegan mayonnaise
1 tsp mustard
1 pickle
3 twigs dill
2 twigs parsley
4 - 5 stalks chives
15 capers
salt & pepper
Instructions
Finely chop pickle and capers.
Wash and chop herbs.
Mix all ingredients in a bowl and season to taste.
Vegan fish sandwich with homemade fish sticks
4 fish sandwiches
1 hour (+ more for preparing)
Ingredients
4 fresh bread rolls
1 lettuce heart
1 red onion
4 pickle
1/2 portion of vegan remoulade (recipe on the blog)
1 lemon
salt & pepper
vegan fish sticks
400 g (14.1 oz) firm tofu
1 nori leaf
5 tbsp soy sauce
3 tbsp lemon juice
250 ml (1 cup) boiling water
100 ml (0.4 cups) plant-based milk
50 g (1.7 oz) flour
salt & pepper
2 tbsp nutritional yeast
100 g (3.5 oz) breadcrumbs
3 tbsp vegan butter
Instructions
Vegan fish sticks
Slice tofu in slices (try to get the size of typical fish sticks). Roll each of them in plastic wrap and freeze overnight. Defrost the next morning for at least three hours.
Cut nori leaf into fine strips. Mix with soy sauce, lemon juice and hot water in a big casserole. Place the tofu slices in the marinade and marinate for at least two hours. Turn regularly.
Prepare three deep plates for the breading. Add flour, nutritional yeast, salt and pepper to the first one, breadcrumbs to the second one and plant-based milk to the third one. You may have to refill those plates later.
Cover the tofu slices in flour first, then toss in plant-based milk and afterward roll in breadcrumbs. Again toss in plant-based milk and roll one last time in breadcrumbs.
Heat up vegan butter in a medium-sized saucepan. Start frying the fish sticks until golden brown.
serving
Halve the bread rolls and add remoulade.
Wash and slice lettuce. Slice pickles.
Peel and cut red onion into rings.
Top each bread roll with lettuce, pickles, onion rings and fish sticks. Add fresh lemon juice on top and serve.