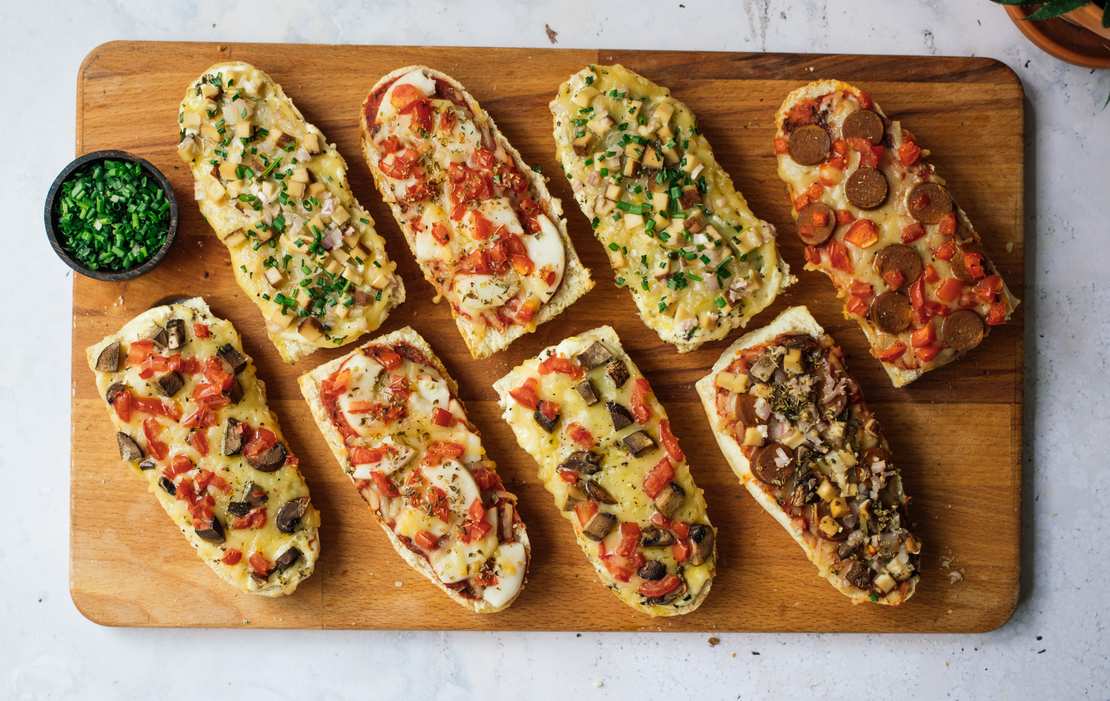 You might know "French bread pizza", but in Germany, we call this "Bistro Baguettes" as this is the name of a famous frozen food. I loved this snack when I was a kid (and even when I was a bit older), but I also remember the following situation: once the baguettes were baked, I always forgot HOW hot they come out of the oven. The baguette bread was quite thick compared to the topping, which meant that by the time the bread was baked and crispy, the topping had already reached the temperature of lava. Of course, I kept forgetting this... and remembered it just when I took the first bite and burned my entire upper palate.
It was a disaster, and yet, I still walk around the frozen food section in supermarkets and reminisce about it. I've made some rough versions of this baguette for dinner and used whichever kind of bread and toppings I found in my kitchen. But for today's recipe, I wanted to study the German 'original' a bit more. So today, we'll approach four of their classic toppings.
Studying this wonderful YouTube video left me once again astonished because I would love to have such a machine running through my apartment! It could easily add sauces, vegan cheese, and toppings to the baguettes and then shock-freeze everything.
No worries, it will be MUCH easier. In fact, this recipe is so simple that I almost don't dare to call this an actual "recipe". But well, sometimes you just need a little inspirational push to get started. Of course, you're completely free to choose the toppings and also the amount of them – it's a bit tricky to give exact specifications for a topping. Some prefer more tomatoes; others might want to create their very own toppings. I think the best approach is to cut all the ingredients, then arrange them in some bowls or so for everyone to choose their very own topping combination (or follow our ideas below).
And yes, this is a recipe in which we're using quite a few vegan substitutes, but of course, you don't have to do this. You could also use vegetables only as toppings, or kick the vegan cheeses and mix a nooch sauce instead. You could also replace the vegan crème fraîche with a plant-based yogurt, but we haven't tested this, and the consistency might change after baking.
Vegan French Bread Pizza
8 bread pizzas
10 minutes (+10 minute baking time)
Ingredients
For the baguettes:
4 French rolls or 2 large baguettes
Toppings (per 2 baguettes)
For a "cheese and tomato" topping:
6 tbsp tomato puree
0.5 tsp garlic powder
1 tsp dried oregano
0.5 tsp dried basil
1 tomato
vegan shredded cheese
vegan mozzarella
salt
pepper
For a mushroom topping:
6 tbsp vegan crème fraîche
1 tsp dried oregano
1 tsp dried basil
0.5 tsp onion powder
0.5 tsp garlic powder
5 button mushrooms
4 porcini (optional, only if they are in season)
1 tomato
vegan shredded cheese
pepper
For a vegan "salami" topping:
6 tbsp tomato puree
0.5 tsp garlic powder
1 tsp dried oregano
0.5 tsp dried basil
1 vegan 'salami style' sausage
0.5 bell pepper
1 tomato
vegan shredded cheese
salt
pepper
For a vegan "cheese and ham" topping:
6 tbsp vegan crème fraîche
0.5 tsp garlic powder
1 small red onion
100 g (3.5 oz) smoked tofu
vegan shredded cheese
chives
salt
pepper
Instructions
Preheat oven to 180°C/355°F (convection heat). If you're using French rolls, just halve them horizontally to get the top and bottom part. If you opt for longer baguettes, first halve them in length and then horizontally to get eight baguette halves.

Prepare all the toppings first: finely dice button mushrooms, bell pepper, and red onion. Remove the core, seeds, and liquid pulp of the tomatoes, then finely dice the fruit flesh. Finely chop chives and slice the vegan sausage. Season tomato puree with garlic powder, dried oregano and basil, salt, and pepper.

Bake the baguettes halves (without topping) for approx. 5 minutes. This will help to get a crisp topside.

Remove the baguettes from the oven, then add all your desired toppings. It's best to stick to the following order: start with the sauce. If you're using the tomato puree, it's already seasoned, but if you're going for the vegan crème fraîche, sprinkle the seasoning on top. Continue with a layer of vegan cheese and drizzle some olive oil on top. Afterward, you can add any other toppings of your choice.

Bake for another 7-8 minutes, or until you're happy with how the baguettes look and if the vegan cheese is melted enough.