Vegan Goulash with Pan-Fried Bread Dumplings & Red Cabbage
We may reveal at this point that this recipe for vegan goulash is one of the most popular Christmas meals on our blog every year! We see this not only in the number of clicks but also by getting the proof photos of you via Instagram, which makes us very happy. So you definitely can't go wrong with this approved main dish. This vegan goulash also ends up on our table several times a year – sometimes with pan-fried dumplings, sometimes with potato dumplings, sometimes with sauerkraut, and sometimes quite classically with red cabbage.
We used to combine it with vegan roulades at Christmas, but since we sometimes can't find big TVP steaks anymore we just came up with an alternative – a vegan roulades goulash. You basically need the same ingredients as for the roulades, but you just don't roll them together. So instead of big TVP steaks you only need smaller chunks or medallions. You can find them in many supermarkets, Asian supermarkets, and online.
This vegan goulash can be prepared very well in advance, so you only have to reheat it the next day or the day after – it will even taste more intense this way. And as mentioned above, it can also be served with a variety of side dishes.
If you're looking for more plant-based recipes for Christmas, take a look here.
Simple Red Cabbage with Apple
Ingredients
500 g (17.5 oz) red cabbage
2 onions
1 apple
3 tbsp white wine vinegar
2 tbsp sugar
2 tbsp red currant jelly
1 bay leaf
2 cloves
salt
pepper
vegetable oil for frying
Instructions
Remove the stalk of the red cabbage and any dried out outer leaves, then thinly slice the red cabbage. The finer the red cabbage strips are cut, the faster they will cook later. Peel and finely dice the onions. Wash and core the apple, then also cut it into small dices.

Heat vegetable oil in a pot over medium heat. Start by frying the onion until translucent. Add red cabbage and keep frying for approx. 5 minutes.

Add white wine vinegar, sugar, red currant jelly, bay leaf, and cloves to the pot. Let the cabbage simmer for approx. 30 minutes over low heat, stirring from time to time.
Tip: You can use spice bags which will help later to remove the spices pretty easily instead of looking for them in cabbage chaos.
Add the diced apple and keep cooking the cabbage for approx. 30-60 minutes. The red cabbage should be softened, but still keep a slight bite. Season with salt and pepper to taste – and don't forget to remove cloves and bay leaf before serving.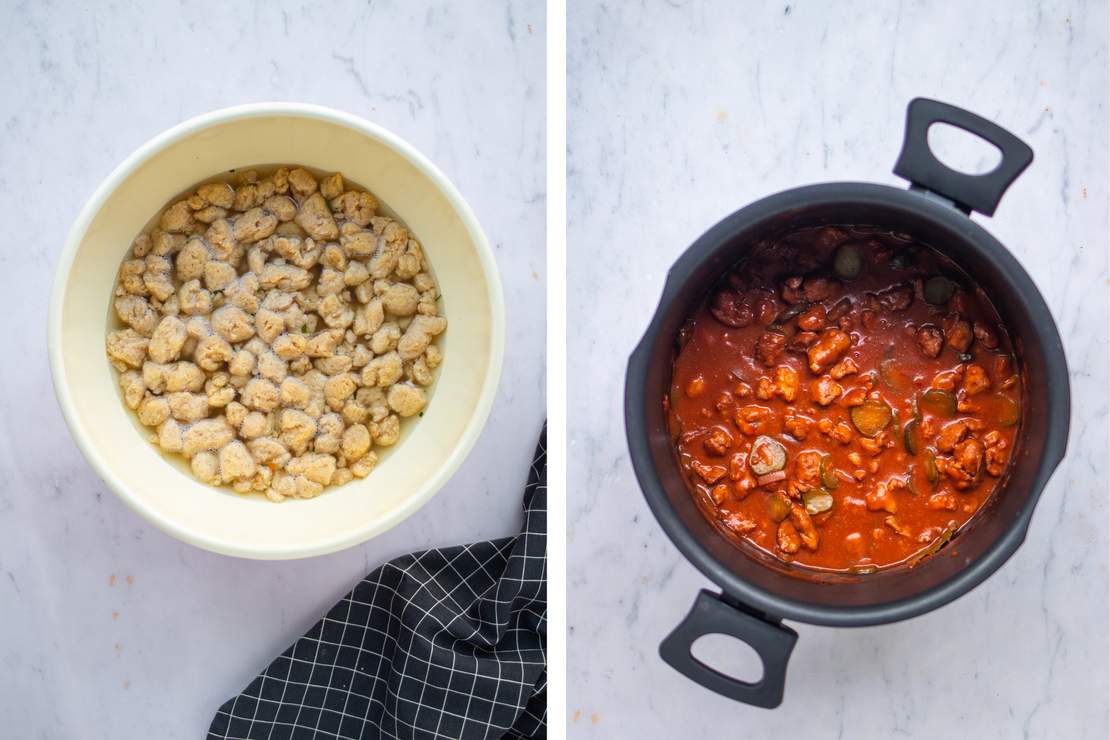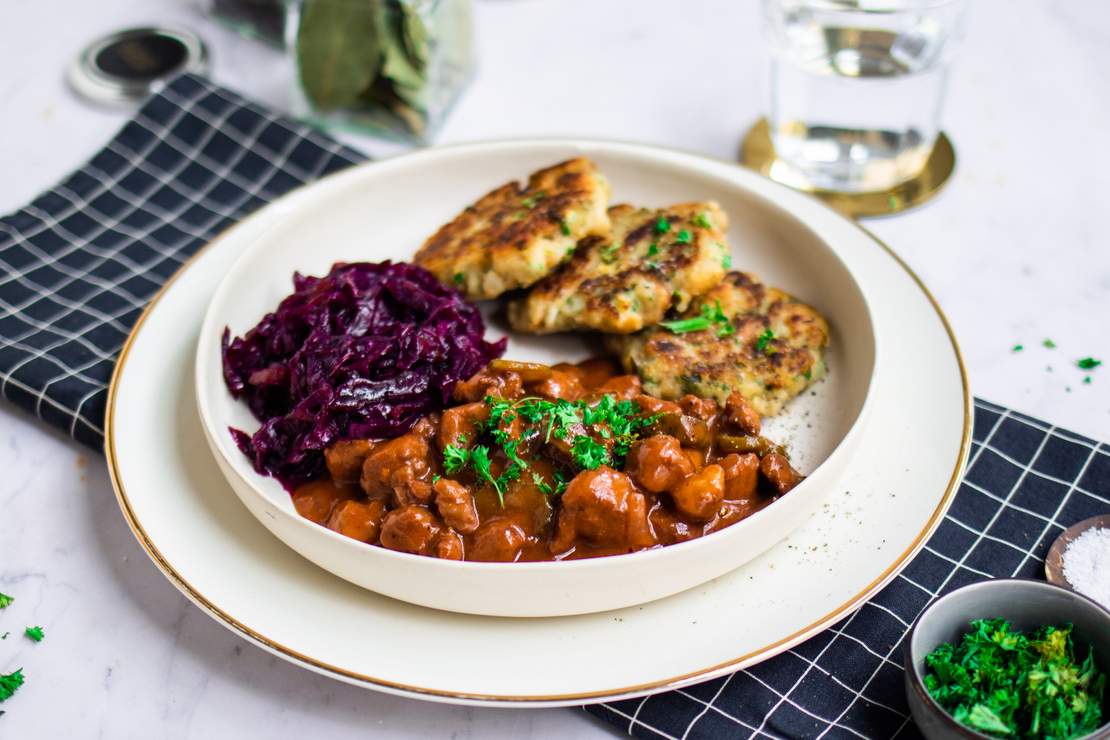 Vegan Goulash
Ingredients
150 g (5.5 oz) TVP medaillons or chunks
500 ml (2 cups) hot vegetable broth
1 onion
6 gherkins
3 tbsp mustard
3 tbsp flour
3 tbsp tomato paste
200 ml (0.75 cup) vegan red wine
50 ml (4 tbsp) pickled water (from the jar or gherkins)
2 cloves
2 bay leaves
agave syrup (optional)
salt
pepper
vegetable oil for frying
Instructions
Add TVP medallions or chunks to a heatproof bowl and pour over hot vegetable broth. Let sit for approx. 10 minutes.

In the meantime, finely dice onion and slice gherkins.

Remove the TVP from the vegetable broth, but keep the broth. Squeeze out the soy chunks to make them lose a lot of liquid. However, also keep the squeezed out liquid. Transfer the TVP to a bowl, season with salt and pepper, add mustard, and rub it into the soy chunks by hand.

Heat vegetable oil in a large frying pan over medium heat and sear the TVP chunks from all sides, until they're browned. Add the onion and gherkins and sauté for approx. 5 minutes. Dust with flour, add the tomato paste to the pan and stir to combine. Fry for another approx. 2-3 minutes until the tomato paste is lightly browned.

Now slowly stir in the vegetable broth in which the TVP was soaked before. Stirring it in should prevent the sauce from getting lumps. Add the vegan red wine and the pickled water from the gherkins, as well as cloves, bay leaves, salt, and pepper. Bring the vegan goulash to a boil, then let it simmer over low heat for at least 15 minutes – but you can also let it simmer longer.
Tip: There are small spice bags in which you can add the bay leaves and cloves. It will help to find them later much more easier, so you don't have to look for them.
Before serving, season the vegan goulash with salt and pepper to taste one more time and remove the bay leaves and cloves. Depending on the sweetness of the red wine, you can also add a dash of agave syrup, if desired.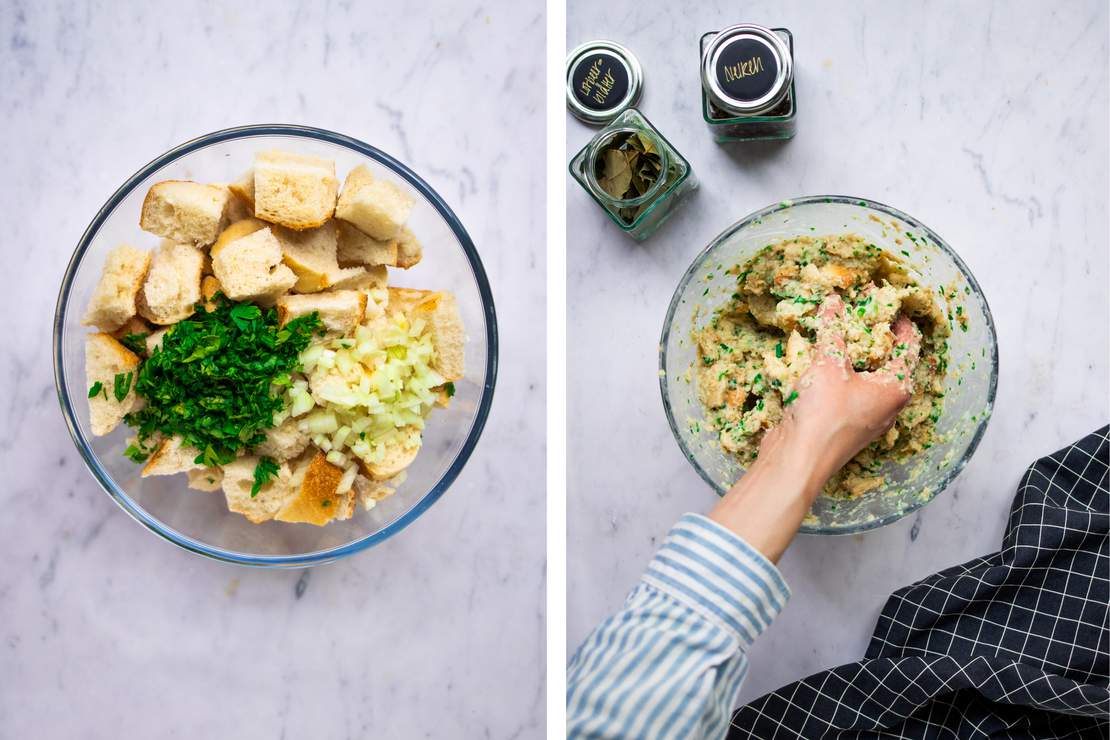 Vegan Pan-Fried Bread Dumplings
4 servings (12 dumplings)
30 Minutes
Ingredients
1 onion
15 g (0.5 oz) fresh parsley
200 g (7 oz) wheat roll
50 g (0.5 cup) wheat flour type 405
400 ml (1.5 cups) lukewarm plant-based milk
1 pinch of nutmeg
salt
pepper
sunflower oil
Instructions
Peel and finely dice the onion. Wash and finely chop parsley.

Chop the wheat rolls and add them to a bowl along with the diced onion, parsley, flour, a pinch of nutmeg, salt, and pepper. Now gradually add the lukewarm plant-based milk and stir to combine all ingredients. Form the dough into small patties, about the size of the palm of your hand. Depending on the consistency of the buns, you might need more or less liquid, so only add the plant-based milk little by little.
Tip: If the dough sticks too much, damp your hands with water.
Heat a frying pan with vegetable oil and fry the bread dumplings for approx. 5 minutes on each side, or until they're golden brown.