Vegan goulash with seitan, bell pepper & noodles
Maybe you know paprika goulash from your childhood. We definitely remember this dish from our kindergarten and home. Typically it's prepared with beef, fresh bell peppers, and paprika powder. We kept our vegan version very close to the original one. We only replaced beef with seitan and used veggie broth instead of beef broth. If you like, you can add a spoon of plant-based cream or sour cream in the end. It's also possible to serve the goulash with dumplings, tagliatelle, potatoes, or rice – a quick, easy, and perfectly comfy dish for autumn, winter, and spring.
Do you need more goulash recipes? We also prepared a [vegan goulash with soy medallions] (https://www.zuckerjagdwurst.com/en/recipes/vegan-goulash-with-pan-fried-dumplings-and-red-cabbage).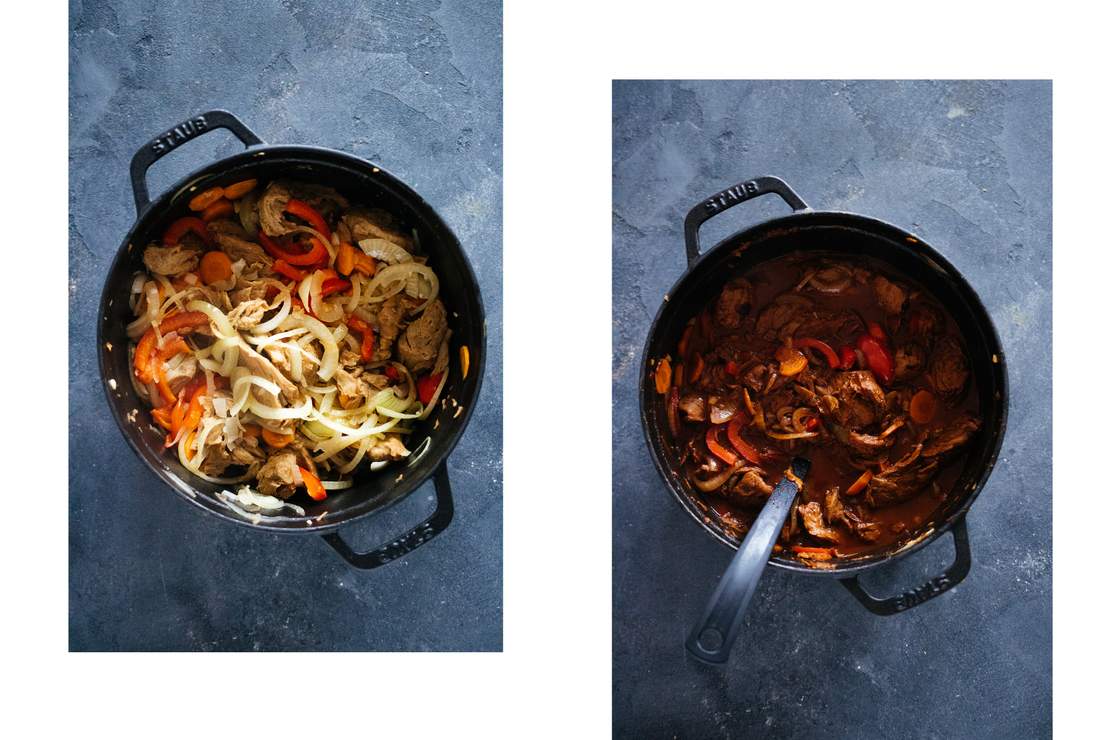 Vegan goulash with seitan, bell pepper & noodles
Ingredients
vegan goulash
3 onions
1 garlic clove
1 red pepper
1-2 carrots
2 tbsp plant-based butter
1200 g (42.3 oz) seitan (from the tin)
2 tbsp sweet paprika powder
1 tsp hot paprika powder
salt & pepper
1 tbsp tomato paste
1 tbsp mustard
250 ml (1 cup) vegetable broth
250 ml (1 cup) red wine
a pinch of sugar
optional: 100 g (3.5 oz) plant-based cream or sour cream
Instructions
Peel onions, garlic, and carrot and cut into small pieces. Wash the bell pepper and cut into strips.
Heat 2 tbsp of plant-based butter in a large saucepan.
Add the seitan pieces and sauté well. Then add onions, garlic, the bell pepper, and carrots and roast for 3-4 minutes.
Now add the sweet paprika powder, the hot paprika powder, salt, and pepper, and mix well.
Add the tomato paste and mustard and roast briefly.
Deglaze with red wine and add the vegetable stock. Mix well.
Cook the goulash for 5-10 minutes. Season with more paprika powder, red wine, a pinch of sugar, salt, and pepper.
Prepare the noodles according to the package instructions and keep simmering the goulash at low heat. Serve the noodles with the vegan goulash and top with vegan cream or sour cream and fresh parsley.