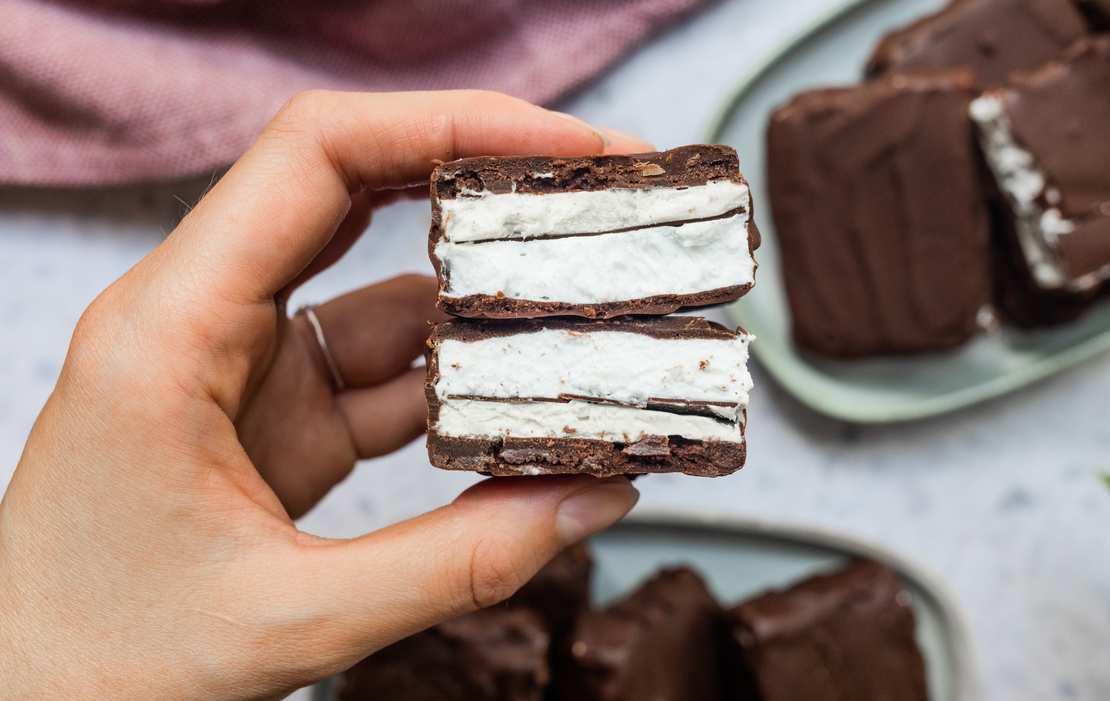 Vegan Icebox Chocolate Bars (Kinder Pingui)
I was especially looking forward to this recipe. "Kinder Pingui" is a German sweet and you guys asked for a vegan version for these icebox cake bars for a long time. Although it was never one of my all-time favorite snacks, who would say no to crisp chocolate, whipped cream, and a chocolate dough, right? Although I was very curious at the beginning, how the result would be, the feedback from my friends was consistently positive, some even said that it tasted amazingly similar to the original! The downside: you need a lot of time and patience because each layer needs to be prepared individually and should be cooled. BUT it's worth it! And what especially convenient: you probably already have almost all ingredients at home and can start right away.
Classic "Kinder Pingui" consists of four layers: heavy cream divided by paper-thin, crunchy chocolate, encased by a thin chocolate cake and overall covered with chocolate. To get the chocolate as crunchy as the original, it has to be temperated. I've never tried this before, but I can tell you: it's no magic, but you definitely need a food thermometer for it as you need to reach certain temperatures. The recipe steps explain how you do this. For the chocolate, it's also essential that it doesn't contain too much cocoa – otherwise, the icebox cake bars quickly taste too tart and not sweet enough. Of course, this also depends on your taste. I chose vegan dark chocolate with approx. 40 % cocoa. For the cream layer, I used unsweetened plant-based heavy cream. If you use a sweetened one, you may have to reduce the amount of confectioner's sugar.
The icebox cake bars can be stored in the freezer, but it's best to take them out approx. 20 minutes before you want to eat them. This way, the cream thaws a bit and becomes softer. We already have some other copycat recipes of sweet classics for you on the blog, such as vegan sandwich cookies, vegan cereal chocolate bars (Kinder Country), vegan Toblerone, vegan Twix bars and many many more!
Vegan Icebox Chocolate Bars (Kinder Pingui)
12 vegan icebox chocolate bars
40 minutes (+ 6 minutes baking time + time for cooling)
Ingredients
For the chocolate dough layer:
100 g (0.75 cup) flour type 405
40 g (0.25 cup) sugar
30 g (0.33 cup) unsweetened cocoa powder
5 g (1 tsp) baking powder
40 g (0.33 stick) vegan butter (room temperature)
20 ml (1.33 tbsp) neutral vegetable oil
160 ml (0.66 cup) plant-based milk
1 pinch of salt
For the plant-based cream layer:
300 ml (1.33 cup) plant-based whippable heavy cream
16 g (2.5 tbsp) cream stiffener
30 g (0.25 cup) powdered sugar
16 g (1.5 tbsp) vanilla sugar
Also:
240 g (8.5 oz) dark chocolate (40 % cocoa)
50 g (1.75 oz) coconut oil
Instructions
First, temper the chocolate for the superthin chocolate layer in the middle of the icebox cake bars. Chop 40 g (1.5 oz) (of the 240 g/8.5 oz) of dark chocolate. Heat two third of the chopped chocolate in a heatproof bowl over a pot of simmering water until it's melted and reaches 50°C/120°F. Then add the remaining chopped chocolate and stir it into the chocolate until it's melted as well and the chocolate cools down to 32°C/90°F. Spread the chocolate mixture thinly on parchment paper and refrigerate e fridge to dry very well.

Preheat the oven to 170°C/340°F (top and bottom heat). Mix flour, sugar, cocoa, baking powder, and salt in a bowl. Add soft vegan butter, vegetable oil, and plant-based milk to the bowl and stir to combine. Spread the dough thinly in a rectangular form on parchment paper and bake it for approx. 6 minutes. Afterwards, let it cool out completely.

Add plant-based heavy cream to a bowl and start to beat it with a hand or stand mixer. Gradually add the cream stiffener, confectioner's sugar, and vanilla sugar. Continue continue whipping until the cream is stiff, then refrigerate it until needed.

Halve the cooled out chocolate cake and transfer one half of it to a baking dish (27x18 cm / 10x7 inches) and cut it into 12 pieces of 9cm x 4.5cm (3.5 inches/1.8 inches). Spread half of the cream evenly on top. Now carefully transfer the tempered chocolate from the parchment paper on top of the cream layer, then top it with the remaining cream. Place the second chocolate cake on top and freeze the whole baking dish for the next approx. 1-2 hours.

Meanwhile, chop the remaining chocolate (200 g/7 oz). Add two thirds of it and the coconut oil to a heatproof bowl and set it over a pot of simmering water. Let it melt and heat up to 50°C/120°F, then add the remaining chopped chocolate. Stir it into the chocolate until it's melted as well and the chocolate has cooled down to 32°C/90°F. Remove the icebox cake bars from the freezer, place them on a cooling rack and pour over melted chocolate to cover all the sides of the cake bars. It's best set a plate below to collect all the excess chocolate, and use it again. Add the icebox cake bars back to the freezer and wait until the chocolate layer has dried completely.
Tip: Remove the icebox cake bars from the freezer approx. 20 minutes before serving to soften the cream layer.
More Vegan Chocolate & Sweets Recipes and Plant-Based Copy Cats