Sandwich Sunday: We love sandwiches, but unfortunately, most of the classic and famous ones are not vegan. This is why we're celebrating vegan Sandwich Sunday and present a new veganized classic sandwich each month. From Grilled Cheese Sandwich to Pastrami Sandwich – you can find all our vegan sandwich recipes here.
Say hello to: Gatsby Sandwich
About the how and why: If you think that we've created this monstrous sandwich – thank you so much, but unfortunately we didn't. The rescue against any hangover is a South African sandwich classic from Cape Town. Legend has it that it was the owner of a fish shop that invented the sandwich in 1976. Rashaad Pandy wanted to give workers something to eat and just threw together what he could find. Well done – he just accidentally created this piece of sandwich art! If you want to thank him for this, just visit him at his shop 'Super Fisheries' in Cape Town where he still served the original sandwich. Oh, and if you wonder about the name – it comes from the praise of one of the hungry workers who said 'This is a Gatsby smash!' after seeing the movie just before.
What's usually on it: A soft long bread roll (some also use a hot dog roll or roti for this) usually gets topped with all kinds of meat or fish (from masala steak and sausages to chicken or calamari). Then you have seasoned fries and some peri peri hot sauce. Mixed with mayonnaise, you can even buy it as a condiment called 'perinaise'. If you take a closer look at this sandwich, you'll also find a small amount of veggies thanks to some crispy iceberg lettuce and sliced tomatoes.
How we do it: We'll put some marinated soy steak on our baguette which has the best consistency for this sandwich case. Since we're going to tear the soy steak into smaller chunks, you can also use chunks directly if you find them. Sometimes piri piri hot sauce can be found in larger supermarkets or delis, and of course online. But if you don't have any luck, just use a different hot sauce and season the fries with chili, cayenne pepper, or smoked paprika.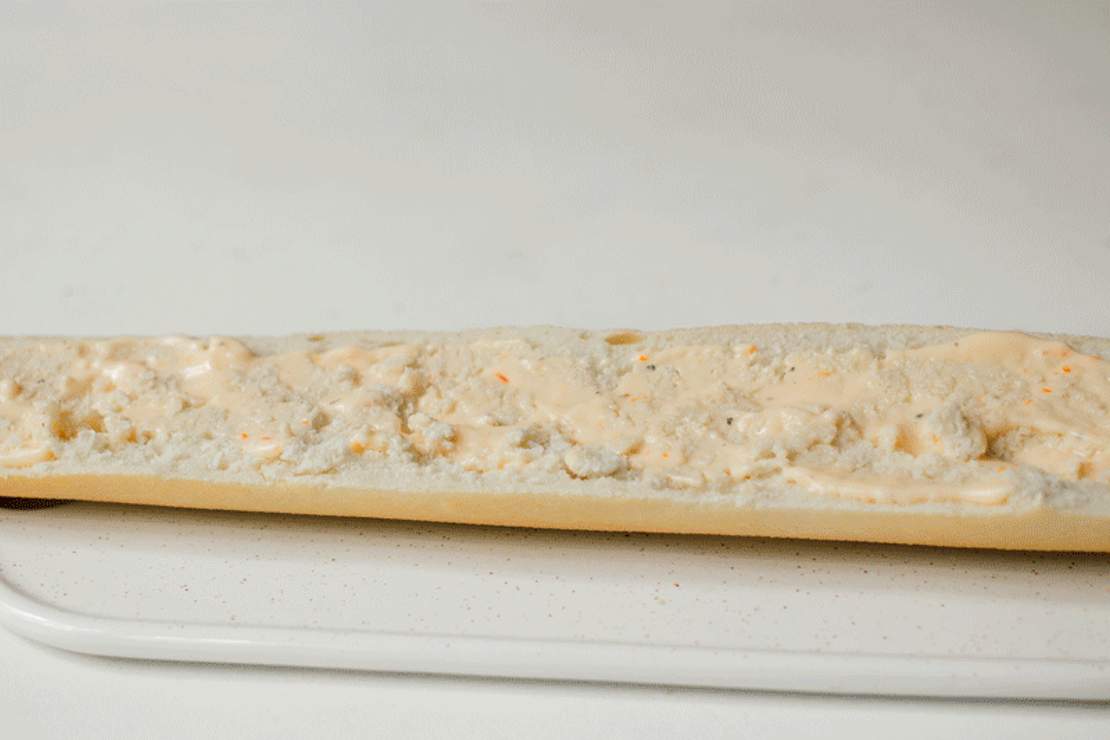 Vegan Gatsby Sandwich
Ingredients
2 soy steaks
vegetable broth
1 bell pepper
1 onion
1 soft baguette
6 tbsp vegan mayonnaise
Piri Piri Hot Sauce
250 g (9 oz) vegane fries
50 g (2 oz) iceberg lettuce
2 tomatoes
vegetable oil for frying
For the marinade:
20 g (1 oz) ginger
1 garlic clove
2 tbsp garam masala
1 tsp turmeric
1 tsp paprika
4 tbsp olive oil
1 tsp agave syrup
salt
pepper
Instructions
Soak soy steaks in hot vegetable broth for approx. 15 minutes, then drain and tear them into smaller chunks. While the soy steaks soften, finely grate ginger and garlic into a bowl. Add garam masala, turmeric, paprika, olive oil, agave syrup, salt, and pepper. Stir to combine. Once the soy steaks are soft, rub with the marinade.

Finely dice bell pepper and onion. Heat vegetable oil in a frying pan and fry soy steak for approx. 10 minutes, until it's browned. Add bell pepper and onion and keep frying for approx. 5 minutes.

Season fries with Piri Piri and salt to taste. Set half of the vegan mayonnaise aside. Season the other half of the vegan mayonnaise with hot sauce to taste. Shred iceberg lettuce and sliced tomatoes.

For serving, slice the baguette and spread some of the Piri Piri mayonnaise on one half. Top with soy steak chunks and fries, then drizzle with more Piri Piri mayonnaise and hot sauce to taste. Add lettuce and tomato slices. Spread plain vegan mayonnaise on the other baguette half and top the sandwich with it.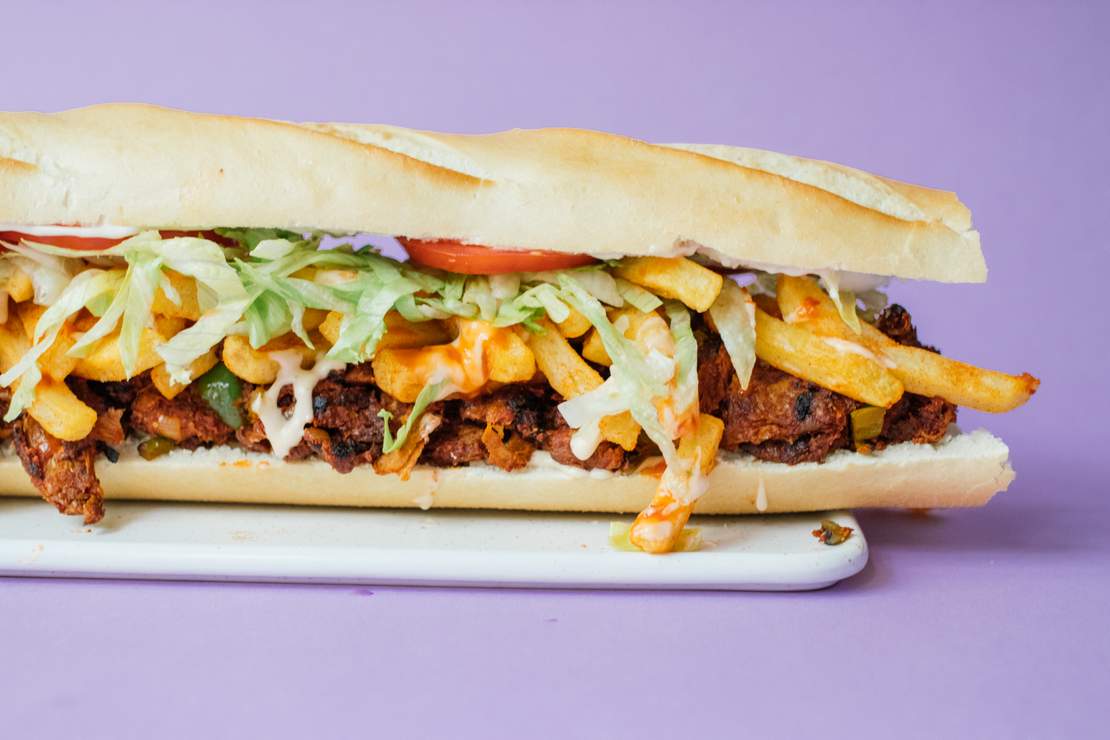 More Sandwich Sunday - Vegan Sandwich Recipes