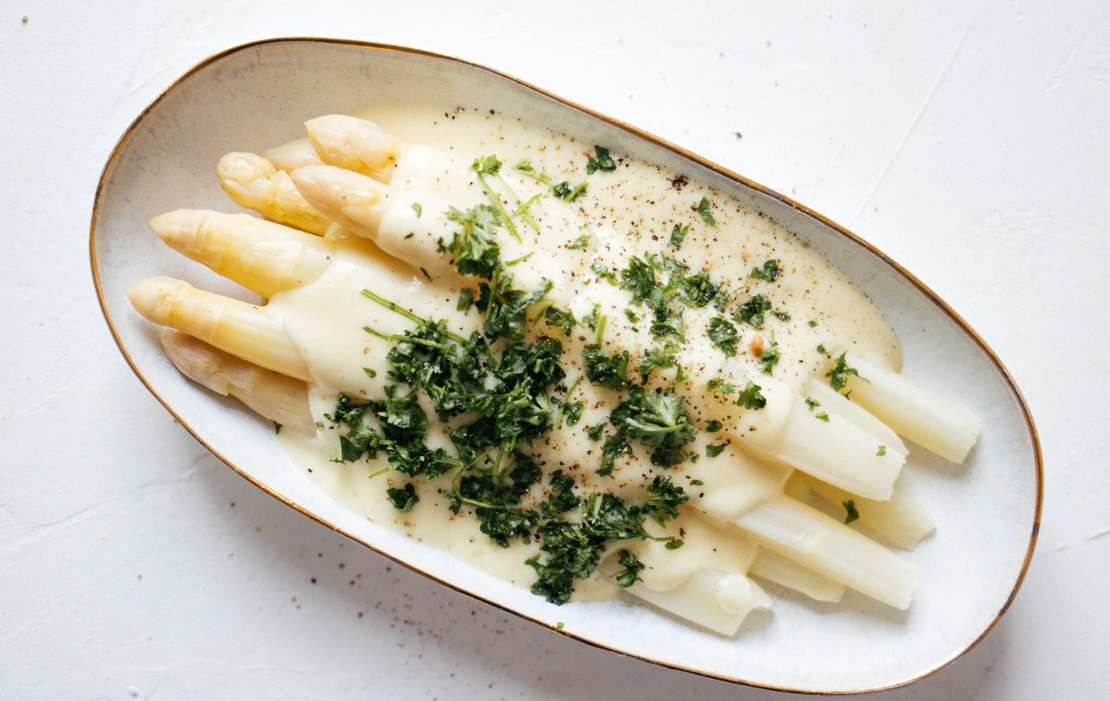 Asparagus season is upon us, which means it's also hollandaise sauce season. Of course, you can eat asparagus without hollandaise. And you can also serve hollandaise with other ingredients. However, as a team, the combination of the two is unbeatable.
Ketchup & mayo, salt & pepper, Zucker & Jagdwurst, asparagus & hollandaise!
However, it can be something other than plain, cooked asparagus. For example, how about a vegan tarte flambée with asparagus, a [potato asparagus salad](https://www.zuckerjagdwurst.com/en/recipes/potato-asparagus-salad-with-wild-garlic-gremolata], vegan omelet with asparagus, asparagus tacos or even vegan eggs Benedict? All of these are beautiful ways to prepare a vegan hollandaise sauce. You can even team it up with a béchamel in this vegan asparagus lasagna.
While this creamy, light-colored sauce is a staple in French cuisine it translates to "Dutch sauce." According to the German dictionary "Duden", the origin of the name is "unexplained."However, there are theories that French butter became scarce during World War I, so the Dutch butter was used to make the sauce. Somehow, in the course of this, the name probably came into being.
But be that as it may, classic hollandaise is not vegan at all and contains butter and egg yolks. However, we are extremely happy with our plant-based recipe and could bath one asparagus after another in it. We prepare it from a roux made with vegan butter, vegetable broth, plant-based heavy cream, vegan white wine, lemon juice and mustard.
You can also find another version with herbs here on our blog. And we must also briefly mention our lemon hazelnut sauce with asparagus if you're still not 100% sure if you want to prepare a vegan hollandaise sauce.
Vegan Sauce Hollandaise
1 big jar (2 servings)
20 minutes
Ingredients
4 tbsp vegan butter
2 tbsp flour
100 ml (1/2 cup) vegetable stock
100 ml (1/2 cup) cream
1 tsp mustard
1 tbsp vegan white wine
1 tsp lemon juice
salt
white pepper
Instructions
Melt 2 tbsp vegan butter in a saucepan and stir in flour. Keep stirring to keep the mixture smooth.
Add vegetable stock slowly, keep stirring all the time. Bring to a simmer, then reduce heat and add cream, 2 tbsp vegan butter, white wine, mustard and lemon juice . Season with salt and pepper.
Let Sauce Hollandaise simmer for approx. 5 - 10 min. until thickened to desired consistency. Season before serving.