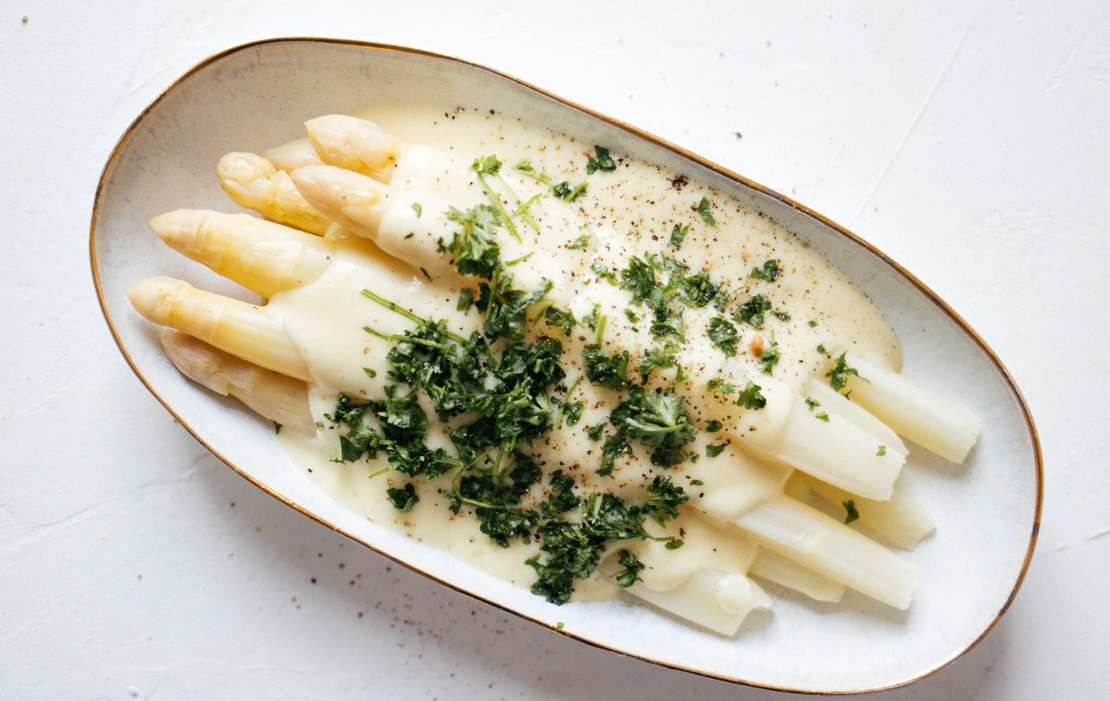 It's finally asparagus season and this means it's also finally Sauce Hollandaise season! Of course you can prepare asparagus without Hollandaise and you can also serve the sauce with something else (how about vegan Eggs Florentine, but they are simply invincible as a team just as ketchup&mayo and salt&pepper and Zucker&Jagdwurst.
The creamy sauce is a basic sauce of the French cuisine even though it's called "Hollandaise", but why? There are no confirmed information about this, but it is said that in the First World War French butter was short and so they had to use Dutch butter and somehow the name orignated because of that.
However, the classic Hollandaise is definitely not vegan as it contains a lot of butter and egg yolk, but with this vegan recipe below we're more than happy and dip on asparagus after another in it.
Vegan Sauce Hollandaise
1 big jar (2 servings)
20 minutes
Ingredients
4 tbsp vegan butter
2 tbsp flour
100 ml (1/2 cup) vegetable stock
100 ml (1/2 cup) cream
1 tsp mustard
1 tbsp vegan white wine
1 tsp lemon juice
salt
white pepper
Instructions
Melt 2 tbsp vegan butter in a saucepan and stir in flour. Keep stirring to keep the mixture smooth.
Add vegetable stock slowly, keep stirring all the time. Bring to a simmer, then reduce heat and add cream, 2 tbsp vegan butter, white wine, mustard and lemon juice . Season with salt and pepper.
Let Sauce Hollandaise simmer for approx. 5 - 10 min. until thickened to desired consistency. Season before serving.