Vegan Spinach-Bread Dumplings with Tomato-Lentil Sauce
Spinach dumplings are absolute classics and therefore may not be missing in a recipe week where it's all about dumplings. Our theme week started with a bread dumpling casserole, which was followed by yeast dumplings and potato dumplings. But even before the dumpling week, we already created some dumpling recipes that you can find here. As you can tell, we love dumplings almost more than anything.
While dumplings are usually associated as a hearty dish for Christmas or during the cold season in general, this recipe is a bit different. It doesn't involve a vegan goulash or a creamy sauce, but a fresh tomato- lentil sauce instead. If you cook the recipe during tomato season, you can use fresh tomatoes as an alternative to canned ones. In this case, however, you will need a little more time for the tomatoes to cook.
When we tested these dumplings, we experimented with both wheat and spelt bread rolls, but our test eaters couldn't tell the difference, so you can use both. If you don't have stale bread rolls on hand, you can use fresh bread rolls, dice them, and leave them for a few hours to dry out. If you don't have that much time, the recipe would also work with fresh rolls, but since they are still very soft, the dumpling mixture may be rather mushy. However, they will still taste good!
It's also possible to use fresh spinach for these dumplings. You can just follow our recipe for wild garlic dumplings in this case. In the recipe, wild garlic (or spinach) is added raw to the mixture. Alternatively, you could also sauté the spinach with onions and garlic beforehand.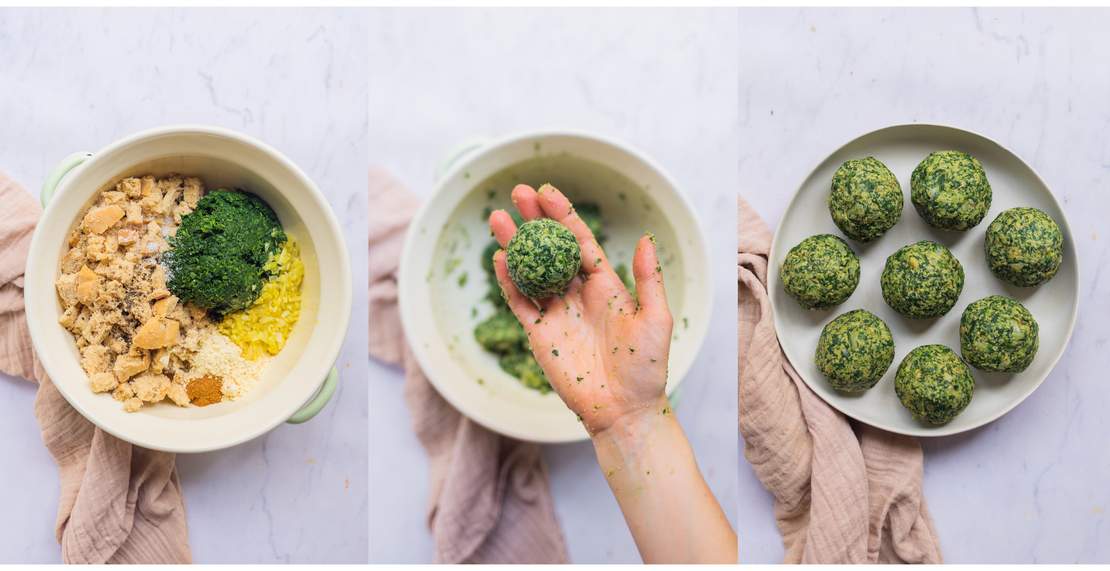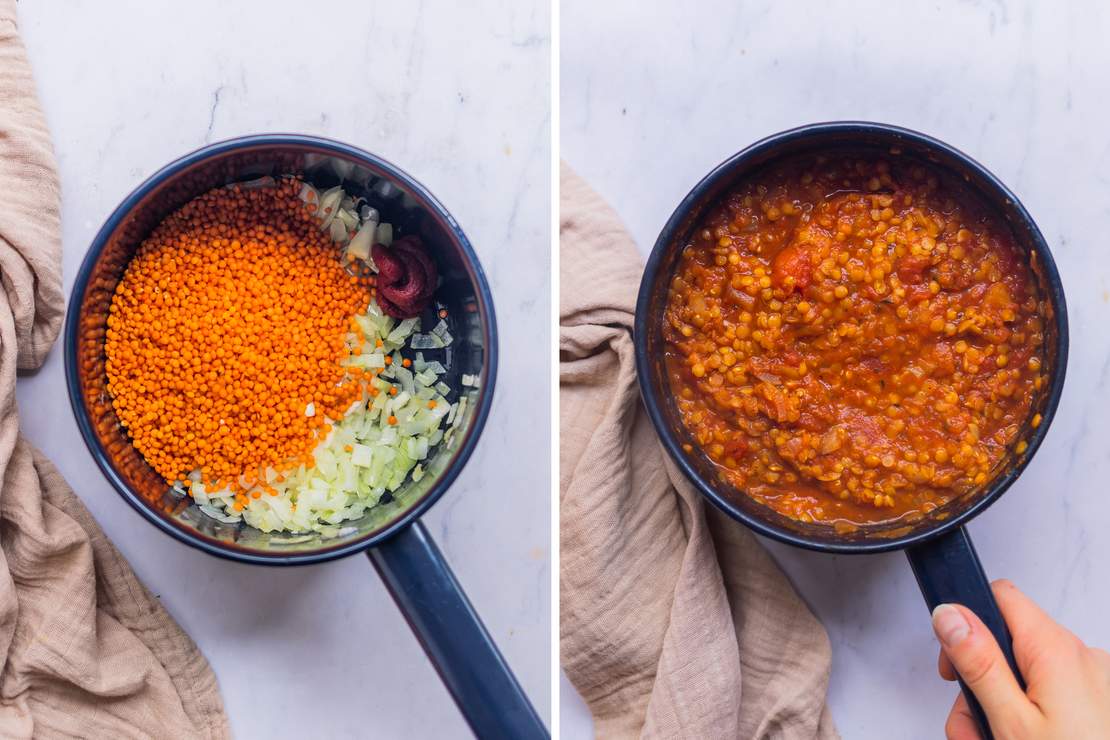 Vegan Spinach-Bread Dumplings with Tomato Lentil Sauce
Ingredients
For the spinach-bread dumplings:
650 g (1.5 lbs) frozen spinach
4 (approx. 9 oz) stale bread rolls
1 onion
2-3 garlic cloves
4 tbsp vegan butter (divided)
30 g (0.25 cup) soy flour
50 ml (0.25 cup) plant-based milk
1 tsp ground nutmeg
1 tsp sweet paprika
100 ml (0.5 cup) water
salt
pepper
For the tomato-lentil sauce:
1 onion
2 garlic cloves
1 tbsp tomato paste
200 g (1.66 cups) red lentils
560 g (20 oz) canned chopped tomatoes
3 tbsp dried Italian herbs
2 tsp sweet paprika
0.5 tsp chili flakes
0.5 tbsp agave syrup
olive oil for frying
salt
pepper
For the cinnamon croutons:
30 g (1 oz) bread (e.g. toast, spelt, or wheat rolls)
1.5 tbsp vegan butter
1 tbsp cinnamon
2 tbsp vegan Parmesan (optional)
Instructions
Remove spinach from the freezer and let it defrost in a sieve so that it can already drain a bit. If you don't have much time, you can also heat the spinach in the microwave. Once it's completely thawed, squeeze out as much liquid as possible.

In the meantime, dice the stale bread rolls. Peel and finely dice onion and garlic cloves. Melt 2 tbsp of the vegan butter in a frying pan and sauté the diced onion over medium heat until translucent. Add garlic and fry for another 1-2 minutes.

Mix soy flour and plant-based milk in a large bowl. Add chopped bread, the sautéed onion-garlic mix, and drained spinach. Season the mixture with nutmeg, paprika, salt, and pepper and knead into a dumpling mixture. If the dough becomes too dry, add 50 ml more plant-based milk.

Let the dumpling dough rest for approx. 10 minutes. Then form six or eight dumplings from the mixture and let them rest again for about 5 minutes.

In the meantime, prepare the sauce. Peel and finely dice onions and garlic cloves. Heat olive oil in a large pot. Add chopped onions and sauté until translucent. Add garlic, tomato paste, and red lentils, and sauté briefly. Add canned chopped tomatoes and let the sauce simmer for approx. 20 minutes, while stirring occasionally, until the lentils are soft. If the sauce becomes too thick, simply add some water. Before serving, season to taste with dried Italian herbs, paprika, chili flakes, agave syrup, salt, and pepper.

Heat the remaining 2 tbsp of vegan butter in a large frying pan and fry the spinach dumplings for approx. 15 minutes with the lid closed and over medium-low heat. Keep flipping the dumplings so that they get crispy from all sides. After approx. 5 minutes, add water, and immediately put the lid back on the pan to steam the dumplings.

While the sauce and dumplings are in the making, prepare the cinnamon croutons. Finely dice the bread of your choice. Melt vegan butter in a frying pan and fry the bread for approx. 2-3 minutes. Add cinnamon and vegan Parmesan, toss to coat, and fry for another 5-10 minutes, or until the croutons are crispy.

Serve spinach-bread dumplings with tomato-lentil sauce and crispy croutons.