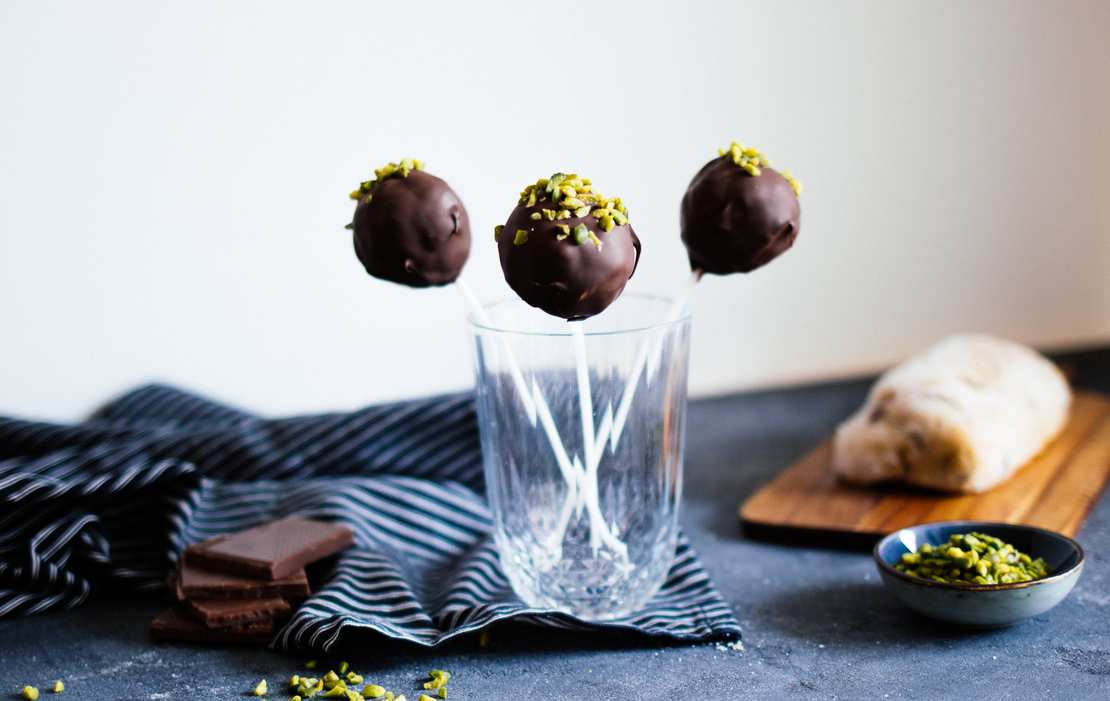 Vegan & gluten-free Stollen Cake Pops
Christmas is perhaps the best time of the year. I'm looking forward to December from January on, even though the last four weeks of the year are pretty stressful: baking Christmas cookies with the family, preparing all the gifts, visiting as many Christmas markets on the weekends as possible, and organizing the New Year's Eve party. Phew! So we don't want you to worry about your Christmas dessert and prepared a pretty easy and special fingerfood for your Christmas menu. Of course, this recipe also works in the Advent season with a hot cup of tea or coffee. We really like the vegan stollen cake pops because you can enjoy them in small bites, they are perfect for preparing the night before and for sharing with your family and friends.
There is one thing you should have in mind while preparing the vegan stollen cake pops: Make sure you prepare at least 12 cake pops out of the stollen. If the balls are too big and too heavy, they will break apart. By dipping the cake pop sticks into the liquid chocolate and then pressing them into the cake pops, we stabilize them. The chocolate works like a glue that holds the cake pops and sticks together. Afterward, we freeze the cake pops. One last note: You can use the cake pop sticks for several times, and sustainable alternatives made of wood are also available.
__ [Glutenfrei von Böcker] (http://www.glutenfrei-vom-baecker.de/index.php/de/) __ supported us with this recipe, which makes us very happy! We used the gluten-free and vegan stollen for our recipe, which consists of rice and maize flour, is made with sourdough and is produced in Minden (Northern Germany). The stollen weighs 250 g (there is also a bigger version with 500 g), which we really, really like. The stollen stays wonderfully juicy and fresh, and it's the perfect size for 2-3 people! You can find another recipe with the vegan and gluten-free stollen at Sandys food blog [Wie Wo Was ist gut] (https://wiewowasistgut.com/) or by searching for "Stollen gut, alles gut" #stollengutallesgut.
Vegan & gluten-free Stollen Cake Pops
12 Cake Pops
30 minutes (+60 Minuten Wartezeit)
Ingredients
250 g vegan and gluten-free stollen (e.g. Böcker Stollen)
2 tbsp plant-based milk
Additionally
200 g dark chocolate
12 cake pop sticks
50 g chopped pistachios / nuts
Instructions
Melt the dark chocolate in a bain-marie.
Crumble the vegan stollen into a bowl and make sure there are no large lumps. Add the plant-based milk and knead well.
Form 12 balls and dip 12 cake pop sticks about 1 cm deep into the liquid chocolate and press into the balls (the chocolate works like glue).
Put the balls in the freezer for 30-60 minutes.
If necessary, reheat the chocolate and gently wrap the cake pops with the chocolate.
Let the excess chocolate drip off (wait for about 5 minutes). Then decorate with chopped pistachios or nuts.
Place the cake pops in a jar and allow to dry.