Baked Squash with Quinoa Filling
When it comes to stuffing vegetables, we are professionals by now, because no matter if it's about bell peppers, zucchini, eggplant, mushrooms or pumpkin – we've already stuffed a lot of vegetables!
In our Pumpkin Week, we want to show you what fantastic varieties there are apart from the popular Hokkaido. For today's recipe, we use perhaps the most special pumpkin of the entire week: Lil' Pump-Ke-Mon or Butter Cream. It's still a very young variety of pumpkin and can be prepared in the microwave. Yes, you read correctly. We're using the oven for today's recipe because we know you all have one. However, if you have a microwave, you can cook the pumpkin in it too - and even faster. In fact, Lil' Pump-Ke-Mon only takes about 5 minutes on the highest setting to cook in the microwave. But before that, you should cut it open as indicated in the recipe, hollow it out, and put the "lid" back on the pumpkin. Then you can fill it and heat it briefly in the microwave. Especially practical: Its shell can be eaten as well. If you can't find the Lil' Pump-Ke-Mon pumpkin, this recipe also works with other pumpkins.
But back to the filling. I recently ate a tasty chili con quinoa at a friend's house and thought the ingredients would match a pumpkin. So today, a filling with quinoa, vegetables but also kidney beans, creamy vegan feta (preferably nut-based), walnuts, and dried apricot ends up in our microwave pumpkin. Alternatively, you can combine any fillings linked above with the pumpkin if you're not the biggest fan of quinoa.
No matter which pumpkin and filling you use - the appropriate spices must not be missing. The pumpkin spice mix from Lebensbaum is super handy for this and is used by us regularly in autumn for soups, stews, even in cakes, waffles or as here also in fillings - as long as there is is pumpkin! The spice blend contains orange, coriander, ginger, turmeric, cinnamon, nutmeg, rosemary, allspice, and cloves - a great selection that goes well with pumpkins of all kinds. Lebensbaum has many more spice blends, as well as tea and coffee, all of which are 100% organic. Certified with the "We Care" seal, Lebensbaum additionally demonstrates that they act sustainably along their entire supply chain. You can find their products online on Lebensbaum's website but also in organic stores.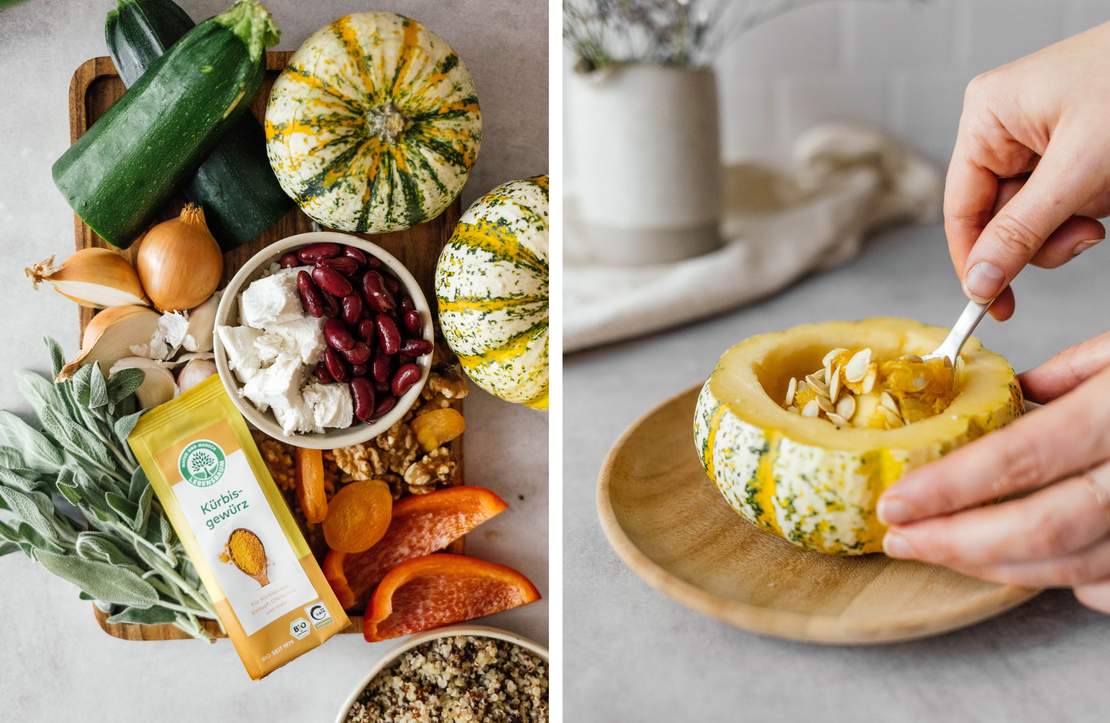 Baked Squash with Quinoa Filling
Ingredients
For the pumpkins:
4 Lil' Pump-Ke-Mon squash
100 g (3.5 oz) quinoa
2 onions
1 clove of garlic
1 small zucchini
1 red bell pepper
120 g (4.25 oz) canned kidney beans (drained weight)
150 g (5.33 oz) vegan feta cheese
1 red bell pepper
50 g (1.75 oz) walnuts
5 dried apricots
5 g (0.25 oz) fresh sage
3 tbsp tomato paste
250 ml (1 cup) strained tomatoes
2 tbsp pumpkin spice (e.g. from Lebensbaum)
salt
pepper
vegetable oil for frying
For the gravy:
1 onion
2 tbsp vegan butter
0.5 tsp dried thyme
1 tsp tomato paste
2 tbsp flour
200 ml (0.75 cup) vegetable broth
150 ml (0.66 cup) water
1 tsp soy sauce
1 tsp mustard
vegan red wine (optional)
pepper
Instructions
Transfer the quinoa to a fine sieve and rinse thoroughly under running water. Then cook in a pot with salted water according to package directions.

While the quinoa is cooking, prepare and cut all the fresh ingredients. Peel and finely dice the onions and garlic. Next, wash and dice the zucchini and bell pepper. Drain kidney beans, crumble vegan feta cheese, and roughly chop the walnuts and apricots. Then wash and finely chop sage leaves.

Heat a pan with vegetable oil and sauté the onions and garlic over medium heat until the onions are translucent. Then add tomato paste, zucchini, and bell pepper and continue to sauté for 3-4 minutes.

Next, add strained tomatoes, kidney beans, walnuts, and dried apricots to the pan. Stir well and season the filling with chopped sage, pumpkin spice, salt, and pepper to taste. Sauté everything for about 2 more minutes. Finally, mix in crumbled vegan feta and cooked quinoa. Then remove the pan from the heat.

Preheat the oven to 180°C/355°F (convection heat). Wash the pumpkins, cut off the "lid," and scoop out the pumpkins with the help of a spoon, so there are no seeds left inside. Now fill the pumpkins to the brim. Place the respective "lid" on the pumpkins and bake for about 20 minutes until the pumpkins are softened.

In the meantime, prepare the sauce. For this, peel and finely dice the onion. Melt vegan butter in a small pot over medium heat. Start by frying the diced onion with dried thyme until the onion is translucent. Add tomato paste and keep frying for approx. 3 minutes, or until it's darkened. Dust with flour, then stir in vegetable broth and water. Add soy sauce and mustard, and stir to combine. If desired, you could also add a splash of vegan red wine. Season the sauce with salt and pepper and let it simmer until the pumpkins are ready.

Serve the stuffed, baked pumpkins with gravy drizzled on top.